Sundays are my kryptonite. During the week, I'm all go. Saturday is usually the day for life admin unless I have something fun planned. Sundays? Absolutely nada. I rarely see a Sunday morning as the rest of the week completely knackers me to the point that I refuse to get out of bed before midday. But with the help of new Shreddies MAX Protein, I was determined to have at least one productive Sunday.
According to research commissioned by Shreddies MAX™, 41% of people say they don't make the most of their mornings. I'm certainly in that camp; on work days, I barely give myself enough time to get ready before I'm running to the train station. 54% of people would like to do more with their mornings; again, totally in that camp. I envy the people with enough get-up-and-go to get up in good time, get ready without rushing, maybe even watch some breakfast TV before leaving for work. But the figure that surprised me most of all was the 24% of people who don't eat breakfast. Say what?! How do these people function? If I haven't got something down my gullet within a few hours of waking up, I am an absolute hangry monster.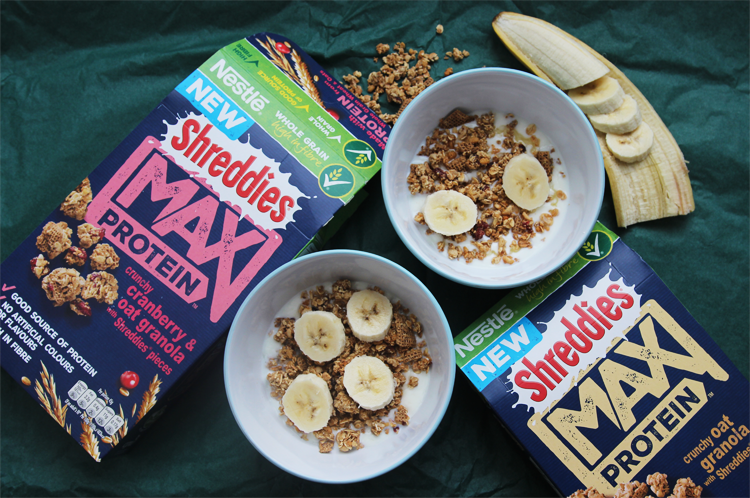 Speaking of which, that's where this deliciousness comes in. Shreddies MAX™ is a new granola style breakfast cereal comprising crunchy wholegrain oats with the classic malty taste of Shreddies that we all know and love. It's a good source of protein, high in fibre, low in saturated fat, and made with no artificial colours or flavours. Couldn't ask for much more, could you? Oh, it's also mega good value – at £2.49 a box, it works out to just 31p per portion.
I had my bowl – bright and early on Sunday morning, I'll have you know – with plain yogurt, sliced banana and a little drizzle of honey, sat in front of Netflix in my PJs. Hey, I was up, you couldn't possibly expect me to be dressed that early too. It might not be everyone's idea of productivity, but my protein-filled bowl of Shreddies MAX™ gave me the energy to tick off a good chunk of my mental to-do list (watch the Amanda Knox documentary, put some washing on, do the hoovering, go out and buy some fairy lights for my room) before I'd even usually be out of bed. Which then left the whole afternoon to cross off the rest of it (batch cook and freeze meals for the next two weeks, wash my hair, paint my nails) and spend the evening actually winding down instead of my usual frantic rush to get myself together for the horrors of Monday morning. Spot on.
Shreddies MAX™ is available now in all good supermarkets at £2.49 a box, available in both Crunchy Oat or Cranberry and Oat flavours.
Sponsored post