Somehow, February has totally outdone January. I'm not sure how, but life just keeps getting better and better. Not gonna lie, I am living in a perpetual state of foreboding because surely everything's going to go tits up at some point. You know, the kind of trepidation that it's only possible to feel when everything's going too well, when you know you must be due for some truly crap luck sometime soon because no one's life is allowed to be this good all the time. Still, I'm doing my best to just enjoy and appreciate every good day that comes rather than waste them worrying about the inevitable shit days to come. Here's what's been going on in February.
If you know Sheenie and I, you're probably familiar with Wifey Weekend. Well, right now, we're in the midst of Wifey Fortnight. A series of circumstances including my being painfully skint and not being able to afford my daylight robbery commute for half of February, and Sheenie having an empty house, meant that we've been shacking up for a whole two weeks. As you can imagine, there's been rather a lot of cooking involved (hashtag food baby, hashtag send help) but we've been sure to intersperse the eating with other things like ping pong and movies. It's been so much fun, and now we've discovered that we can quite comfortably spend a whole fortnight together without wanting to kill each other, our impending road trip to California is more anticipated than ever. Bring it awwnn!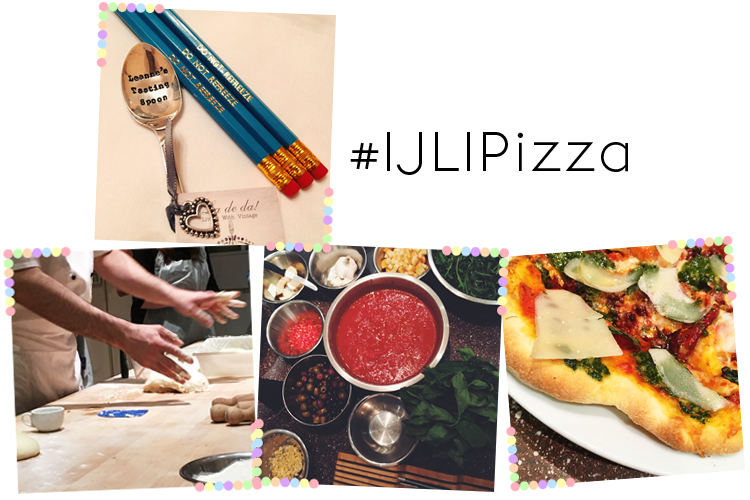 Here's a confession: I don't like pizza. I know, right? To be more specific, I don't like thick bases, I don't like cheap nasty tomato sauce making the base all soggy, I don't like nasty mass-produced toppings. When the lovely lot behind personalised gifting site IJustLoveIt.co.uk invited me down to La Cucina Caldesi in Marylebone to have a go at making my own, I considered it a challenge accepted. If they could make me love pizza, I'd be astounded. And astounded I am, because the pizza I made was fucking delicious even if I did accidentally throw it in the oven with too much gusto and turn it into a twisted mess. A super fun night (who wouldn't want to be taught to make proper pizza by a hot Italian?) and the amazing selection on IJustLoveIt.co.uk has given me loads of ideas for upcoming birthdays. Perfect.
I can't even begin to explain how important the music of Twenty One Pilots is to me. It saves me, it inspires me, it helps me to remember and it helps me to forget. I've tried a few times to explain to people just how or why, but it just doesn't work, the words don't exist and if they do they're beyond my vocabulary. The only person I've never had to explain it to – because she just gets it – is Leanne. No, not myself! Leanne and I met on MySpace more than 10 years ago, but hadn't ever met in person until now. I'd bought us tickets to go see them, because frankly there's no one else I'd rather go with. The excitement built steadily over a few months, and then, less than a week before the show, something completely ridiculous happened.
A competition was posted on the Facebook page for Twenty One Pilots, to win a meet and greet at the show if you uploaded your secret handshake to Instagram. Obviously, Leanne and I hadn't even met at this point and the closing date was before we would. So we got creative and stuck two videos together, one of each of our hands. Being pragmatic here, it was crap. But, by some miracle (see what I mean about things going too well for me lately?), the day before Leanne traveled down to London for the show, we got the news that we'd only gone and won the fucking thing and would be meeting Tyler Joseph and Josh Dun in just 24 hours' time. Fuck.
The next day, after (naturally) chucking back a few glasses of Dutch courage, we headed to the O2 Academy Brixton and were ushered in the production door, to the annoyance of those already in the queue. Ha. We were sent to wait in Josh Dun's dressing room (!!!), and after having been allowed a few minutes to ourselves to freak out about it, it happened. We met them, and I think we were super chill about it. Hope so, anyway. I finally got to find out the meaning being Tyler's tattoos (he only tells people in person), and, just, damn. It was surreal. And the show itself? Insane. There were a couple of moments where, in the midst of jumping and yelling and being crushed, I found my eyes betraying a few tears because I just couldn't believe my luck at being able to experience this music in person. I left the venue battered and bruised, and sweatier than I have ever been in my life, but I would do it every single night for the rest of my life if I could. Oh, and the next morning, Leanne and I walked into a tattoo studio on Oxford Street and got us some matching Twenty One Pilots tattoos. As you do.
So that was my spectacular February. I'm honestly not sure it can get any better than this. March, you've got your work cut out for you!