Curried pasta…? Stay with me here. It's bloody wonderful, I promise.
You know when you see a thing, and you go 'oh I totally want to do that', and then you start seeing it everywhere, but you NEVER get round to it? One pot pasta was that thing for me. It must be at least a couple of years since I first saw recipes floating around on Pinterest or wherever, and finally, finally I knocked one together this week and have been completely converted to the ease and laziness of it all.
In true Leanne cooking style, this was for the most part thrown together on the fly according to what I had at home (although I did buy a couple of bits for it). That is to say, you can totally make this your own by putting whatever you want in it. Whatever's in your cupboards, whatever veg is sitting in the fridge, just have a vague idea of what kind of overall flavour you're going for. This is a curried take on it, but you could go Mediterranean, south-east Asian, keep it classic Italian, you get the picture.
You will need
350g pasta
450g chicken
1 red onion
1 red pepper
1 small pack of cherry tomatoes
1 bunch of coriander
1 tin of coconut milk
3 tbsp of curry paste
2 cloves of garlic
1 vegetable stock cube
These quantities are plenty to serve four. I got a couple of dinners and work lunches out of it, so suits me fine, but obviously feel free to reduce as appropriate if you're not into leftovers. Any shape of pasta will do – I used linguine. Any protein will do – I originally wanted to use salmon, but the Co-op was horribly stocked that day. Any kind of curry paste will do – Madras if you like it hotter, or Thai and some different veg if you want to go a touch more Eastern with it.
This is really just a case of chopping a few things up and sticking it in the biggest pot you own. Start with liquid – pour in the coconut milk, fill up the empty tin with water and add that too. Add the curry paste, crumble in the stock cube. Slice the onion and pepper, chop the tomatoes in half, crush or finely chop the garlic and roughly hack up the coriander, reserving a few leaves for fancy-pants presentation later if you're so inclined. Chop the chicken into chunks and add that, too. Oh, and don't forget the pasta!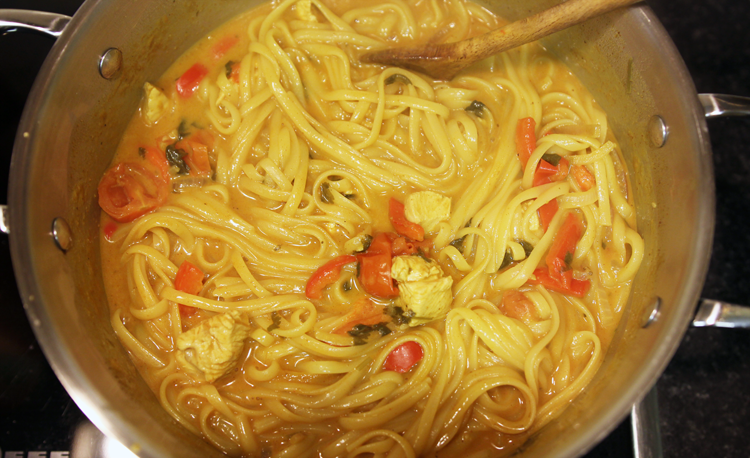 If you're using long pasta, don't worry, by the time it comes to a boil it will have softened enough that it all fits in the pan. Bring the whole pan to a boil, then turn down to a simmer for 20 minutes, stirring a few times in between, until everything's cooked and the liquid has reduced to a thick sauce. That is literally it. Easy, lazy, tasty, spot on.
One pot pasta, I think this could be the start of a beautiful friendship.