On my birthday this year, I compiled a list of 24 things I wanted to achieve during my 24th year (well, I suppose it's actually my twenty-fifth but let's not be pedantic). I've been keeping track of how I'm getting on, but thought it was worth a quick post to update anyone who might be interested – seems fitting for New Year's Eve, anyway.
I'm not gonna lie, 2015 has been a bit of a shitty year overall. I've ended a seven-year relationship and moved back to my hometown and my parents' house. On the whole, it could have gone an awful lot better – but, I suppose it could have been an awful lot worse, too. My little list of goals has continually given me things to concentrate on and I think I'm getting on at a pretty reasonable pace with it! So, here we go…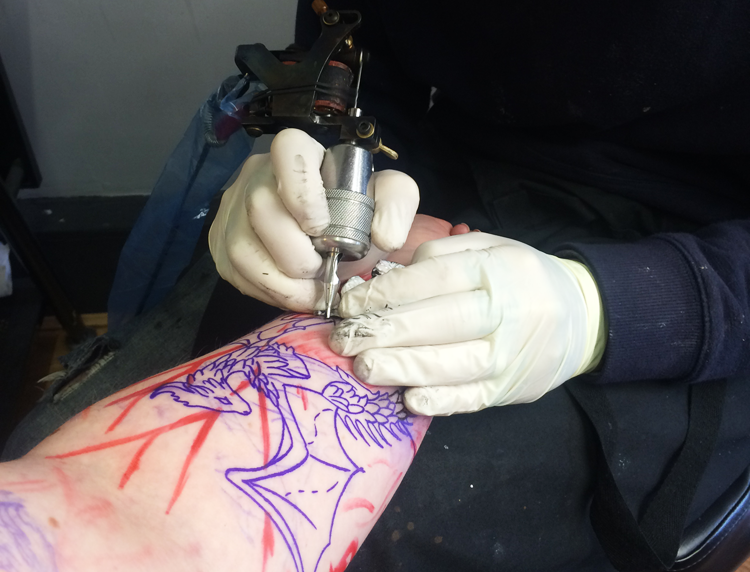 1) Move
Realistically, this isn't going to happen before my next birthday so it may well be the downfall of this entire list.
2) Get a tattoo
Done! Well, technically speaking still in progress. I lost my tattoo virginity on the 12th of September, and my half-sleeve was completed by early November. Then I decided to extend it to a full sleeve, because fuck you is why. I'm about 18 hours in, still with a fair amount to go but I'm so pleased with what I've got.
3) Go on holiday
This one is shaping up beautifully. In April, Sheenie and I are taking a holiday of epic proportions – a road trip around California (with short jaunts into Nevada and Arizona, too). 97 days, not that we're counting…
4) Stay out all night
Done!
5) Get back to my goal weight
Lololol. Somehow don't see this one happening either. I have certainly lost weight, but I am far too terrified of the scales to know how much. And I'm not even sure what my goal weight is. Just taking this one at it comes.
6) See at least 3 live gigs
By the end of February, this will be complete. On the 12th of October, my sister and I saw Fall Out Boy at Wembley Arena. On the 12th of January, we'll be seeing Panic! at the Disco at Brixton Academy. And then on the 24th of February, I'll be meeting my MySpace twin Leanne after at least ten years to see Twenty One Pilots. Buzzing ain't the word!
7) See live standup comedy
In the pipeline – one of my Christmas presents from my sister was tickets to see Russell Howard at the Royal Albert Hall in March. Yaass!
8) Be in a TV show audience
Done! On the 3rd of November, we were in the audience for Russell Howard's Good News (are you sensing a theme here?).
9) Write a letter to myself to open on my 34th birthday
Done! In actual fact, it was the first one I crossed off. It's only been a few months and I can't remember a word of what was written in it, but I imagine by the time a decade has gone by and I get to read it, it will be a complete cringe fest.
10) Go on 3 UK breaks
Made absolutely no progress with this one so far… but it can't be that hard, just plan a few family visits around the country and I'll be laughing.
11) Visit my cousin Kirsty & John
See above.. I'll get there.
12) Photograph a sunrise
Do you know, I've tried it in a half-arsed manner a few times. I often see gorgeous sunrises on my train to work but it's impossible to take a decent photo on your phone on a moving train. Must try harder!
13) Master light trail photography
Meh, possibly one of the least important things on the list since I can actually already do it, I just need practice at getting sharper focus, and better exposure in the backgrounds. One of these days (well, nights) I'll drag my tripod to a bridge or something and not go home until I've cracked it!
14) See live magic
Done! On the 1st of October, Grace and I saw Darcy Oake perform at Hammersmith Apollo and there wasn't a dry seat in the house. Phwooaarr.
15) Get up to 100 daily squats, crunches, lunges and a 60 second plank
I completed a 30-day squat challenge in September, but have I done a damn thing after that? Have I heck.
16) Get confident in red lipstick
Done! I crossed this one off mid-September; it's a bit difficult to quantify something so subjective but after having worn red lipstick out/to work a few times without spending the whole day worrying if I looked like an idiot, I felt I could give it a tick.
17) Give blood and register as an organ donor
I registered as both a blood and organ donor back in August, but haven't managed to give blood yet due to my ongoing tattoo adventure (you need to wait at least 4 months after tattooing before you can give blood). I haven't forgotten about this and I will do it!
18) Learn to food budget/meal plan
Done! Another fairly subjective one that I crossed off mid-December after several successful weeks of setting a food budget, sticking to it and taking food to work for at least an allotted number of days. This budgeting malarkey ain't so bad.
19) Have a picnic
Summer seemed to disappear pretty damn quick after my birthday, but this'll be back in my sights by next Spring.
20) Take a trip with my sister Rachel
Nada. I'm hoping to maybe kind of cheat a little tiny bit and drag her with me to complete number 10 or 11; kill two birds with one stone.
21) Write something fictional
Nope, nothing. I can write just fine, my trouble is my lack of imagination!
22) 24 random acts of kindness
I'm up to 19 out of 24 on this one. Everything is listed on my 24 page, but it includes the likes of helping people with prams and suitcases, buying lunch for strangers or homeless people, that kinda thing. Feels good, man.
23) Buy just-because presents for my mum, dad, nan and Rachel
Two out of four – unsolicited gifts for my mum and Rachel are done, but dad and nan still to be bought. When I see something, I'll know!
24) Save £20 for each item crossed off
So far, seven items have been completed which means I've got £140 out of 480 squirreled away in my room.
Anyway, I know I've been the world's worst blogger this year and I can't promise I'll be back on form now, but thanks ever so much to those who still read, it does mean a lot. Here's to a happy, healthy 2016 for all!