Dia de los Meurtos has always fascinated me. As a country, we're generally pretty depressed by death. When somebody close to us dies, of course mourning is a natural thing to do… but to mourn forever? I think Mexico have it damn right in celebrating the lives of lost loved ones rather than living in perpetual grief. Not to mention what a visual spectacle it is, with stunning colourful garments and ofrendas (altars for the dead) traditionally decorated with sugar skulls and marigolds.
Thomasina Miers' Wahaca think that we in the UK could do with adopting a bit of Mexico's celebratory attitude, and in 2014 debuted their very own Day of the Dead festival in London. It was such a success that this year's event sold out pretty damn quick, so I was thrilled to be invited along by Three (my own mobile network, incidentally) as an 'Official Instagrammer' for the day. Yes, that is genuinely the most wanky hipster thing I have ever done and I'm not even slightly sorry 'bout it.
Along with some other amazing bloggers and all-round super cool people (Erica, Chris, Kasha, May and India), we were each given a Samsung Galaxy S6 to snap the action at the festival, and uploading to Instagram was a breeze thanks to Three's mega reliable 4G (I switched providers to them for a reason, yknow!). Here are some of my favourite shots of London's very own taste of Day of the Dead, and no less than sixteen reasons that the Wahaca Day of the Dead Festival 2016 should be on your hit list next year. Viva la Mehico!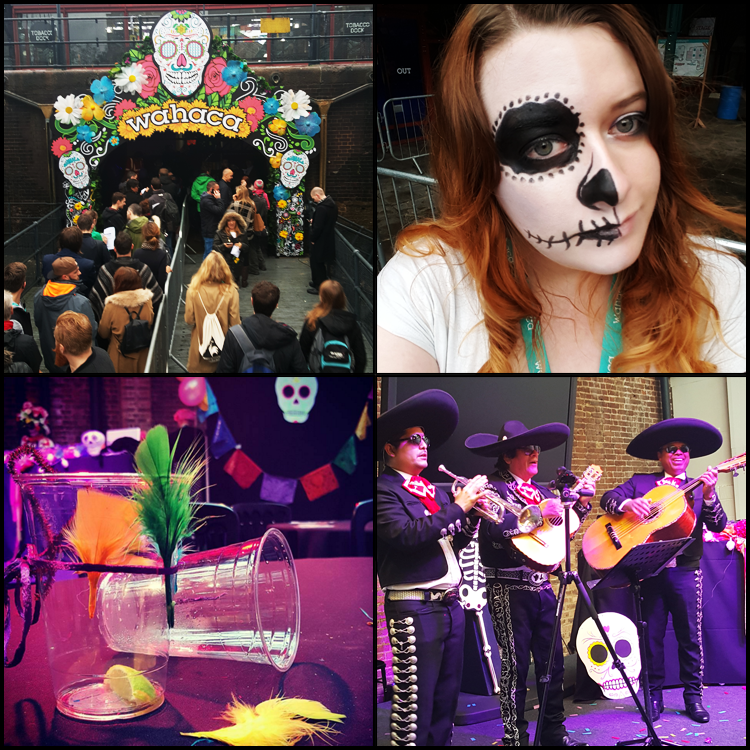 1. Sugar skull face paint


Because why would you NOT?!

2. Tequila
The genuine, proper stuff, straight out of Mexico.

3. Mariachi bands
You haven't really heard La Cucaracha until you've heard it live.

4. Live from the Wahaca Stage
Music from the likes of Crystal Fighers, Zoe, The Horrors, Savages, and dozens more.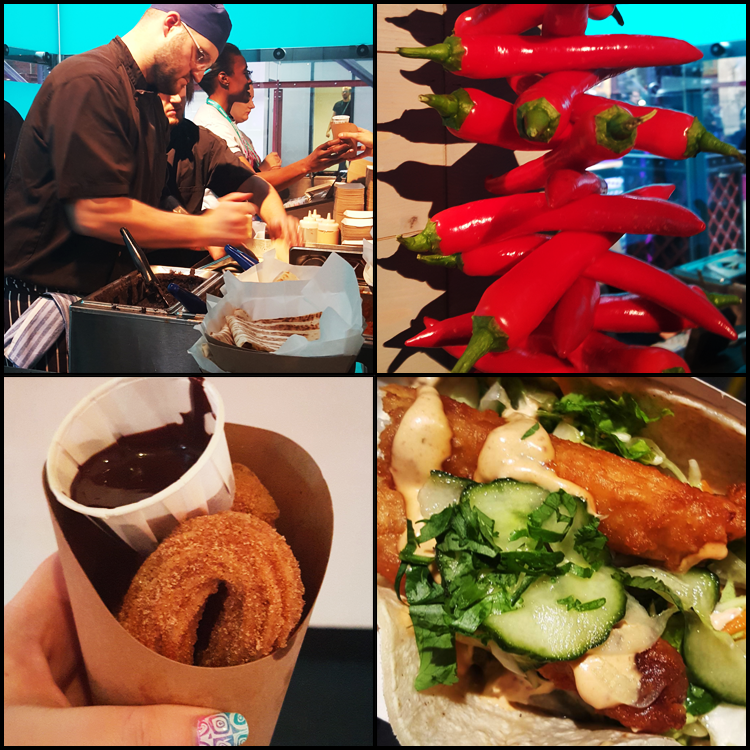 5. Chilli
Because some like it caliente.
6. Fish tacos
And pork tacos, and chilli tacos, and oozy, cheesy quesadillas of every description… damn.
7. Churros
WHY are these not more widely available? Why?
8. Tequila
It's worth another mention.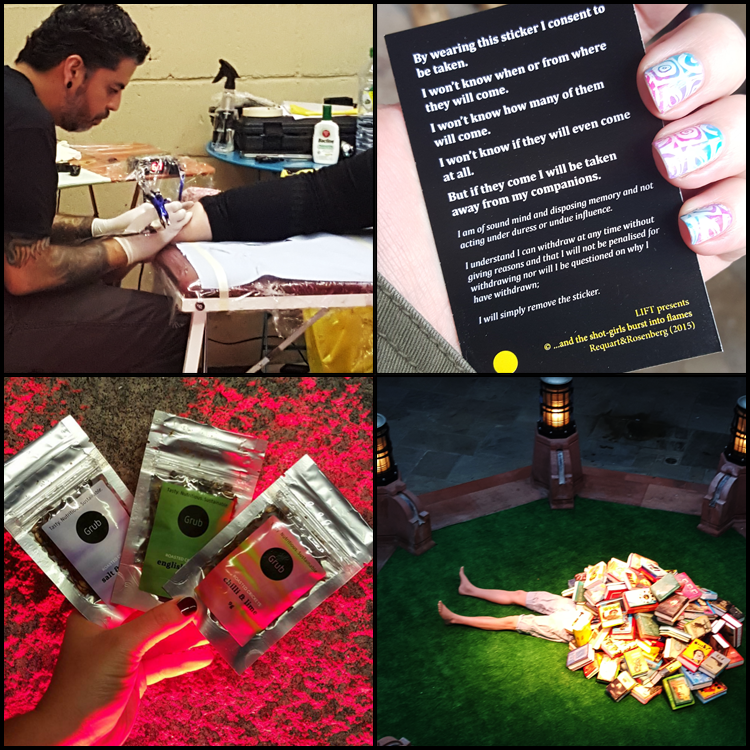 9. Live tattoos
I would have loved to get one to commemorate the day, but all artists were booked up. Major sadface.
10. An element of danger
LIFT were in attendance, engaging a handful of festival-goers in some mysterious immerserive theatre. If only I could tell you more, but alas, I was not taken!
11. Protein
In the form of… roasted crickets?! Yep, Grub were on hand to introduce us to a sustainable form of protein that's actually pretty damn tasty. You heard it here first.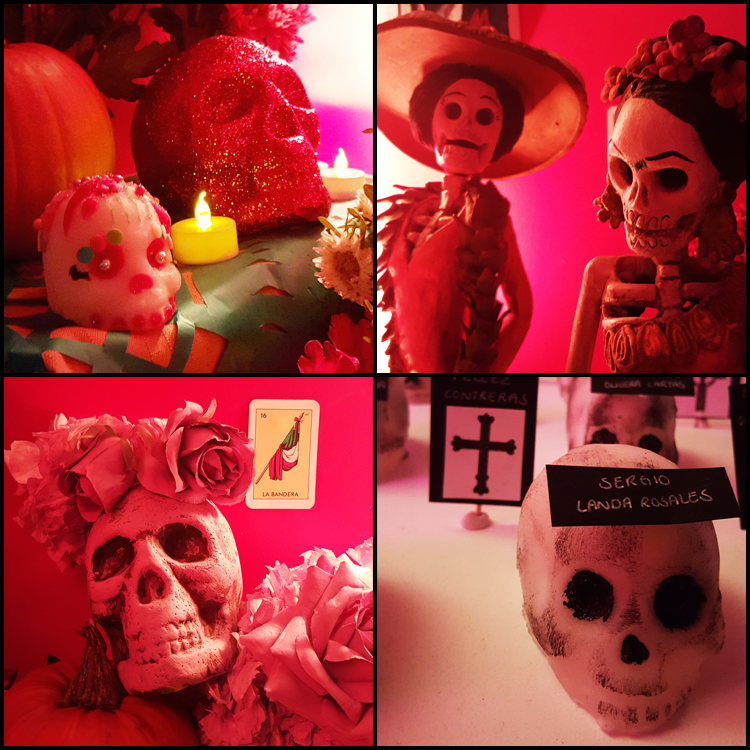 12. Contemporary art
I do not profess to 'get' art. But that doesn't stop me looking at it with a thoughtful hand upon my chin, saying 'hmm..' like I know what it's trying to say. Everywhere you look, there are eye catching installations and even live street art being created in front of your eyes.
13. The ofrendas
Honestly, the altars in honour of those who are passed are so beautiful. This year featured a particularly poignant tribute to the more than 100 Mexican journalists who have been murdered or disappeared without a trace since 2000. Freedom of the press is so important and I hold the utmost respect for anyone pursuing journalism in the world's most dangerous country to do so.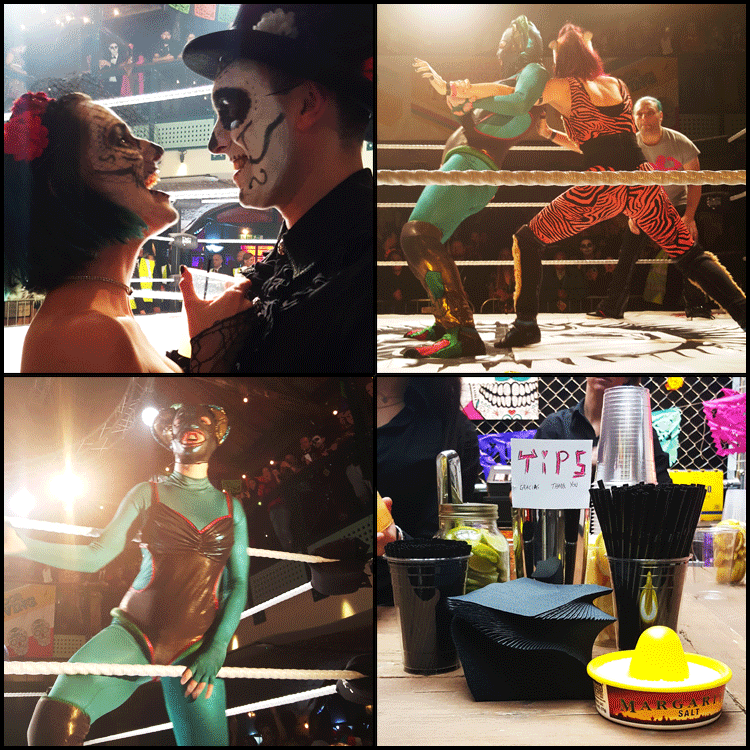 14. Snapping strangers
Festival-goers put so much effort into their costumes, it seems a shame not to do some creepy sneaky snapping.
15. Lucha Brittania
Mexican wrestling – the UK version! – is utterly bizarre and utterly entertaining.
16. Did I mention tequila?
So… will I see you there next year?