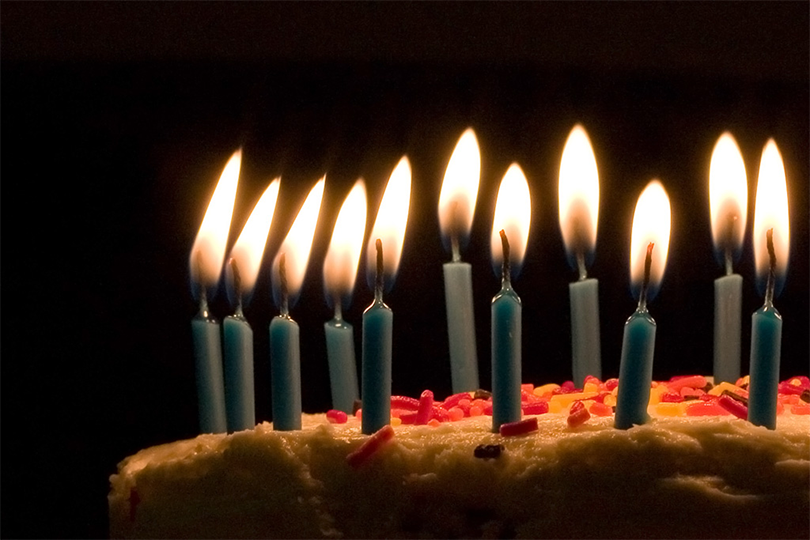 [Source]
I've recently been dealing with some major life changes – which is my current convenient excuse for lack of blogging – but today is my birthday. It's time to look at this as not even just a new chapter in my life, but an entire novel. Up until now, I've just been living the prologue. There are reams upon reams of blank pages awaiting a lifetime's worth of stories. And, write them I will!
I am a perpetual list maker. Without making a list of things I need to do, every single day, I never get anything done. Procrastinator extraordinaire who can only be encouraged to actually do anything by the promise of satisfaction felt when you cross something off a list. To this end, in an effort to make sure I'm really living, not just existing, I have written myself the list to end all lists. It's not quite of 101 in 1001 calibre (you know, 101 things to do in 1001 days), but it's my own stepping stone. I turn 24 years old today, so here's my 24 for 24 list.
In no particular order…
1) Move
Self explanatory! Find a new flat. Move into new flat. Enjoy new flat.
2) Get a tattoo
I have always, always wanted ink but have never yet got any for various reasons. Only trouble here is deciding which of my various planned tattoos I want to start with!
3) Go on holiday
I damn well need one. At this point, I have no idea where or when or who with, but we'll see. This one, along with all the other ones that involve spending money, may be tricky to achieve in conjunction with aforementioned new flat but I'll make it work.
4) Stay out all night
I am 24 years old and never once have I stayed out all night. Live a little, woman!
5) Get back to my goal weight
Self explanatory. Stop eating so much shit, start exercising more. Less comfort eating, more mindful eating.
6) See at least 3 live gigs
I suppose this is largely going to depend on who's touring throughout the next twelve months, but I'm holding out some serious hope for my favourite bands.
7) See live standup comedy
Laughter is life. Preferably Jimmy Carr, but I wouldn't turn my nose up at Jon Richardson, Sean Lock, Sarah Millican, etc.
8) Be in a panel show audience
Uhh, sort of similar to the above – 8 out of 10 Cats would be the dream but I love all the panel shows. I've had the knowledge in the back of my mind for years that it's free to be in pretty much any TV show audience and you just have to apply, yet, once again, I've never done it (are you sensing a theme here?).
9) Write a letter to myself to open on my 34th birthday
I actually got a tiny bit of a head start and have already done this one. I know I'll keep hold of it for a decade, but let's see if I actually remember to open it in 2025.
10) Go on 3 UK breaks
Dream destinations: Lulworth Cove, Edinburgh and… I don't know. See where the wind takes me!
11) Visit my cousin Kirsty & John
They live in Norwich, so not far, but I've been saying I'll go stay for a weekend for literally years.
12) Photograph a sunrise
Not a morning person. Challenge accepted.
13) Master light trail photography
I can kinda do it, but could really use some more practice on getting things in sharper focus and better exposure in the backgrounds.
14) See live magic
Actually already in the pipeline – Grace and I have tickets to see Darcy Oake in October and I can't frigging wait.
15) Get up to 100 daily squats, crunches, lunges and a 60 second plank
Exercise is really not my forte. At the beginning of 2014 I did one of those 30-day squat challenges a couple of months in a row and you wouldn't believe how damn firm my butt got, but yeah, let's get back into this and add in the rest. No point in having a rock hard derriere if everywhere else is wobbly.
16) Get confident in red lipstick
I go through phases with red lipstick, no idea why. Sometimes I won't bat an eyelid but other times I'll think it looks great when I wear it at home but panic and take it off before I leave the house, thinking I look like an idiot. Come on, everyone looks good in red lipstick. Sort it out.
17) Give blood/marrow and register as an organ donor
I mean, why wouldn't you? This is something I've been meaning to do for such a long time, but always pushed it to the back of my mind. I'd already started writing this list and included this item a while ago, then shortly after I learned that an old friend of mine has been diagnosed with blood cancer. Nothing like a 25 year old potentially dying to make you want to help everyone you possibly can IMMEDIATELY.
18) Learn to food budget/meal plan
Like many who work in the city, I am so damn frivolous with food spending. An average of £8 a day on lunch sounds like a lot already, but you really start to feel shitty about it when you realise that's £40 a week, or, even taking annual leave into account, £1880 a year. Shocking. And if just the lunch thing wasn't bad enough, I tend to pop into the supermarket on the way home to get whatever I fancy for dinner, half of which ends up languishing in the fridge until it's well past its best. Remedy: set a food budget, stick to it, plan meals around it, take leftovers to work at least some of the time. Profit.
19) Have a picnic
Simple, easy, yet somehow really hard to find a companion/date/location etc.
20) Take a trip with my sister Rachel
Because obviously. She is painfully popular and perpetually busy, but surely girl can find time in her hectic schedule for her big sister, right?
21) Write something fictional
Even when my blogging mojo packs up and takes an extended vacation, writing is something I always love to do. Yet, fiction eludes me due to serious lack of an imagination.
22) 24 random acts of kindness
Pretty self explanatory. This covers such a broad spectrum. Simply, anything you do with the sole purpose of making a stranger smile. I occasionally buy lunch for homeless people, but how much better would it be if I made the time to sit and eat with them once in a while? I often see people wearing items of clothing or a lipstick or whatever that I really like, but never pipe up and compliment them on it. Would it hurt to actually open my mouth?
23) Buy just-because presents for my mum, dad, nan and Rachel
The clue's in the name, just because. Recently, I found a little gift tag from a present my mum bought me years ago which said 'Dear Leanne, Happy just because I love you day, love mum xxx'. It made me really want to surprise my family with random gifts, because why not? My mum and my nan are both Jehovah's Witnesses, so no Christmasses, no birthdays, no mother's day. And as for dad and Rachel, why should I wait for Christmas or their birthdays to give them something nice?
24) Save £20 for each item crossed off
I'd love to make this £100, but let's be realistic here. Putting £20 away every time I cross one of these off would make a total of £480, which, assuming I manage to cross them all off in a year would make a great 25th birthday present to myself!
A lot of these things I hope to achieve are probably blog post worthy, so I don't doubt there will be some updates along the way but I'll be keeping track of my progress over here, if ever you're interested.