I think I've managed to do something I've never done at any previous IMATS before, and been totally sensible with all my purchases. Usually, I'll look over everything I bought when I get home and think 'sigh, what did I buy that for, I know I'll never use it' about at least one product. Case in point, the Eye Kandy glitters I bought last year – still sitting completely untouched in the very bottom drawer of my makeup storage. This year, though, I don't think there's one thing here that will go unused. I managed to get a couple of things off my lust list, and even managed to cross a couple off last year's, too!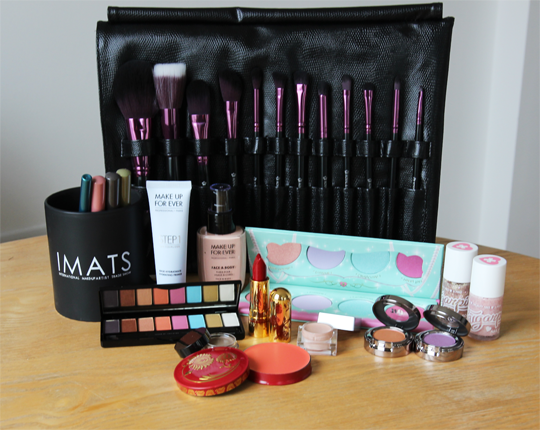 Royal & Langnickel Wrath brush wrap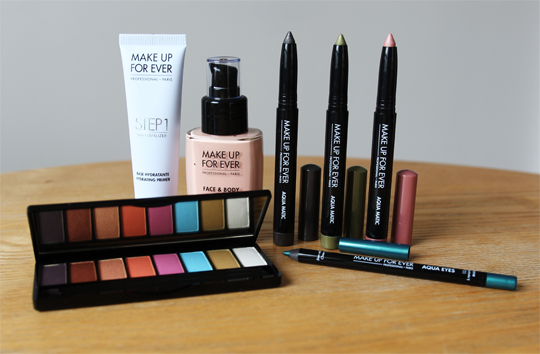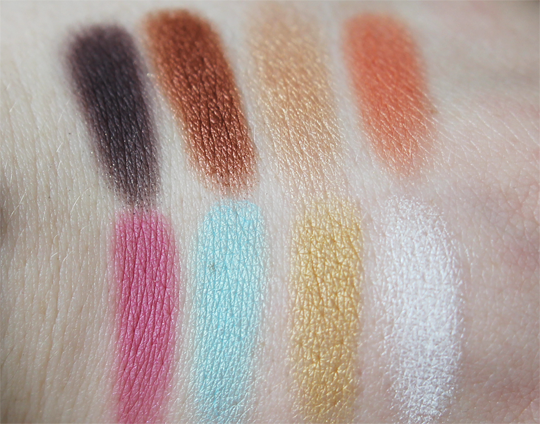 Make Up For Ever Arty Blossom Palette

Make Up For Ever Aqua Eyes 52L & Aqua Matic D-12, M-32 and M-54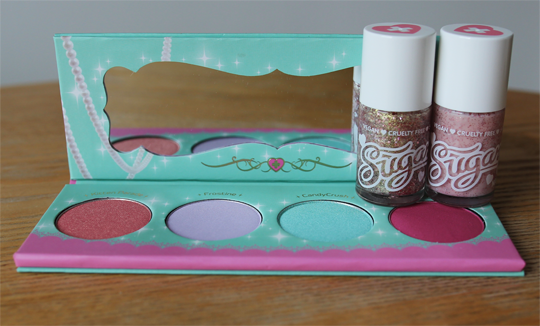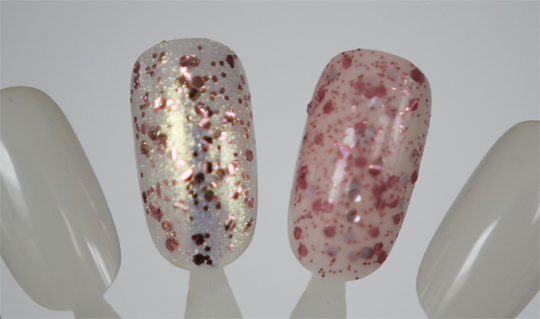 Sugarpill Heavenly Creatures nail lacquers Celestia & Cloud Castle

Sugarpill Sparkle Baby Palette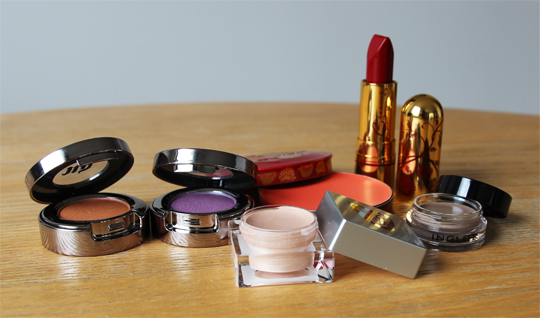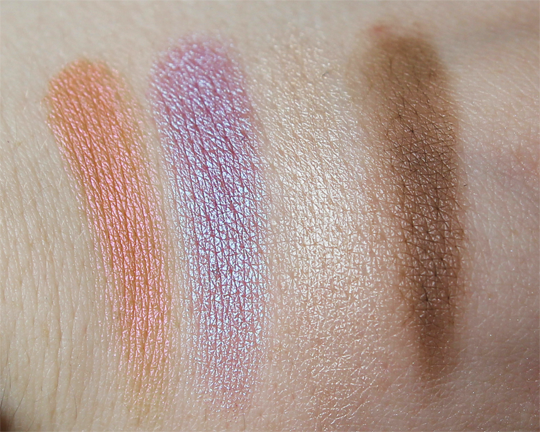 Urban Decay eyeshadows Fireball & Tonic, Kryolan Illusion highlighter Cashmere, Inglot AMC Brow Gel 20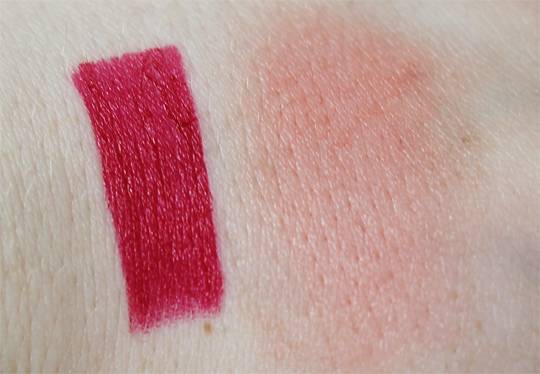 Besame Cosmetics American Beauty lipstick & Apricot Cream Rouge
Phwooarr, some pretty sexy stuff, huh?
First up, the Royal & Langnickel Wrath brush wrap. This set contains exactly the same brushes as the Love is… Patience set I bought last year, just a different colour. Worlds away from the pastel prettiness of those ones, these – part of a Seven Deadly Sins collection – feature purple bristles and a very pretty metallic purple ferrule. Love them.
Despite Make Up For Ever being easily available in the UK now thanks to their April launch in Debenhams, you still can't turn your nose up at the trade show discounts. I stocked up on my favourite Face & Body Foundation, picked up a much needed new primer in the form of the Step 1 Hydrating Primer and three of the beautiful Aqua Matic Shadow Pencils which I know I'll be using a lot, all for 30% less than RRP. Just as I was about to pay, I caught someone holding the Arty Blossom palette out the corner of my eye. It was on my wishlist last year, but I didn't see it at the show – I didn't even see it this time until it was in someone's hand – so I quickly asked for one and snapped that up, too. The Aqua Eyes pencil was a gift with purchase, presumably for spending over a certain amount, and while it's most likely not a colour I would have picked up myself I actually quite like it and look forward to finding some ways to wear it that don't scare me!
While browsing the Sugarpill stand, I came to the conclusion that they really, really need to add some lip products to their arsenal. Can you even imagine how insane Sugarpill lipsticks would be? This time around, I got the two Heavenly Creatures nail polishes I wanted – Celestia and Cloud Castle, along with an unplanned purchase of the Sparkle Baby palette because hey, it's pretty. That's reason enough, isn't it? Let's ignore the fact that I already own one of the shades as a single.
The two Urban Decay eyeshadows were unplanned, too, until Bicky showed me swatches of some insane duochrome shades on someone's Instagram (I forget who!). Fireball is a peachy orange shade with serious pink duochrome, and as for Tonic, I can't decide if it's lilac with blue duochrome or vice versa. The shift is mental, I love it. 'A new highlighter' was a vague item on my wishlist, and Kryolan Illusion in Cashmere fit the bill with its creamy texture and soft glow. No Inglot eyeshadows for me this year (that's a first!) but I did grab their new AMC Brow Gel in the imaginatively named shade 20.
Last, but certainly not least, a bit of vintage-inspired loveliness. Besame Cosmetics was on my to-visit list last year, but for whatever reason – probably a combination of illness and subsequent grumpiness – I didn't. But I wandered over there this time around and was not disappointed. The packaging on this stuff is gorgeous, and my god, the colours! American Beauty lipstick is straight out of the 1940s and, while I haven't worn it yet, I can just tell it's like, my power shade. You know what I mean by that, right? So I finally crossed that one off my wishlist, and couldn't resist the Apricot Cream Rouge either. I think it's justified, since I own so many pink blushes and barely any peachy coloured ones. This is perfect and despite the concentrated pigment, a good blending leaves such a natural finish on the skin that's perfect for summer (if we have any of it left). OH! And I bought an IMATS mug, too. I collect mugs. Yes, I know, a life, I need one and I will get one one day, promise.
Perhaps a quick mention for the things I didn't get. The non-attendance of Charles Fox meant I missed out on picking up new copies of Makeup International magazine for the first time; sob! One thing I was mega excited about getting this year was a bunch more MoYou nail art stamping plates. When I found their stand, I was a bit confused – the logo was different, and the plates were all the standard Konad-style round kind or enormous >30cm professional ones rather than the rectangular style I'm familiar with. A quick Google post-show led me to discover that this was the MoYou at the show, rather than this one that I was expecting. Who knew there were two?! More to the point, why were IMATS linking to the wrong one on the exhibitor list? So many questions, so little purchasing of nail art stamping plates. Not to worry. I ended up ordering more online later… oops.
All in all, a very successful trip and I'm mega pleased with all the products. That's definitely my spending limit reached for the next eleventy billion years. Maybe.