We quite like a bit of Jim Beam in this house. We also quite like a bit of smoky, sweet BBQ. Add the two together and what do you get? Jim Beam Bourbon BBQ Sauce*, of course. Add that to a pile of fresh chicken wings and what do you get? A damn good dinner, that's what.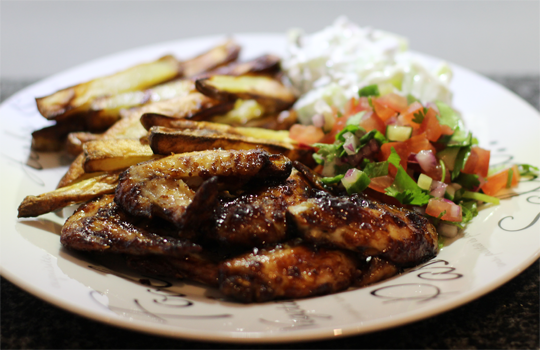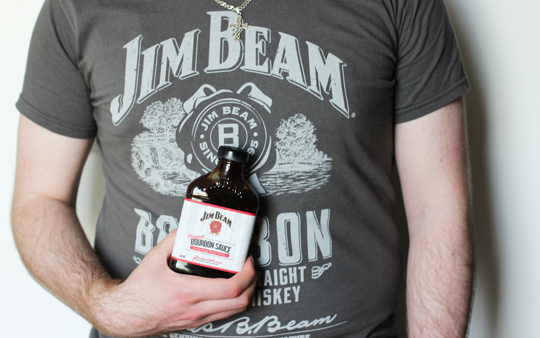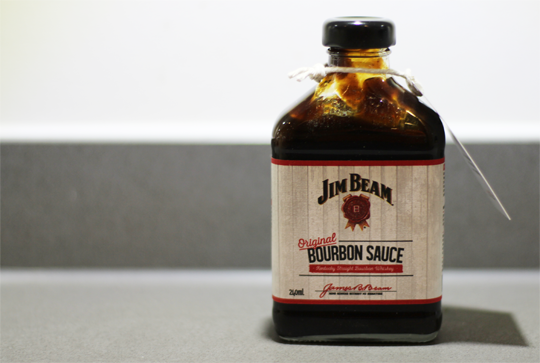 Plain, raw chicken wings can be pretty hard to find in supermarkets, even the bigger ones. You may need to pop to your local butcher or, if you're in the London area, hit up my buddy Marky Market. He will head to Smithfield market for whatever you want and bring it right to your home or office – I got a kilo of chicken wings from Mark for about £3. Barrrgain.
Colin just had his with homemade chips. I piled the rest of my plate up with leftover pico de gallo and tzatziki from meals earlier in the week – life's too short to stick to one cuisine at a time, clearly! Naturally you can have your wings with whatever you please, but I've suggested a few things below.
You will need (serves 2)
500g chicken wings (about 6-8 each)
Salt and pepper
1/2 jar of Jim Beam Bourbon BBQ Sauce
Yep, that's it.
These would be awesome with…
A fresh, crunchy green salad
Homemade coleslaw
Creamy Southern-style butterbeans (great recipe here)
Potato salad
Celery sticks & blue cheese dip
Cajun spiced rice
Butter basted radishes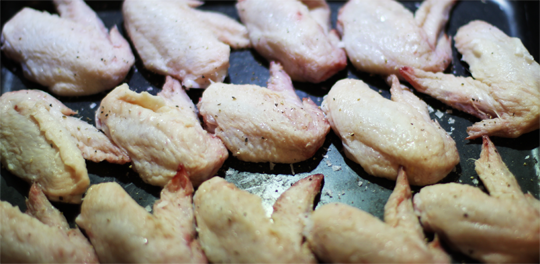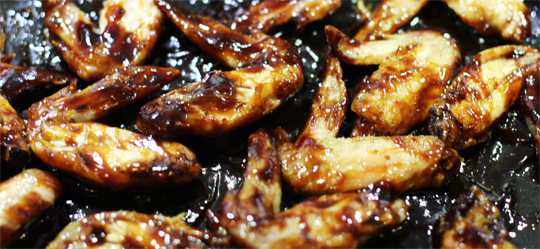 This is honestly so simple it barely constitutes a recipe, but here goes. The tips of chicken wings have no meat on them, so if you want you can cut them off (just chop through the wing at the joint and discard the tip) but I kinda like the shape when you leave them on. Arrange the wings in a single layer in a roasting tin and give them a grid of salt and pepper.
Bake in a pre-heated 200C oven (180 for fan ovens/gas mark 4) for 40 minutes, turning once halfway through. When forty minutes is up, take them out of the oven. If there's a considerable amount of fat, pour it off and discard safely. If there's only a dribble, don't worry about it. Pour the BBQ sauce over the wings and toss to coat thoroughly. Pop back in the oven for 15-20 minutes, turning again halfway.
Plate up with any combination of delicious sides you fancy, and make sure everyone has a sheet of kitchen roll on hand because your hands are going to get VERY messy. And it's going to be WORTH IT. Oh, and stick the tin in the sink to soak as soon as you've served the wings otherwise you'll have an absolute nightmare trying to clean it later!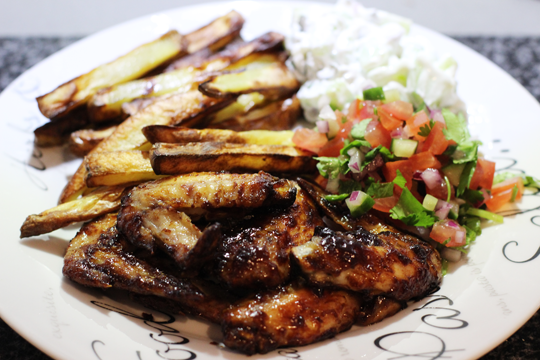 Jim Beam Bourbon BBQ sauce will be available in Sainsburys from week commencing 29th June 2015.