You probably already know that I'm a big fan of Good Things skincare. The launch of their new-ish Argan Oil range managed to sneak past me unnoticed. But, better late than never, I have found a new bathroom cabinet staple in the form of Good Things Nourishing Cleansing Oil*.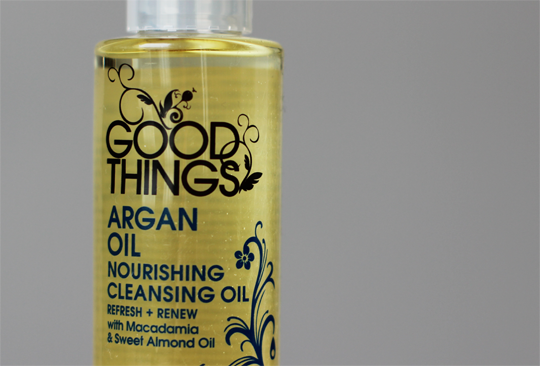 A couple of years ago I had a bit of a cleansing oil phase, then for no real reason I seemed to just stop using them. It wasn't until I received this new Good Things oil a few weeks ago that I remembered why I liked oil cleansing so much in the first place – this one is bloody lovely. Along with the obvious Argan oil, there is a good dose of Macadamia and Sweet Almond oils in there too to boost your skin's exposure to essential fatty acids. Not to mention it smells delicious.
As with any cleansing oil, you massage this one onto your dry face with clean hands. Don't skimp on the facial massage – really get the blood pumping! Add a splash of water to emulsify into a creamy texture, then rinse off with warm water and a flannel. Ahhh, delicately soft and squeaky clean skin. Make sure you really do rinse it off properly, removing every last trace of it as unlike the facial oils you might apply afterwards, cleansing oils can sometimes have a tendency to block your pores which will leave you congested and spotty rather than beautifully soft.
You can pick up the Good Things Cleansing Oil (and other products from the Argan Oil range) for a truly bargainous £5.99 at Boots. Go on!