You may have noticed that blogging inspiration has been a bit woefully thin on the ground for me this year. We're nearly halfway through 2015 already (wait, what?!) and there's only been a few things that have piqued my interest enough to go 'oooh, that's pretty cool'. These nail polishes have surpassed even that infrequent mild interest and instead reached the rarest of realms – the one where I go 'oh my god I must write about these RIGHT NOW'. For achieving that nigh on impossible task, let's give a round of applause to OPI Color Paints*.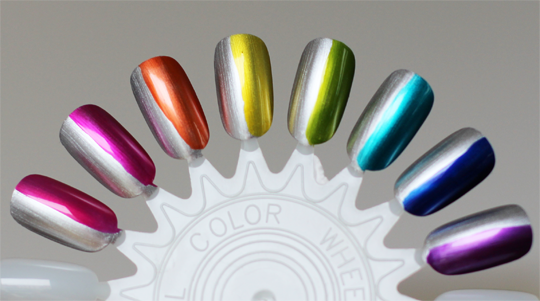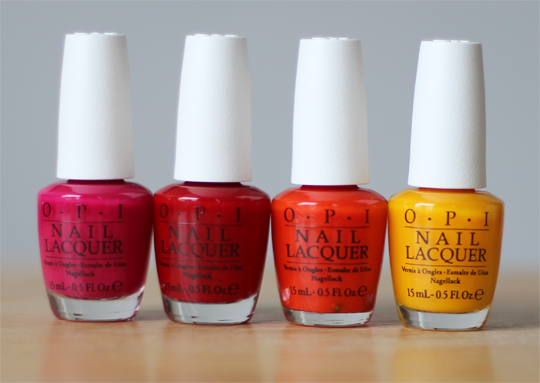 L-R: Pen & Pink, Magenta Muse, Chromatic Orange, Primarily Yellow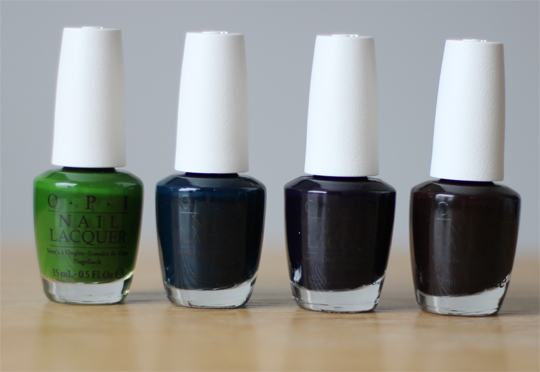 L-R: Landscape Artist, Turquoise Aesthetic, Indigo Motif, Purple Perspective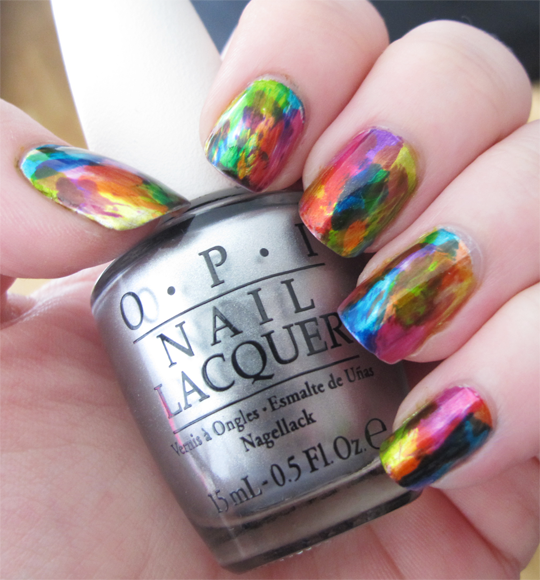 Yes, it does totally pain me to write 'OPI Color Paints' without the U in colour but yknow, SEO and all that (hashtag blogger problems). Eye-twitch-inducing Americanised spelling aside, OPI Color Paints are, quite possibly, the brand's first foray into real nail art. Sure, they've done stuff like crackle toppers and The Man With The Golden Gun but, let's be honest, effect topcoats aren't really nail art, are they? OPI also aren't typically trend leaders, sticking more to the tried and tested end of the scale but I can already envision a slew of lower end copycats before the end of the year.
So what exactly are they? Well, Color Paints is a collection of nine polishes containing one silver chrome (Silver Canvas) and eight semi-translucent, 'buildable' colours. The idea is to apply a base of Silver Canvas to turn each of your nails into just that – a canvas – and have fun slapping the colours on top. Basic colour theory dictates that applying a splotch of yellow and a splotch of blue will create green if they overlap, but damn they're fun to play with. Each colour creates an entirely different hue when overlapped with each of the others, and the luminosity they have to them shining through from the Silver Canvas base is just stunning.
Don't waste your time trying to apply one of the colours by itself, you'll be there all day because they're sheer. But that's the idea! Although, by all means, I'm certain they would work fine with any other silver chrome polish. I wouldn't recommend Silver Canvas by itself either, as it suffers from that ubiquitous problem that all chromes do i.e. horribly visible brushstrokes.
I had so much fun getting my Kandinsky on, going a bit crazy and splashing colour all over my nails. The effect is something like an abstract stained glass, and I absolutely love it. It's so colourful and eye catching without being POW in your face neon or anything like that. Honestly, the most fun I've had painting my nails in at least a year, not to mention that I can't stop looking at them which hasn't happened in even longer. It feels good to be excited about something!
OPI Color Paints launch in the UK on the 1st July 2015, and will be exclusive to Selfridges and salons nationwide. They'll cost £12.50 each, so completing the set would cost a fortune – here's hoping for some more affordable minis?