As a self-confessed beauty hoarder, it seems bizarre that when it comes to John Lewis, I don't immediately think of beauty. I have a fab John Lewis store about 2 minutes walk away from my home, but I tend to hit it up for kitchen and homeware bits more than anything else. Pleased to report though, that my perceptions have been well and truly challenged by a little hashtag called #BeautyAtJL and this selection of Philosophy products that have quickly worked their way into my bathroom.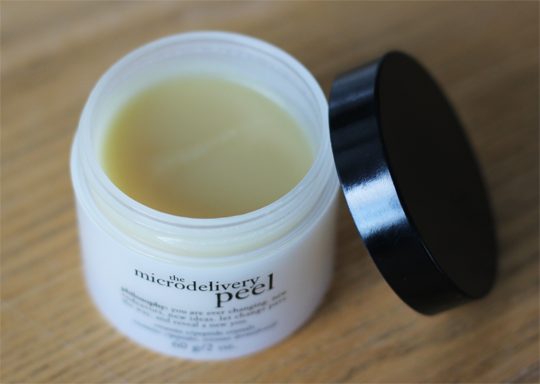 Philosophy is a brand I wasn't mega familiar with. There is one product of theirs that's been a staple in my bathroom cabinet for ages, the Purity Made Simple cleanser, a supremely gently one which I tend to use intermittently to give my skin a break from the ones I use everyday. It's a nice cleanser by all means, but certainly nothing that blew my socks off. So imagine my surprise when the Philosophy Microdelivery Peel* did exactly that!
This little two-step system looks very unassuming, but good grief, I'm certain it actually work miracles. The Microdelivery Peel is an at-home AHA (alpha-hydroxy acid) peel that aims to resurface and rejuvenate skin that's not at its best thanks to the likes of sun damage, hyperpigmentation and ageing. As a pasty-pale twenty-something, I'm fortunate not to have experienced any of those skin problems – yet – but my skin texture is awfully uneven and never, ever feels completely smooth. The only time it ever has was after an expensive facial, and it's something no amount of manual exfoliation at home has ever been able to replicate, even with the Clarisonic.
The first step to the Microdelivery Peel is the little tub of Vitamin C/Peptide Crystals. You simply massage a teaspoon amount of this into the skin, avoiding the eye area and any rough scrubbing motions. This is fairly abrasive and feels quite sugary in texture, so if your skin is sensitive just apply less pressure as you massage it in for 60 seconds. Next, pour a teaspoon amount of the Lactic/Salicylic Acid Activating Gel into your hands and apply this on top of the crystals. It heats up while it works, leaving your face feeling pleasantly warm and cosy, then you wash it all off after 3 minutes to reveal genuinely, properly soft and smooth skin.
It's addictive, and I'm struggling to maintain the willpower not to use this every day because I'm sure that would do me more harm than good. But seriously, I'm astounded. It's not a cheap buy at £59.50 from John Lewis, but compare that to how much you'd pay for a peel in a salon and how many uses you'll get out of this at home and it's actually pretty reasonable. Highly, highly recommended if you struggle with uneven skin texture.
Along with the Microdelivery Peel, I've been enjoying the sweet, delectable scent of Fresh Cream Shower Gel* (£19.50) and matching Fresh Cream Eau de Toilette* (£34) as a nice transition into Spring (can I get a Hallelujah?!), but the Microdelivery Peel is really where it's at. Try it!