Ok, first of all, huge apologies for the awful photos. Photography genius over here didn't even notice how out of focus they were until I uploaded them.. but I'm too keen to post about these little sticks of wonder to start over again. Forgive me and let me introduce you to the game changers that are Illamasqua Gel Sculpt & Illamasqua Gel Colour.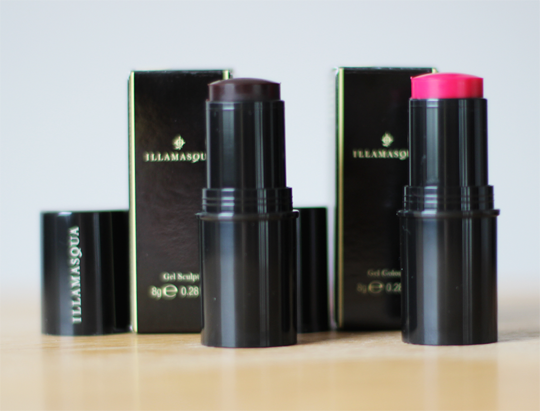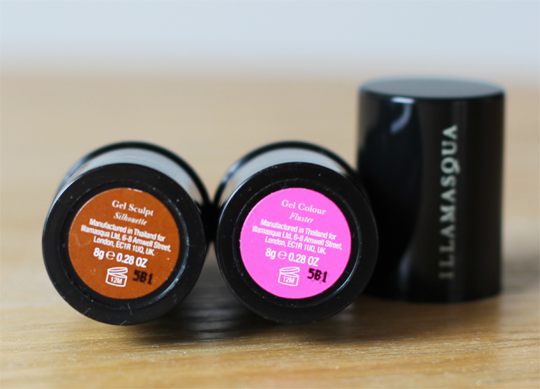 Thanks to the likes of the Kardashians (tries not to throw up a little), contouring is a Pretty Big Deal in the beauty world right now, but along with mastering winged liner on hooded eyes (nope, still can't do it) it's potentially one of the hardest beauty tricks to get right. Done correctly, you can create yourself some subtly sculpted cheekbones or chisel it up proper and totally change the shape of your face. Done poorly, you'll just end up looking like you've smeared your face with mud. I like to think I'm pretty down with the whole contouring thing – I learned with another Illamasqua product, actually, their Cream Pigment in Hollow – but it's undeniably a faff and not something most of us can be bothered with on a daily basis. New Illamasqua Gel Sculpt* (£22) is here to change that and, once you've tried it, you'll wonder how the hell you coped without it.
Illamasqua Creative Director Alex Box has absolutely outdone herself with this one. A light, waterproof gel formula, Gel Sculpt admittedly looks terrifyingly dark in the tube but sheers out easily. Want to know why it's so easy? Well, for a start, it doesn't require any brushes, any special, awkward technique or eight million hours of blending. I guarantee that you already have the required tools to apply this like an absolute pro. Unless you have no hands, in which case I'm sorry for being an insensitive arse…
But yes, hands. See that fleshy pad beneath your thumb? That bit. Apply a bit of the Gel Sculpt there on one hand, then smudge it together with your other hand to create an even distribution of product. Now, bring your hands up to your face. You can feel where your cheekbones are. Just use those pads of your hand to press the product into the skin there. Repeat if the effect isn't strong enough for you, and keep building until you're happy. You could honestly do this without even using a mirror. Takes seconds, totally foolproof, utterly genius. Instant contour, hallelujah!
Along with the truly one-shade-fits-all Gel Sculpt are two Gel Colour sticks, in Fluster* and Charm (£22), a hot pink and summery apricot. Again, these blush colours look a bit scary in the tube but beautiful and natural on the skin. You can even use all three sticks on your eyes if you want – The Boxmeister did on me and it looked fab.
Illamasqua Gel Sculpt and Gel Colour are out now in store and online and I seriously, seriously recommend them, particularly Gel Sculpt. I promise you, you won't be disappointed. Illamasqua are truly back on form!