I bought a bunch of new cookbooks fairly recently, and one that Kat recommended to me was Deliciously Ella. Yknow, it wasn't even until I got the book that I realised she was a blogger. Let me just state now, for posterity, that I really, really can't bear this pseudoscience rubbish. I'm very glad that eating 'the Deliciously Ella way' helped relieve the symptom's of Ella's illness, but I cannot stress enough how bloody dangerous it is to peddle this sort of lifestyle as a catch-all cure for terminal disease. This is how people like Jess Ainscough die. Aaaanyway… with the negative out of the way, there are actually a few pretty cool looking recipes in Deliciously Ella. I made this one last night but supercharged it for some punchier flavour.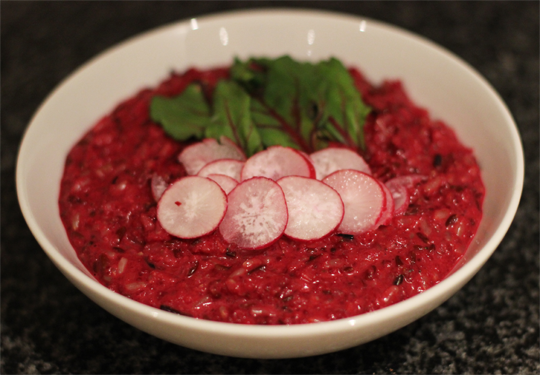 Ella's recipe for Beetroot Risotto actually uses buckwheat rather than rice, but I couldn't get hold of any. She only uses salt and pepper to flavour the dish, too, which felt to me like it would be pretty bland. So, here's my pimped out version.
To serve four (if you're cooking for one like me, that's one dinner, two packed lunches for work, one for the freezer!), you will need…
5-6 raw, whole beetroot – not the pre-prepared pickled stuff
1 and a 1/2 cups brown or wild rice (I use a mix of the two)
1 small red onion, diced
2 cloves garlic, finely sliced or chopped
A handful of fresh thyme leaves
400ml tin coconut milk
Sliced radishes, for garnish
Sea salt & black pepper to taste
A food processor!
Start by pre-heating your oven to 190c (170c for fan ovens). Line a baking tray with foil, and tear the stem parts from your beetroot. Pick off any decent-looking leaves, give them a good rinse and save them for garnish. Stick the beetroot in the oven to roast and set the timer for half an hour.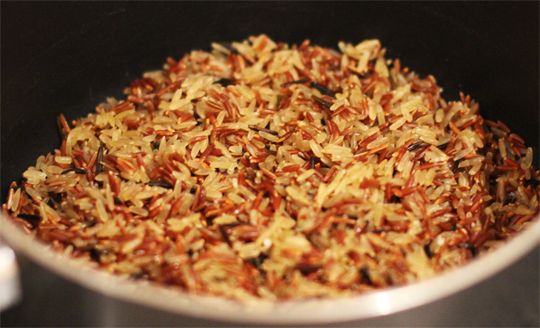 Once half an hour has elapsed, rinse your rice well in cold water until it runs clear. This is just to stop the rice getting all claggy and clumpy when it cooks. Stick it in a fairly large saucepan with 3 cups of water. Bring this to the boil, turn down the heat, cover and simmer for 25 minutes. Set that time on your oven again (your beets are still in!) so you don't forget.
During this 25 minutes, get your flavour-y bits ready. Gently fry the onion and garlic, pick your thyme leaves, or prepare whatever else you've decided to add instead or as well as. I had a handful of roasted carrots and parsnips left over from our Easter roast, so I threw those in too. Why not, right? S'all flavour.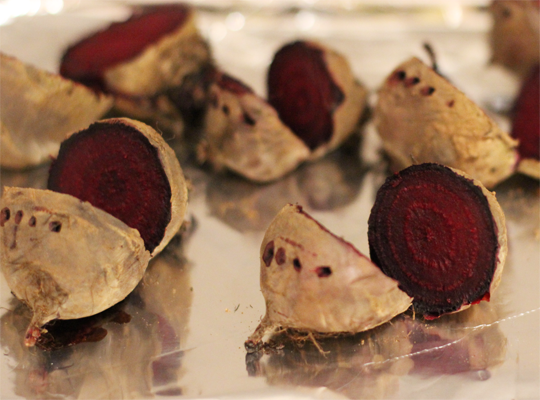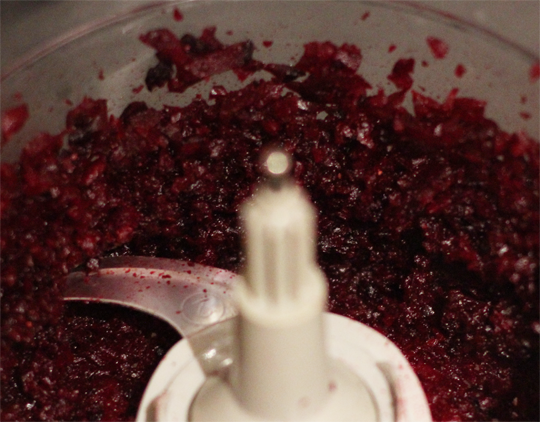 When the oven timer goes off, turn off the rice and get your beetroot out. Give it a couple of minutes to cool down enough to touch, then slice them in half. That colour! Swoon. It should be pretty easy for the cooked flesh inside to just slide out of the crispy skins, so dump it all in your food processor. Pulse it a few times to break down the beetroot before you start adding the other stuff.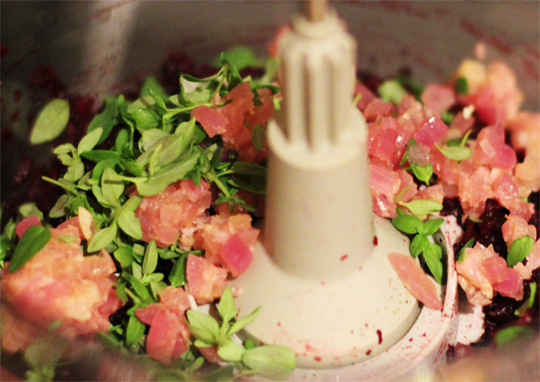 Throw in your onion, garlic, thyme, a good twist of salt and pepper and about half the tin of coconut milk, then switch the processor on. As it blends, pour in the rest of the coconut milk through the feed tube. Scrape down the sides if you need to. Et voila, look at that glorious pink sauce!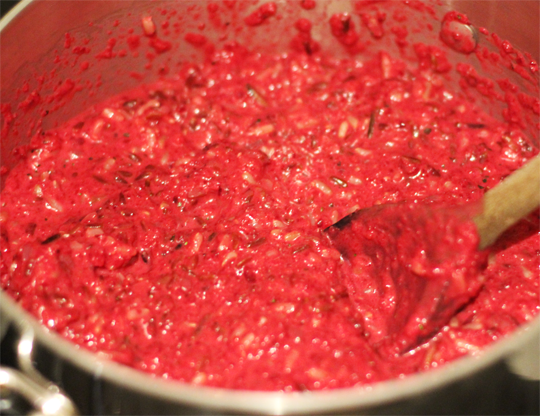 Pour the creamy beetroot sauce into the saucepan with your rice and give it all a good stir to combine. The rice should be retaining heat pretty well if you left it covered, so this should be sufficient to warm the beets through again but if it's not hot enough, just put the saucepan on a low heat and bring it back up again.
As you can see, this isn't really a risotto in the traditional sense of the word – there's certainly not standing at the stove, constantly adding stock and stirring. But it's as creamy, delicious and flavourful as a risotto, that's for sure. Serve with reserved beetroot leaves and sliced radish for a fresh crunch.
What do you reckon? Will you try this? I can't get over that beautiful colour!