I am British. My love of tea is a given. Still, I have never taken my love of tea more seriously than my average 10 cups of plain old breakfast tea a day (although for the record, my all time favourite is Tesco Finest Chocolate Tea. Yeah, believe it). Loose leaf tea, though, has always seemed like such a faff. Ain't nobody got time for teapots and strainers and all that malarkey, so I've never bothered with it. Step in Adagio Teas and their very, very clever IngenuiTEA.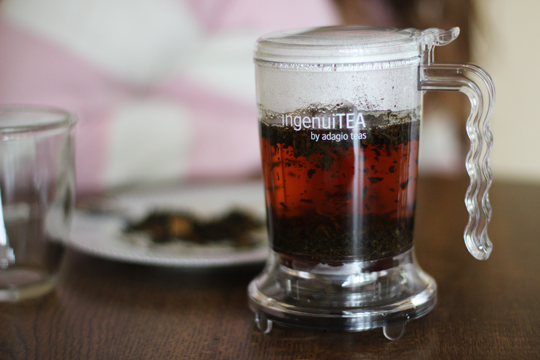 Loose leaf tea is something I am now enjoying almost to the point of excess, thanks to this ridiculously simple yet completely genius contraption. You can see in the photos just how easy it is. Add tea leaves to the IngenuiTEA*, pour in hot water, watch the tea leaves unfurl gracefully and let it steep, then place it on top of your favourite mug. Instantly, the valve at the bottom of the IngenuiTEA releases and your tea flows down into the cup, while the mesh strainer keeps all the leaves away. Adding a splash of milk is no problem either. It's super easy to clean, too, just rinse out the leaves and either give it a quick wash or stick it in the dishwasher if you're lazy. No mess, no fuss, just your favourite tea brewed exactly how you like it. If I could change anything about it, I'd add measurement lines so there's no danger of brewing too much or too little, but you tend to know the rough volumes of the mugs you use all the time anyway so it's no biggie.
While the IngenuiTEA is Adagio's star attraction, they also carry an enormous range of teas that are definitely not to be missed. I rounded up my mum and my nan to christen the IngenuiTEA and we tried White Peach and Rooibos Vanilla Chai, both of which were perfect. White Peach is, as the name would suggest, supposedly a white tea but it seemed more black to me. Delicious all the same, with a juicy, ripe flavour. Rooibos Vanilla Chai was the winner though, with its punchy blend of ginger, cardamom, cinnamon, cloves and South African rooibos and of course a hint of vanilla. Corrrr. These little tasters and the convenience of IngenuiTEA have seriously left me bitten with the loose tea bug and I forsee some tea haulage in the immediate future.
The IngenuiTEA infuser is available all over the place online including Amazon, or you can pick it up directly from Adagio Teas for £16 – and grab some tea while you're at it, obviously!
Do you drink loose teaf tea? What's your favourite? What do you reckon to the IngenuiTEA? This is really giving me the urge to try some tea-infused baking recipes…