I know that blogging on beauty is supposed to be my bread and butter, but, well, if you're a regular reader (which I seriously thank you for), it can't have escaped your attention that beauty posts have been pretty thin on the ground so far this year. The truth is that there's just not been anything so far in 2015 that's really got me excited enough to want to tell you about it… Everything's just more of the same, y'know? However, something has finally got me eagerly hammering on the keyboard because I think it's so awesome. And who else would be the creator of the first beauty collection to genuinely excite me this year? It's Illamasqua, of course.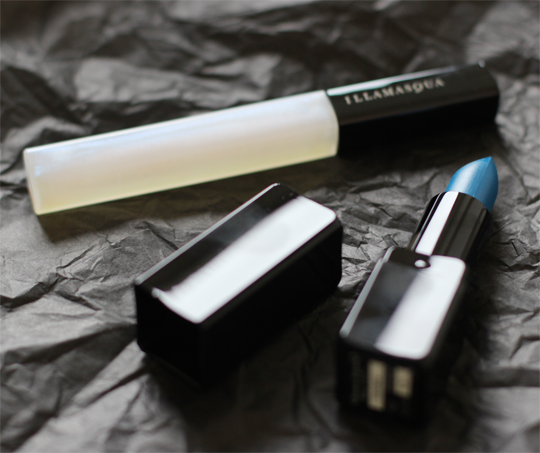 After spending most of last year having a whinge that Illamasqua had got too neutral, too safe, they've come out of left field and given me a welcome smack in the face with a completely blue collection. The To Be Alive collection consists of relatively few products, but hot damn are they what I've been waiting for. Nail Varnish in Prismatic (£14.50) is kinda like Prism on blue steroids – gorgeous. The Spirit Palette (£34) is one for those who feel the need to inject a bit of colour into their eye makeup and reinvent the tacky 80s connotations with something fresh and modern. But, of course, the real stars of the show are Glamore Lipstick in Vendetta* (£18.50) and Shine Lipgloss in Iridesce (£18).
Let's start with Iridesce – the Shine lipgloss formula is a new one for Illamasqua, resting somewhere between their existing Intense and Sheer lipglosses and certainly way easier to wear and less sticky than those ones used to be. It's more or less clear in colour, but packed with shimmery blue particles that reflect the light magnificently. It's pictured above on my bare lips, but by all means can be used on top of any lipstick you like. Definitely one for those who want to embrace blue lips, but aren't quite ready to go full throttle.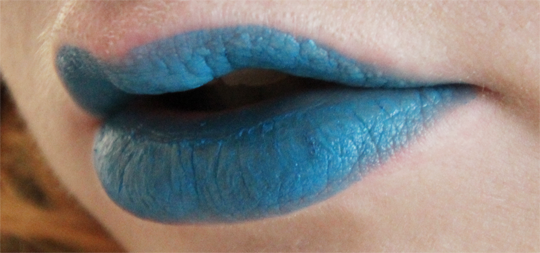 For those who are willing to turn it up to eleven, Vendetta is just amazing. The Glamore lipstick formula really is such a huge improvement on Illamasqua's original matte lipsticks, and is already available in myriad 'safe' colours, now with this beautiful electric blue to add to its ranks. Now, sure, I know what you're thinking. All well and good for blog posts, editorial, blah blah blah but I can't really wear that on the street, can I? Uhh, yes. Yes you can. It's pretty standard to rock purple or orange lips these days, so why not blue? Sure, you'll undoubtedly turn a few heads, but I guarantee you they'll be thinking 'that's actually pretty cool' rather than 'she looks like a complete tool'. Having bright blue/pink/green/rainbow/whatever the hell you like coloured hair doesn't even cause a reaction any more, so why should 'different' coloured lips? Just wear it with confidence, and I promise it will suit you. My only other piece of advice is to keep an eye on it, keep it topped up after eating or anything else you'll end up looking a bit corpse-like when it fades.
The Illamasqua To Be Alive collection launches on the 1st of May, and I urge you all to embrace at least some aspect of it. Never has feeling blue ever been such a good thing. I, for, one, am a big, big fan.