I am a feeder. Not of Colin, sadly, for his palate is about as unadventurous as they come. Luckily, I have a bevy of hungry colleagues who are more than happy to sample and offer their verdicts on my latest kitchen creations. Testimonials for these maple and pecan muffins with candied bacon included "friggin' amazing" (complete with spraying crumbs from a mouthful of said muffin), "fabulous, well worth the wait", and, simply, "holy shit". I consider that a job well done.
The inspiration came from Foxlow in Farringdon, where some of us ate just before Christmas. We shared a dessert called the Elvis Presley Sandwich, which, if memory serves was a deep-fried banana and peanut butter sandwich (that I didn't touch, because I hate peanut butter) topped with vanilla ice cream and candied bacon (which I ate the majority of). I'm not sure why it popped into my head nearly two months later, but I couldn't stop thinking about it. It started a huge craving for that simultaneously sweet and salty, crisp and chewy candied bacon and I knew I needed to make some for myself. But what to put it on? Maple muffins, of course. Throw some in some chopped pecans for added texture, and you've got yourself a winner. Contary to what you might think, they're not overly sweet and they make a wickedly naughty breakfast.
You will need…
For the Candied Bacon
300g streaky bacon
55g brown sugar
2 tbsp maple syrup
2 tbsp rice wine vinegar
For the Maple Muffins
375g plain flour
75g brown sugar
2 tsp baking powder
Pinch of salt
2 large eggs
180ml maple syrup
180ml milk
180g butter
1 tsp vanilla
200g pecans
For the Maple Glaze
20g butter
100g icing sugar
1/2 tsp vanilla
1 tbsp maple syrup
1-2 tbsp water
Note: These quantities yielded 22 small muffins, in regular cupcake size cases. Were you to use proper muffin size cases, I reckon you'd get about 14-16, so feel free to adjust your ingredients accordingly.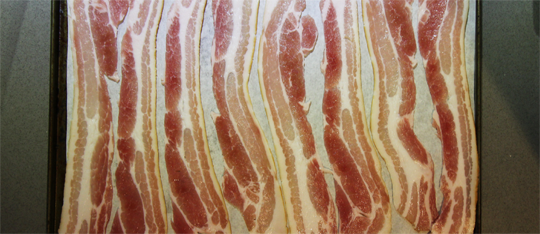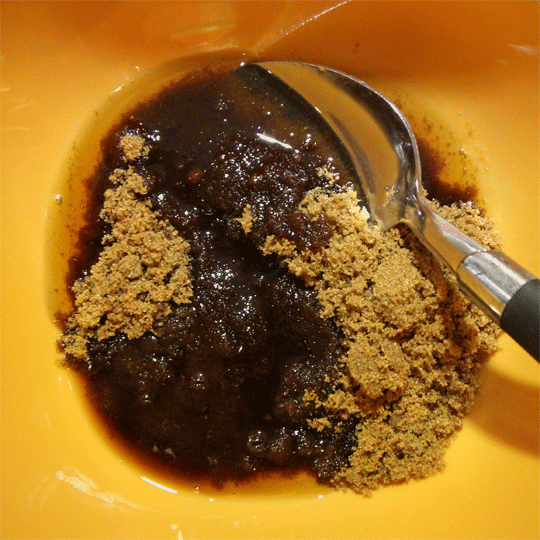 Start off by preheating the oven to 180 and laying your bacon out on a couple of baking sheets lined with baking paper. Pop it in for 10 minutes, turn it over and give it another 5. In this five minutes, mix together the brown sugar, maple syrup and rice wine vinegar.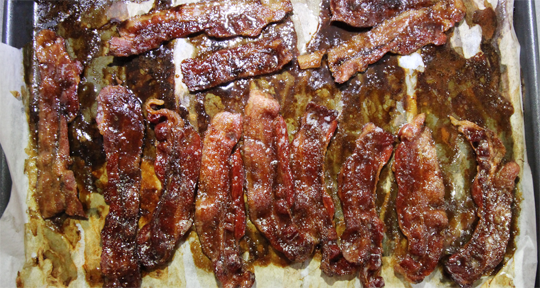 Now, turn the bacon again and brush with the sugary maple mixture. Bake for a further five minutes, and, yep, turn and glaze. Mine was well done by this point so I stopped, but if yours isn't just keep turning and glazing every five minutes. Leave aside to cool.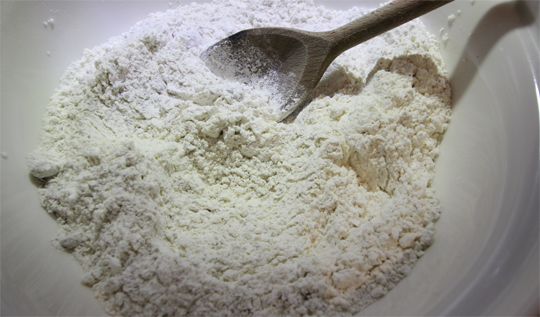 For the muffins, mix together the dry ingredients in a large bowl: the flour, sugar, baking powder and salt. Melt the butter, and in a separate bowl, beat together the wet ingredients: eggs, maple syrup, milk, and butter (melted).
Combine the wet ingredients with the dry, stirring until just mixed together. Overworking a muffin mixture will cause them to come out hard and nasty, so easy does it!
Chop the pecans – in a food processor like me if you're lazy – and, assuming it's cool enough now, crumble the bacon with your hands. Add both of those, reserving a handful of bacon for topping, and stir them in until just combined.
Spoon the mixture into a lined muffin tin, and bake at 180 for about 20 minutes or until golden brown and springy.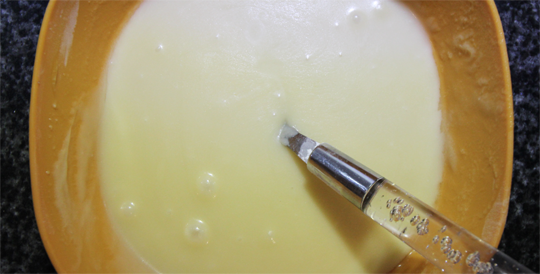 While the muffins are cooling, you can make the maple glaze. This is more just to give the bacon topping something to stick to, really. Treat it like a very tasty glue! To do it, melt the butter and stir in the icing sugar. It will be veeery thick and sticky. Stir in the maple syrup and add water a tiny bit at a time until you've got a good consistency. You won't want to go for more than two tablespoons of water in total.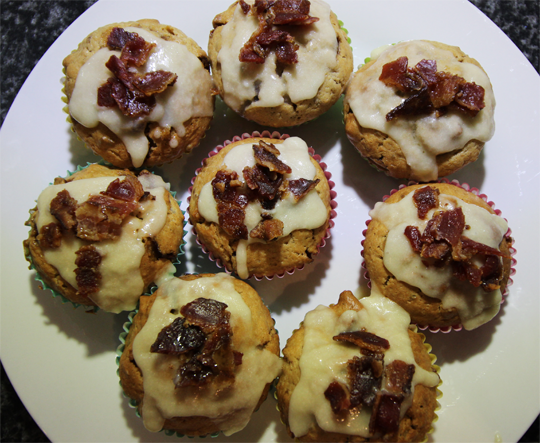 Once the muffins have completely cooled, drizzle the tops of them with the maple glaze and sprinkle over the rest of the candied bacon. Et voila!
Enjoy x