Guuhhh, being out of practice at something you used to be so good at sucks, doesn't it? Still, while I avoid making 'traditional' New Year's Resolutions (who ever sticks to them?), I have set myself a goal of doing nail art at least once a month in 2015. That doesn't sound like a lot, I know, but gotta start somewhere!
When I meet new people in the blogging world through mutual friends, more often than not I'm introduced in a way along the lines of 'this is Leanne, she does amazing nail art'. Do I?! It's flattering, but not exactly true. I mean, I used to do it on a nearly daily basis a few years ago but I was either unemployed or employed part time, still living at home, and had all the time in the world. These days, on the odd occasion I do have the time to do nail art I'd generally rather spend it doing something else because it just feels like so much effort. But still, I'd like to hone that skill again so here we are.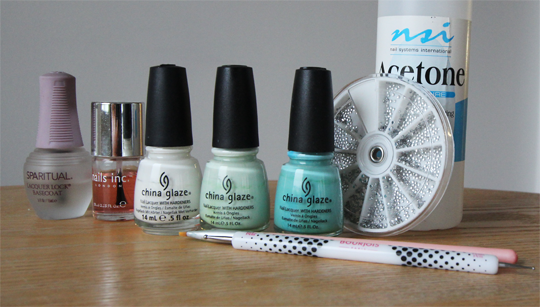 To ease myself back in gently, I started with something simple. A gradient of cool winter shades with just a couple of dots and rhinestones for embellishment. Very, very easily achieved…
Start with a base coat, naturally. My favourite is SpaRitual Lacquer Lock. Add a coat of white, I used China Glaze White on White – just one, it doesn't have to be perfectly opaque, it's just to provide a base for the colour. When the white is dry, cut a small piece of a kitchen sponge to just slightly bigger than the size of your nail, and paint on stripes of your chosen colours. Mine are China Glaze Re-Fresh Mint and China Glaze For Audrey. Sponge the coloured stripes onto your nails one at a time, reapplying polish to the sponge between nails, and moving up and down slightly to create a seamless fade between the two colours. This process is probably better explained (and pictured!) in this rainbow gradient I did in 2013. Finish by applying a column of white dots on each nail using a dotting tool, and affix silver rhinestones to the dots at the tip while the polish is still wet. Seal everything in with a good top coat like Nails Inc Kensington Caviar, et voila!
A little rusty, I know, but it's a start.