Boooom, straight into part two.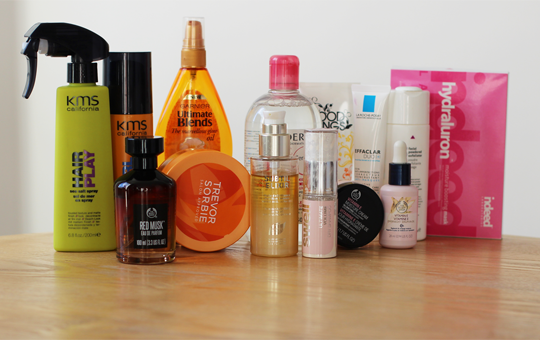 Let's start with hair. I first tried KMS nearly two years ago, but it's only this year that I've found myself reaching for their styling products above any other brand. My hair type – as you'll know if you've been reading for any length of time – is long, super thick and naturally curly. Any product that can tame the frizziness of the curls without weighing it down or greasing it up is going to be a winner, and both the KMS HairPlay Sea Salt Spray* and the KMS CurlUp Control Creme* both fall firmly into that category. Which one I'll use depends on my mood; if I want more texture, I go for the salt spray and if it's smoother, more defined curls I'm after it'll be the control creme. Both excellent and highly recommended for anyone else with a lion's mane rather than a manageable head of hair.
Since my hair is frizzy in texture, that comes hand in hand with dullness (joy of joys). To inject a bit of healthy shine, I really like the Phyo Subtil Elixir*. This pre-shampoo treatment oil is applied to dry hair, left in for 20 minutes or so, rinsed out before washing et voila, shiny locks achieved. As for post-shower oil, I'm still loving the Garnier Ultimate Blends Marvellous Glow Oil that I spoke about in the Spring. As a testament to how much a little goes a long way, I use this every time I wash my hair and I'm only on bottle number two.
In terms of colour, since mine comes from vegetable dyes I do have to top it up fairly regularly but the Trevor Sorbie Colour Enhance Mask does a great job of keeping it vibrant in the meantime. It's a bargain to boot, and the orange packaging matches my ginger hair so what's not to love, huh? Lastly for hair, I've been eschewing spray-can dry shampoos for the last few months in favour of the Swell Ultimate Volume Dry Shampoo*. Pricier than your standard Batiste, granted, but this little bottle contains a surprisingly generous amount of product and doesn't leave that grey cast you can often get with other dry shampoos. Shake it up, pump it and little puffs of oil-absorbing powder are dispersed through your roots – and it's ingredients are 97% natural, too.
Aaand now we move onto skin. Bioderma Sensibio H2O has to get a mention because honestly, how did any of us get by without micellar water?! There sadly haven't been any cleansers that really wowed me in 2014 but I have become best friends with Indeed Labs Facial Powdered Exfoliator. This soft powder is mixed with a splash of water to create an enzyme-packed paste that sloughs away dead skin no trouble at all, and I sometimes mix it with whatever cleanser I'm using. Post-cleanse, I more often than not follow up with The Body Shop Vitamin E Serum-in-Oil, which I already raved about at the beginning of 2014. There is nothing like this in terms of overnight hydration.
For the final step of my usual skincare routine, I struggled to choose between two of my favourite moisturisers so they're both making the cut. La Roche Posay Effaclar Duo+ is the one for spotty days (so it's often in rotation during shark week!) whereas The Body Shop Vitamin E Moisture Cream is the perfect all-rounder for every day. And they're both really reasonably priced, too!
I try my best to do a face mask once a week. The amount of different face masks I have is almost embarassing, so narrowing it down to just two to mention here was no mean feat. The ones I've chosen do an excellent job at two very different tasks – if I'm having an oily spell, the Good Things Manuka Honey Radiance Face Mask (review here) does a great job at drawing out impurities and excess sebum without drying out my skin. The Hydraluron Sheet Masks (review here) are my favourite if my skin is feeling parched – usually down to the weather – even if they don't look particularly sexy when you've got one on!
The last of my 2014 top products is one that has quickly rocketed to the very top of my favourite perfumes of all time. I already gushed over The Body Shop Red Musk Eau de Parfum, so you can read that here but, god, it's so unique and alluring and phwooaarrr, I bloody love it.
And that's that – I'll see you at the same time next year for a 2015 round up!