Is it really that time of year again?! I know we all say it every year, but I honestly can't believe how quickly this year has flown by. It feels more like greased lightning than any other year I remember. But before we properly welcome 2015, I'd like to recap on the things in my stash that have been the most used and – as you'll probably be able to see – the most well loved!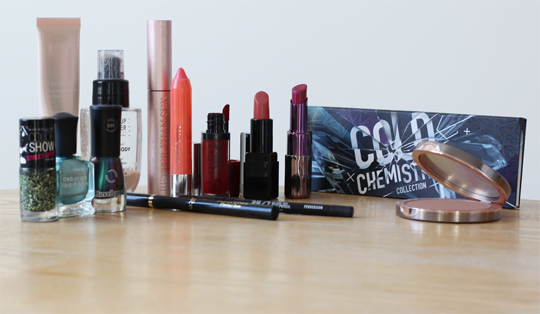 I'm about two thirds of the way through my second tube of Clarins Instant Light Radiance Boosting Complexion Base. I'm not exactly sure what it is about this sort-of-primer-sort-of-skin-perfector that I love so much, but I do. It feels so much nicer on the skin than a million other primers I've tried while still evening out my skin texture enough that foundation applies flawlessly. Speaking of foundation…
I actually got the Make Up For Ever Face & Body Foundation back at IMATS London 2013, but it didn't make it into my annual favourites last year as it was pipped to the post by By Terry's ridiculously expensive foundation. I have, however, gushed about MUFE Face & Body before and, this year, it's become the base product I reach for on a daily basis. Roll on IMATS 2015 so I can repurchase!
It wasn't too long ago that the Delilah Sunset Matte Bronzer came into my life, but it has quickly found its way into daily use for many reasons. Its texture, for a start, is just dreamy – so soft and silky! – and the pigmentation is just at the right level that I can whip it on without paying much attention and look lightly sculpted, rather than muddy and streaky. Easy, breezy bronzing for the terminally Casper-faced.
My previous favourite liquid eyeliner, Pixi Lash Line Ink, was ousted this summer by the much more accessible L'Oreal Perfect Slim Super Liner purely because I was far too lazy to go to the West End and pick up a new Pixi one. Turns out, that was one of the best decisions I ever made out of laziness because the L'Oreal one is every bit as good as Pixi's, at half the price, too. Spot on. And while we're on the subject of favourite eyeliners, Best Black Pencil Ever award has to go to Urban Decay 24/7 Eyeliner Pencil in Perversion. The blackest of blacks, shows up brilliantly in the waterline, stays where you put it; everything you want in a black eyeliner pencil, really. I've collected a fair few colours of these now, but Perversion is the staple for sure.
It took me a while to decide on my favourite eyeshadow of the year, but in the end it couldn't have been anything other than the Sugarpill Cold Chemistry Palette. I fell madly in love with this when I got it in the summer, and while it's not something I use every day it does get cracked out at least once a fortnight because, god, just look at it and you will know.
Kat, Grace, Sheenie and I all got the Too Faced Better Than Sex Mascara at the same time. It took Sheenie forever to get round to trying it, the rest of us were converted immediately and spent a while nagging her on a daily basis; "Have you tried it yet? For god's sake woman, use it tomorrow!". We can now count Sheenie among the crowd of converts! This is a ridiculously popular mascara, and for good reason. Try it, you won't regret it.
A grand total of four lip products have made it into the annual favourites this year, so let's have a round of applause for… Sexiest Red: Bourjois Grand Cru (click!), Sultriest Nude: Illamasqua Cherub (click!), Easiest Everyday: Clinique Poppin' Poppy (click!) and Most Unlikely But Actually Gorgeous: Urban Decay Jilted!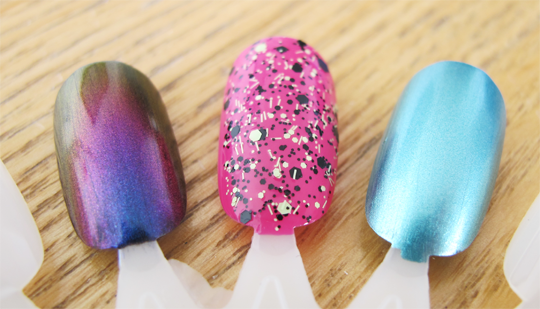 Unlike the above makeup products, I can probably rank these nail polishes one to three without too much uhm-ing and ah-ing, so let's give it a go, shall we?
Coming in at number 3, the rather gorgeously glowing Deborah Lippmann I'll Take Manhattan from the New York Marquee collection (click!). This is a genuine one-coater and, despite my general dislike for chrome finishes, this one is less prone to ugly brushstrokes on the nail and has such an eye-catching finish. The worthy runner-up is Maybelline Street Artist Boom Box Black (click!) which I've worn probably half a dozen times this year (which is a lot when you have as much nail polish as I do). The ultimate winner, for sheer multichrome goodness, has to be Dance Legend Sulley, hands down (click!). I think this may have been the only nail polish that I gave the Polishgasm title to in 2014, and a quick glance at the above swatch will tell you why although please do click through to the review for more glorious angles and suchlike.
What were your favourite products in 2014? Did we have any in common? Part deux is coming on Monday, the skin and hair installment. See you then!