The beginning of January, for me, was light years away from the healthy starts everyone else seems to have had (I blame Foxcroft and Ginger, and leftover fudge and truffles…) but I would really like to get back the figure I had in 2013 rather than the amorphous – and enormous – lump my body seems to have become. One of my biggest downfalls, in terms of both saving money and eating well, is buying lunch at work. I frequently spend an average of £8 a day on lunch, and I work round the corner from Leather Lane Market which is a treasure trove of delicious – and vastly unhealthy – food stalls. I am making a promise to myself to bring my own, healthy lunch to work at least three times a week, kicking off with this rather lovely chicken & quinoa salad.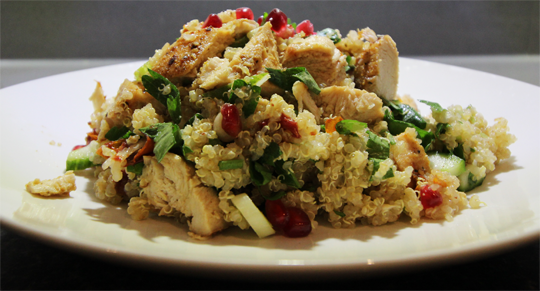 I was very much inspired by a chicken and quinoa salad I had from one of my favourite – and least guilt-inducing – lunch spots, Leon. I figured it would be easy to recreate and put it on steriods. Deceptively filling, exceptionally tasty and studded with glorious pomegranate seed jewels; this colourful mish-mash is easy to put together and makes the very concept of bringing your own lunch to work far less depressing. To make enough for an entire working week's worth of lunches, you will need…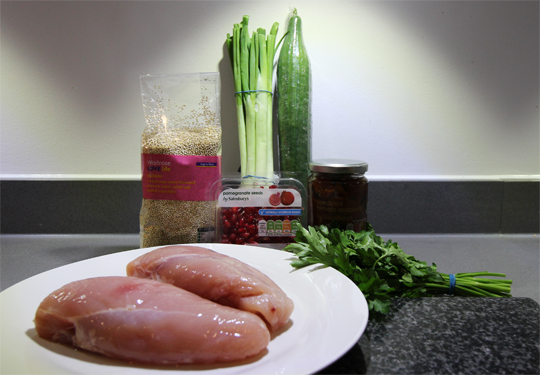 2 large chicken breasts (three if they're on the small side)
1/2 cup uncooked quinoa
1/2 jar sun-dried tomatoes
A cucumber
A bunch of spring onions
A bunch of flat-leaf parsley
A small pack of pomegranate seeds (or extract the seeds yourself from a whole pomegranate, if you can get one)
First thing's first; quinoa. Many people are unsure about cooking quinoa, presumably since it's pretty new on the food scene. At least, it is for the mainstream! Honestly though, it's not any more difficult than cooking rice. A general rule of thumb, much like rice, is to go for 1 part quinoa, 2 parts water. Give the quinoa a good rinse in a fine-meshed sieve until the water runs clear, then stick it in a saucepan with double the quantity of water and a pinch of salt. Bring it up to a boil, turn it down to a simmer and let it absorb all the water for about 15-20 minutes.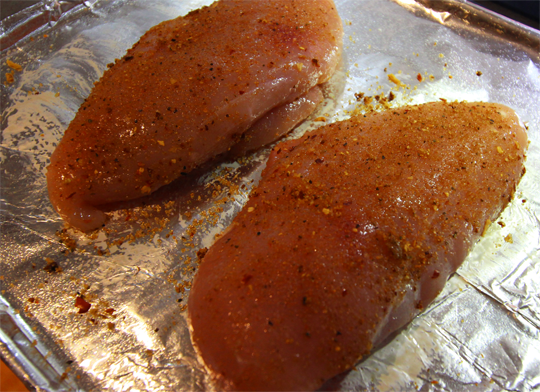 Next up, chicken. You can cook yours however you like, grill it, poach it, whatever, but I did mine in the oven with a generous coating of The Great British Butcher Bloody Mary rub, because why not? Large chicken breasts will take about 25 minutes or so on 180-200 degrees, but you want to do this after you've put the quinoa on so the quinoa has a chance to cool before you assemble the salad.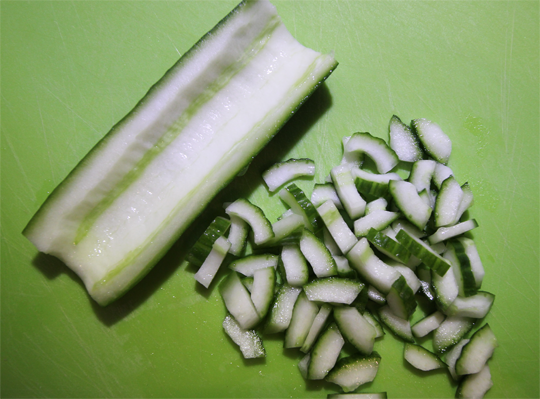 Now your quinoa is simmering away and your chicken is in the oven, time for the green (and red) bits. My preferred way to do the cucumber is to clank the ends off, chop it into two halves, then each half lengthwise down the middle. Scoop the seeds and the watery bit with a teaspoon, cut each lengthwise quarter into three strips, and finely chop those. Sounds like effort but it takes less than a minute and will give you plenty of little fresh and crunchy bits rather than soggy, watery slices.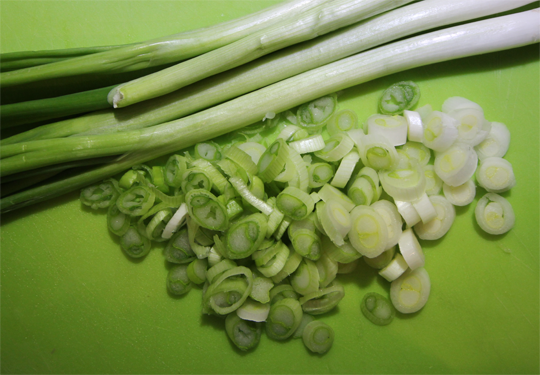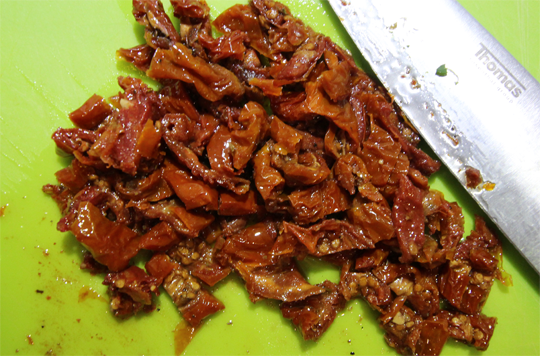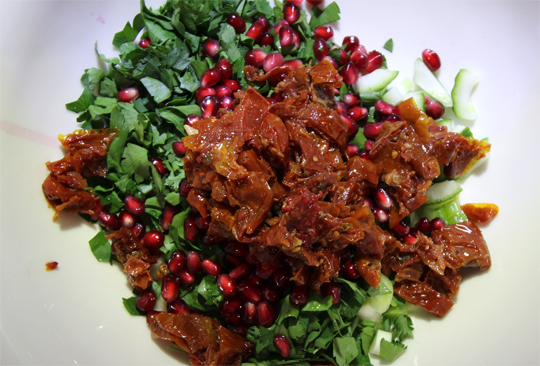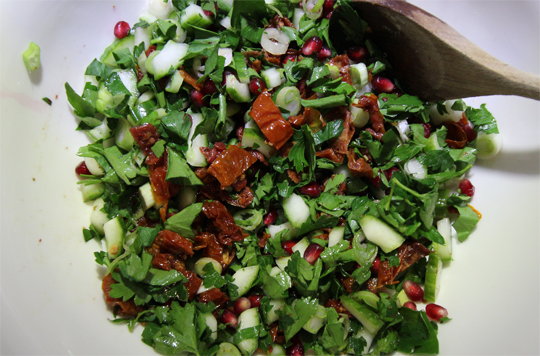 Spring onions next. Nothing fancy, just finely slice 'em. Then the sundried tomatoes – just fish them out of the jar and slice up into bitesize pieces. You could rinse the oil off them if you wanted, but I didn't bother. Oh, and I appear to have missed out a photo, but roughly chop the parsley, too. Throw it all in a large mixing bowl with the pomegranate seeds, and mix it up.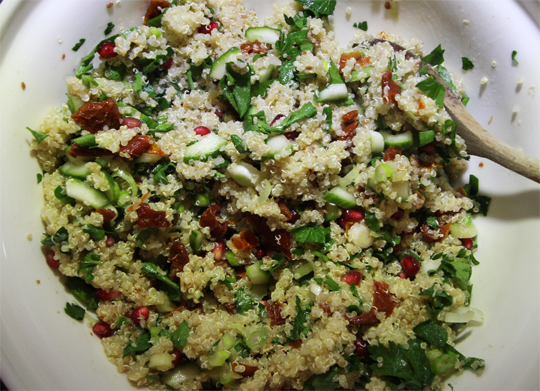 The quinoa should be done by now, so take it off the heat, fluff up with a fork (see, like rice!) and leave to cool to at least be warm rather than boiling hot before you add it to the bowl.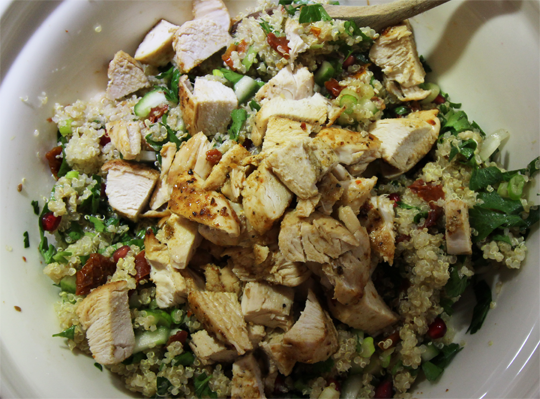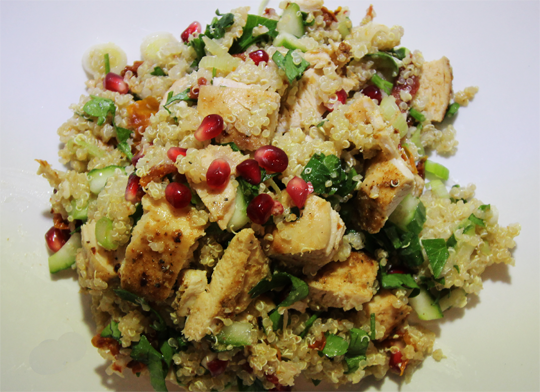 The only thing left to add now is the chicken, so chop it into bitesize chunks once it's cooked and cooled, and that's it. Serve, or divide between a bunch of containers for a week of healthy, flavourful working lunches.
Are you a fan of quinoa? Do you take your own lunch to work, or fall into the trap of buying silly expensive food?