Despite my usually religious reading of Lucy's blog, I somehow managed to miss her swatches of a new collection from US indie brand ILNP (that's I Love Nail Polish – why yes, yes I do). It wasn't until Bicky texted me one of Lucy's photos – and I'd nearly suffered cardiac arrest at the awesomeness – that I caught wind of it. I immediately skipped off to the ILNP website and ordered two, and here's one of them – ILNP Electric Carnival.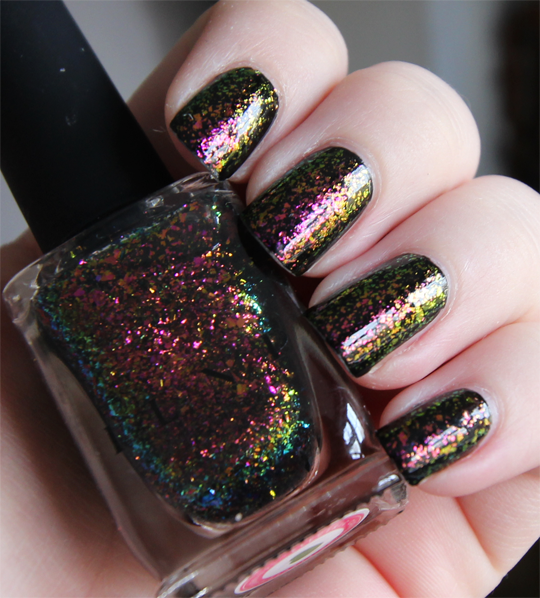 Just… excuse me a minute while I pick my jaw up off the floor. HOW awesome is this? Best. Flakies. Ever. Full of colours that shift and change in different lighting conditions and viewed from different angles. Red, pink, gold, green, even hints of purple and blue sometimes. You get a great dense layer of flakes with only one coat (I've worn it here over black; a-England Camelot, naturally). The flakes lay completely flat to the nail as well, so there's no spiky, sticky-up bits to contend with.
It's just, frankly, perfect. And in true Polishgasm fashion, I shall keep it short and sweet and just let you look at the pictures.
View part one and part two of Lucy's swatches of the whole collection, then skip off to ILNP and order some for yourself at $12.50 each. You won't regret it.