Last weekend, after spending an entire two weeks apart (an actual travesty), Sheenie and I met for a celebratory New Year brunch. We'd been invited down to try out Foxcroft & Ginger, a chilled out all-day eatery run by a full on foodie husband and wife duo in Soho. And blimey, we were impressed!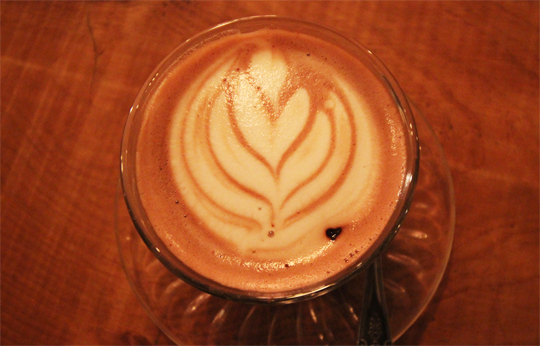 Inside it's small, but instantly warm and friendly. Service is quick and fuss-free, with water being brought to our table as soon as we were seated and hot drinks within a couple of minutes of ordering. I went for a hot chocolate (£3) which was small but perfectly formed – rich and dark, lightly spiced and more bitter than sweet which was just what I needed – and a bit of latte art on the top never goes amiss! Sheenie had the strawberry tea infusion (£2.50). No half-arsed tea bags here; instead, the teapot is packed with real fruit and flavours – there's strawberries, raspberries, apple, orange, hibiscus flowers and blackberry leaves in there. Sweet, hot, fruity heaven. While we sipped on our drinks, we ordered an absolute mountain of food. Don't look at me like that. We were hungry, ok?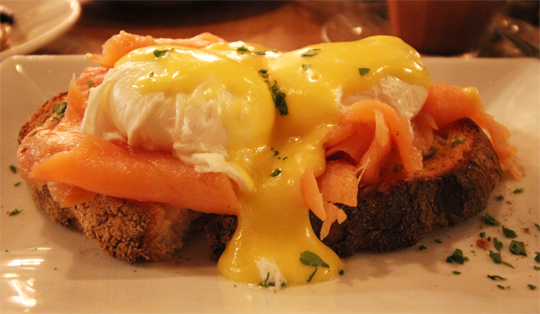 The hash brown dish (£6.75) usually comes with a sausage, but they'd run out so I swapped it for herb roasted mushrooms which was a good shout as they were delicious, although the English Muffin was a little dry even with the addition of fried egg and a generous smudge of Bloody Mary sauce. The hash brown tasted wonderful, but was a bit on the stingy side. This was the only dish that didn't excite me like the others, although I am keen to try their sausages on a return visit. The Eggs Benedict (£8.95) on the other hand were awesome – two runny eggs poached to perfection, thick slices of sweet smoked salmon and and creamy hollandaise sauce atop Foxcroft & Ginger's own sourdough toast. This is usually served on an English Muffin too; we used their last one in the hash brown dish. That'll teach us for going for such a late brunch…
Speaking of sourdough toast, we got some of that separately too with butter and homemade strawberry jam (£2.80). Yum. I do love me some sourdough, and the fact that Foxcroft & Ginger's is made and baked on site daily is always going to win bonus points. Decent toast, but totally overshadowed by some of the other brunch items!
This is where the excess starts – a stack of airy and fluffy sourdough pancakes (£8.50) sandwiched with salty, crispy bacon, topped with punchy unsweetened berries, a dollop of creamy mascarpone and drizzled with maple syrup. This was crazy delicious – I can never get enough of sweet and salt together and this really hit the spot. 100% recommended. There was only one dish even better than this one…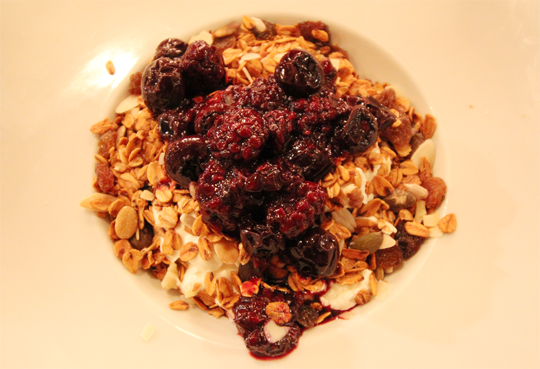 The French toast (£6.40) is just out of this world. Thick, doorstop sized slices of it paired with poached plums, berries, mascarpone and crunchy honeycomb. Oh. My. God. On our first mouthful of this, Sheenie and I both fell silent for several moments before eagerly proclaiming this to be the Best French Toast Ever. Officially. I can't even begin to describe how good this is. You need to visit Foxcroft & Ginger for the French toast alone – and it's a damn good price, too. You can add bacon to this one for an extra £1 if you want, but I honestly don't think it needs it and that's coming from a salt and sweet fanatic.
We were really glad that that we'd saved the ginger granola (£4.95) for last as it was something a bit refreshing and cleansing after everything else we'd ploughed through. Served with yogurt, spiced poached fruit, rosemary honey and health-boosting seeds this one is definitely your most virtuous option. The ginger isn't prevalent throughout, but you'll sometimes get a hit of it in a mouthful and go 'oooh!'. Really, really good, but the French toast was far and away my favourite.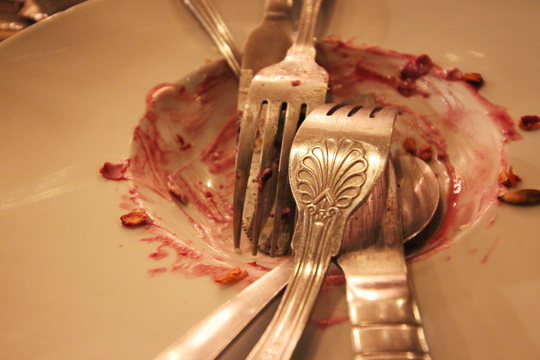 With a stack of empty plates and two very full bellies, we lazed around for a while before we dragged ourselves out full of resolve to come back soon and try their evening menu – sourdough pizza, anyone?
There are two branches of Foxcroft & Ginger, in Soho and East London on the Mile End Road and I can't recommend visiting your closest one highly enough. Go. Now. I'm salivating just thinking about that damn French toast. Phwoooaarrr.
3 Berwick Street, W1F 0DR (a 5-10 minute walk from Leicester Square, Piccadilly Circus or Oxford Circus tube stations)
69-79 Mile End Road, E1 4TT (about halfway between Whitechapel and Stepney Green tube stations)
P.S. If you do go to the Soho branch, try not to be seated at table 28 if you can help it. Super wobbly! But if that's the harshest complaint I can come up with, Foxcroft & Ginger could be doing an awful lot worse.