Latkes are traditional Jewish fayre, little rounds of grated and fried potato most commonly eaten during Hannukah. While I'm not Jewish myself, I can definitely get behind anything that involves grated potato – hash browns, rosti, latkes.. mmmm..

A while ago, I had a couple of sweet potatoes slightly past their best and a lone courgette languishing in the fridge, and fancied doing something a bit different with them. Thus, sweet potato and courgette latkes were born and have since become a bit of a staple side dish at dinnertime. They're super easy, too.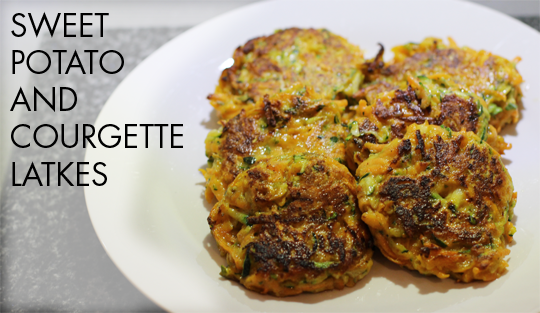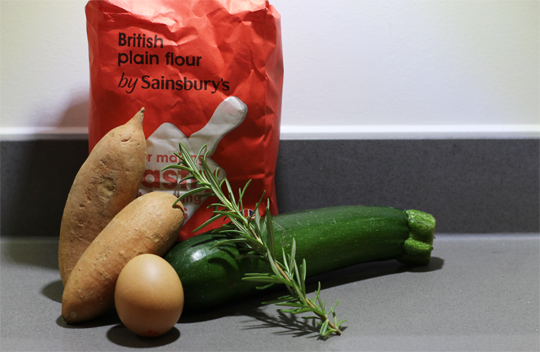 You will need
- Serves two as a side
About 250g sweet potato (two medium ones)
About 125g courgette (one medium)
A sprinkling of fresh herbs (rosemary works great)
One small egg
1-2tbsp plain flour
Sea salt and freshly cracked black pepper
Olive oil/butter for frying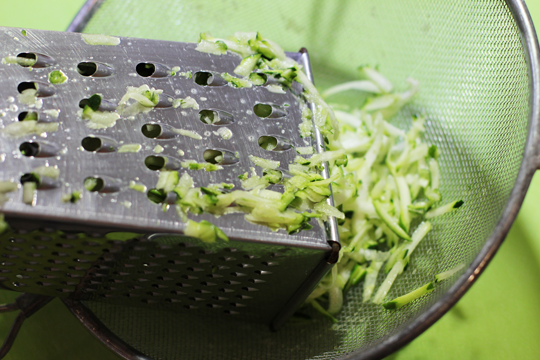 Start by peeling your sweet potatoes and lopping the top off your courgette, then grate the sweet potatoes into a bowl. If you've got a food processor with a grating attachment, by all means use that rather than going manual with a box grater!
Now, grate your courgettes. Don't do this directly into the bowl with the sweet potatoes. Do it into a sieve or onto two sheets of kitchen roll layered up, then squeeeeeeeze all the excess water out. Courgettes, like their (very) distant cousin, cucumber, have a super high water content so removing the majority of this moisture is essential to help the latkes bind and prevent them being a soggy, watery mess when you eat them. You want them crisp and delicious! Once sufficiently squeezed and drained, throw them in the bowl with the sweet potatoes.
Chop up your herb(s) of choice and add that to the bowl, then mix it all up. Rosemary is my favourite in these latkes as it's got a nice strong flavour, but by all means switch it up depending on what you're serving them with. I've done them with dill before to serve with fish, which works great. To spice them up a bit, you could use coriander instead and add a pinch of chilli powder.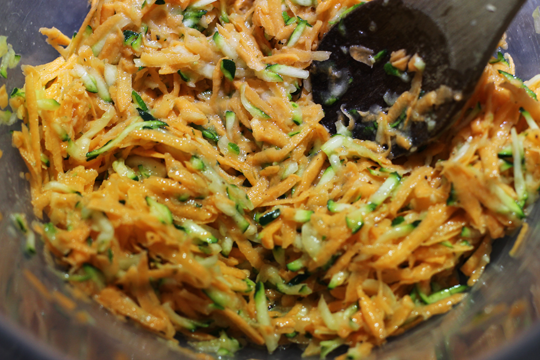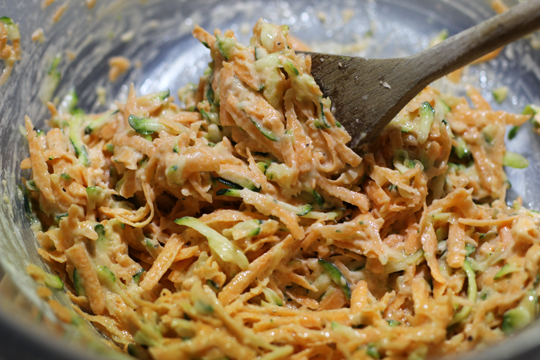 Beat the egg and mix it into the veg, then do the same with the plain flour. Go one tablespoon at a time to prevent it becoming dry – you want a sticky texture that holds itself, but not a dough!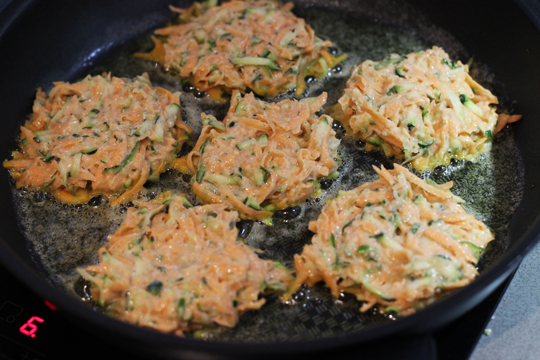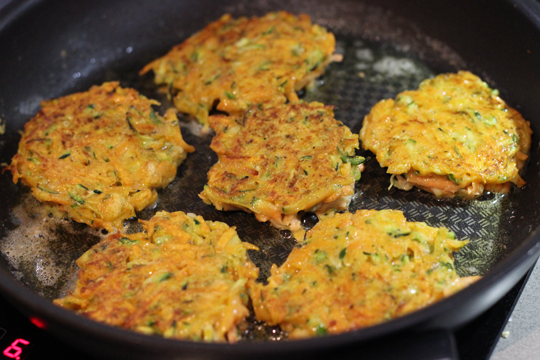 Heat a splash of olive oil (or a knob of butter if you're feeling extra cheeky) in a frying pan over medium-high heat. Once it's nice and hot, start cooking – divide the mixture into 6 large spoonfuls and drop them into the pan, flattening them down a little on top. Fry, undisturbed, for five minutes before flipping them over. Give them another five minutes on the other side until they're nice and golden, then serve immediately alongside grilled meats or fish.
Enjoy!