Nestled just off the West End's ever-popular Carnaby Street, you'll find a little enclosed dining haven in the form of Kingly Court. My personal favourite eatery here is new this year, but that doesn't mean I haven't got a few visits under my belt already. I'm talking, of course, about Stax Diner.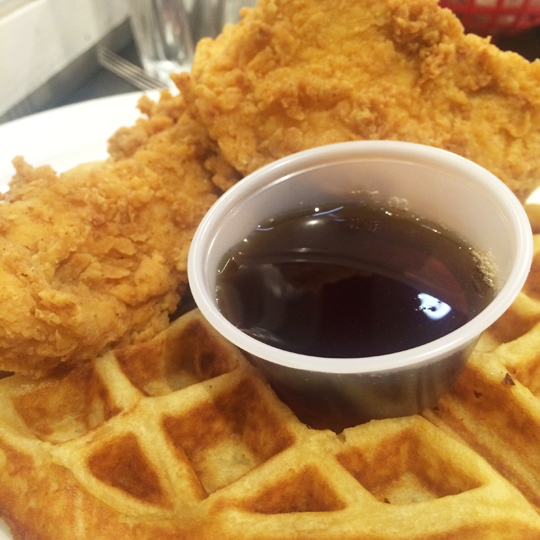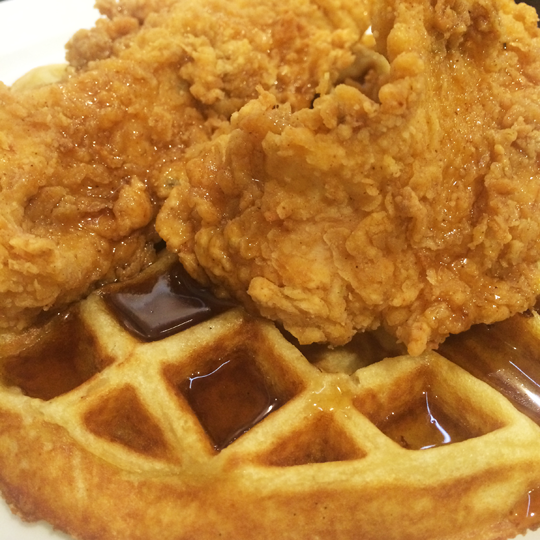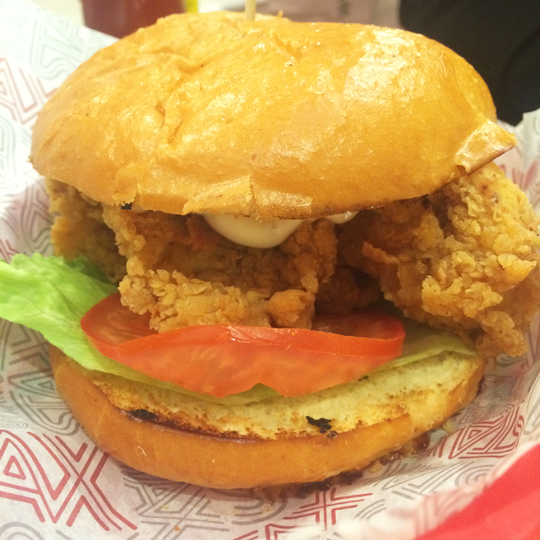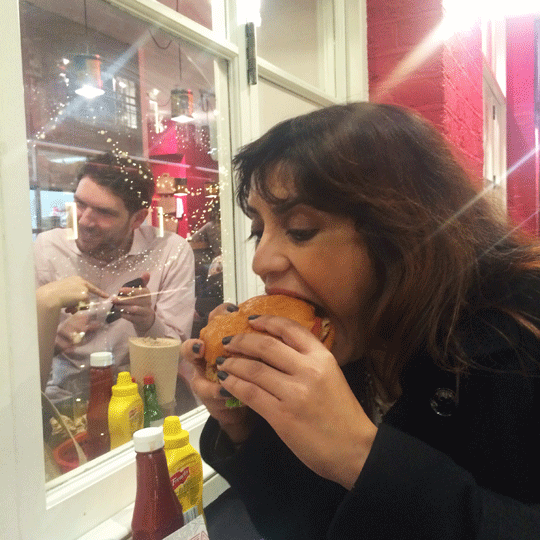 I'm afraid you'll have to make do with phone pictures in this post, but I think this epic burger-chomping gif more than makes up for it.
Stax is a teeny-tiny, all-American diner just as god intended. At peak times you may have to wait a while to get a seat inside, but if you're hardcore – and hungry – like us you can take a pew outside (not especially recommended in December). Whether you're up for braving the elements or you'd rather wait for a cosy seat in the warmth, you'll want to stick around because Stax serves some of the most incredible American diner food I've found in London. Full of inspiration from the Deep South, on the menu you'll find classics like the Popcorn Shrimp Po'Boy, a variety of big-n-dirty burgers and fried green tomatoes – basically the kind of things you see on Diners, Drive-Ins and Dives (my TV guilty pleasure!).
Despite the wide-reaching menu, I am a creature of habit and on every single visit I order the Chicken and Waffles (£12.50). Buttermilk fried chicken breast and thigh served on a crispy buttermilk waffle with lashings of maple syrup – YES. Yes, yes, yes. So much yes. Stax's fried chicken is perfect – light, crunchy golden coating with not a hint of dripping grease in sight encases succulent, juicy chicken. Stick that on top of a freshly made waffle that's crisp on the outside and impossibly fluffy on the inside, drizzle sticky sweet maple syrup over the whole thing and you've got yourself one hell of a winner. It is seriously so perfect that I can't see myself deviating any time soon.
Sheenie favours the Chickadee (£9.50), Stax's chicken burger complete with the same buttermilk fried chicken as you'll find with the waffles, this time topped with lettuce, tomato, pickles and mayo and housed in a toasted brioche bun. Sheenie's had a beef burger at Stax before, which she definitely rates but she agrees with me that the chicken is where it's at. The Boardwalk Fries (£2.95) are also definitely worth ordering – these Maris Piper chips are triple cooked for the ultimate fluffiness and are coated in a concoction of rosemary and secret spices for chips that bite back. Delicious.
Of course, you'll need something to wash all this down with, and Stax aren't short of options there either. There's a whole ton of milkshakes and ice cream floats to choose from – their ice creams are all made in-house, by the way – and hard versions of both if you want something a little stronger. I've had the Dairy Free Coconut and Banana Milkshake (£4.75) which was lovely but I'm not convinced it's worthy of being an actual-real-life-five-dollar-shake. The Stax guys are also big into their craft beer, too, so check out their current seasonal lagers and IPAs. Or there's wine, bubbles, cocktails and your standard soft drinks as well.
As if all this wasn't enough, Stax also have a brunch menu packed with buttermilk pancakes, waffles and brioche french toast, or if you'd rather a savoury option there's poached eggs and they've even got the health-conscious choice covered with fruit salad, yogurt and granola. I'm yet to make the trek to the West End in time for brunch, but it's definitely on my to-do list if only because I'm dying to sample their blueberry pancakes…
Next time you're shopping on Carnaby Street, sneak through the arch to Kingly Court and pay Stax a visit. I promise you won't be disappointed.
Stax Diner
1st Floor, 1.7 Kingly Court
Carnaby Street, London
W1B 5PW
02077 343190
All meat served at Stax is Halal, by the way.