My nan is one of the people I treasure the most in my life, and I won't pass up any opportunity to spoil her. With Christmas right around the corner (how is it only a week away, please?!), what better way to treat nan than with a spot of Festive Afternoon Tea at the Lancaster London?

Update: Lancaster London have kindly offered you guys a free glass of fizz with your afternoon tea. Just quote 'Luxe' when booking or on arrival at the hotel. You're welcome!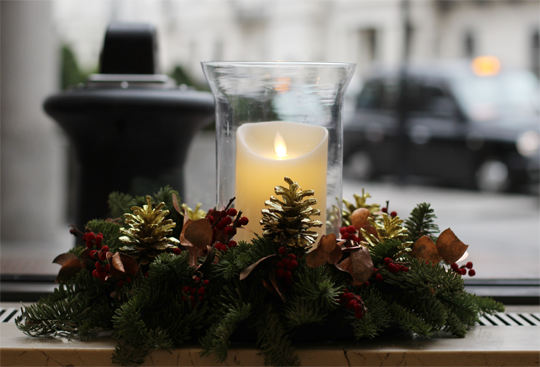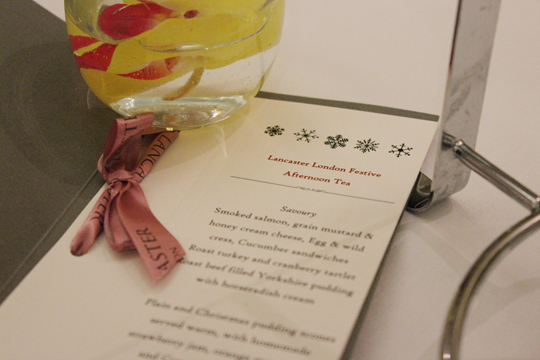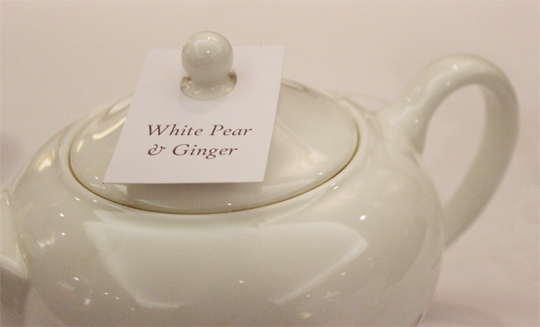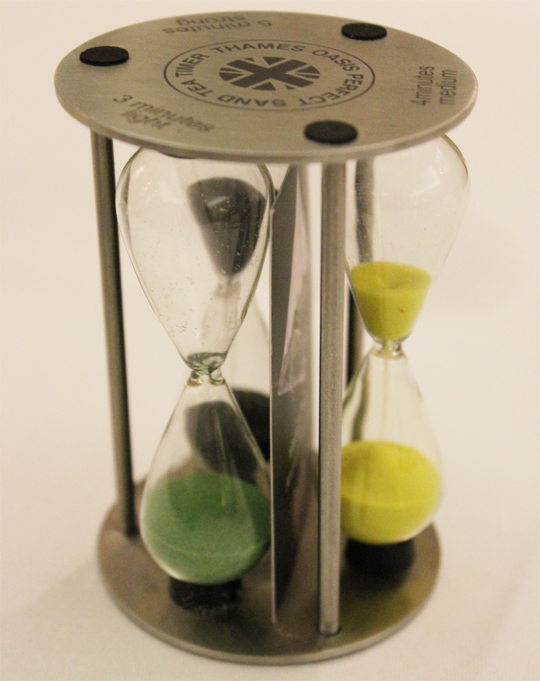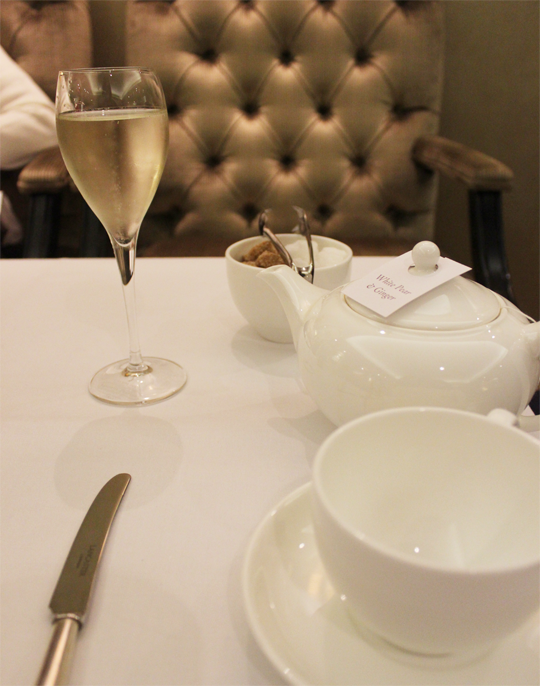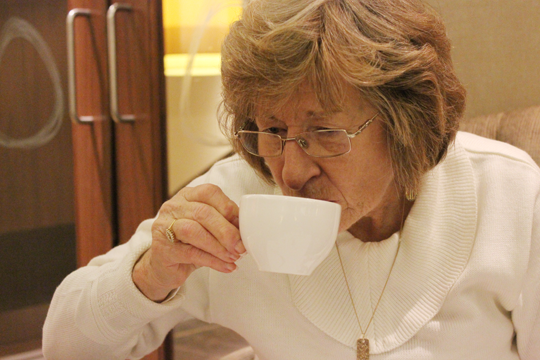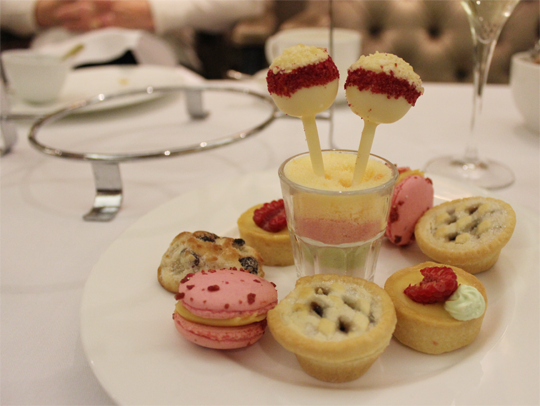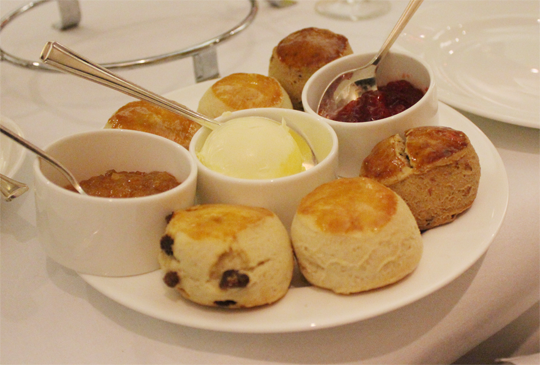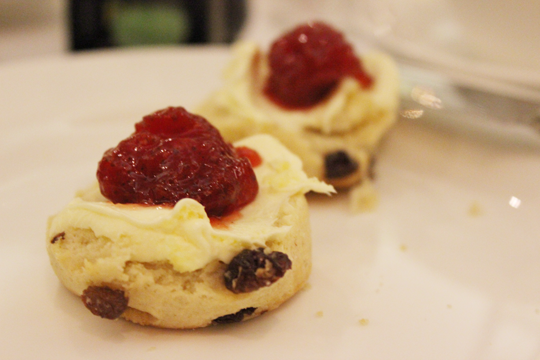 Sitting in a prime location just round the corner from Lancaster Gate tube station and overlooking Hyde Park, the Lancaster London is a hotel not to be missed. Complete with smiling staff, a sumptuous interior and two full restaurants in addition to their Lounge Bar, there's no shortage of reasons to visit. The Festive Afternoon Tea is taken in the Lounge Bar, and they don't mess about, serving you a glass of champagne the moment you're seated. Good start!
Lancaster London's selection of Novus Tea leaves you somewhat spoiled for choice, with no less than 14 varieties to decide between. After a lengthy debate, nan settled on Sapphire Earl Grey while I opted for the White Pear & Ginger, which, I have to say, was beautiful. I may or may not have sipped my way through three whole pots by the time we left (I did).
Now, rather than throwing every piece of the afternoon tea at you immediately as most places do, Lancaster London make the experience rather more tailored and attentive than that. You may choose when you would like each part served (is it proper to call it a course?), which is wonderful because not only does it stop you from being overwhelmed but also means you get your scones hot from the oven which is always going to win bonus points. An adorable and clever addition to afternoon tea here is the sand timer, to let you know when the tea you've chosen is perfectly brewed.
With a cup of steaming hot tea in one hand and very empty bellies, we nibbled through the opening act in record time. Of course, it wouldn't be afternoon tea without delicate finger sandwiches; these ones come in a trio for each guest. Smoked salmon – smoked on site, I'll have you know – grain mustard and honeyed cream cheese was my favourite, closely followed by classic cucumber. I'm not normally a fan of egg mayonnaise, but this one was delightfully fluffy and well seasoned, punctuated with the peppery addition of wild cress. Yum. Along with the sandwiches, we also had a sweet little turkey & cranberry tart each in a wonderfully crisp pastry shell and my absolute highlight of the afternoon, a roast beef and horseradish Yorkshire pudding. Yes, yes, and thrice yes.
Nan absolutely loved the sweet plate, full of classic Christmassy bites and a couple of unexpected curveballs. The mince pies were exactly the right balance of pastry to mincemeat, not dry or soggy or any of the other atrocities often committed by the festive favourites. As big marzipan fans, we were rather fond of the teeny-tiny-baby Stollen, too. The light raspberry macaroons feature a passionfruit filling which just explodes in the mouth, similar to the little lemon tarts which take no prisoners in the flavour stakes. Not having read the menu very attentively to avoid any spoilers, we were surprised and delighted to find that the white chocolate and raspberry lollipops were coated in fizzy popping candy.
Last but certainly not least come a trio each of warm scones. You have your standard plain and currant varieties, along with a delicately spiced Christmas pudding version. To accompany, pots of silky clotted cream and homemade chunky strawberry jam and orange marmalade. The scones are perfectly glazed and crisp on the outside, light and fluffy in the middle, just what a scone should be. After washing them down with a third pot of tea, we headed over the road for a wander through Winter Wonderland and started planning a return visit to Lancaster London. Definitely, definitely going again.
Lancaster London's Festive Afternoon Tea, which costs a brilliant £25 each, is on until 11th January. If you can't make it before then I'd still absolutely recommend popping in for their 'normal' afternoon tea. I don't like to use the word 'normal' to describe something that feels like such a treat, but you know what I mean! You can book online, or give the hotel a call on +44 207 551 6000.