Hot on the heels of my waistline-friendly post on Butternut & Aduki Bean Salad, comes something considerably more sinful. The Urban Chocolatier is fairly well hidden, on a side street just a few minutes' walk away from my beloved StickyWings. That doesn't prevent people coming out to The Urban Chocolatier in their droves for a taste of sweet, chocolatey heaven.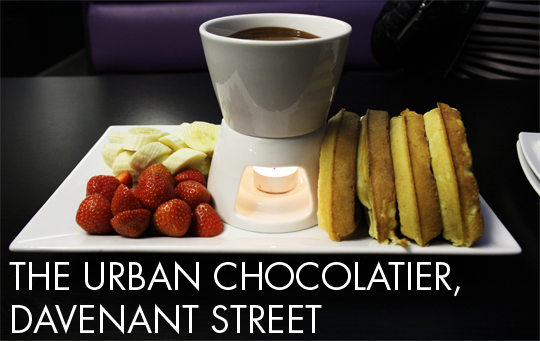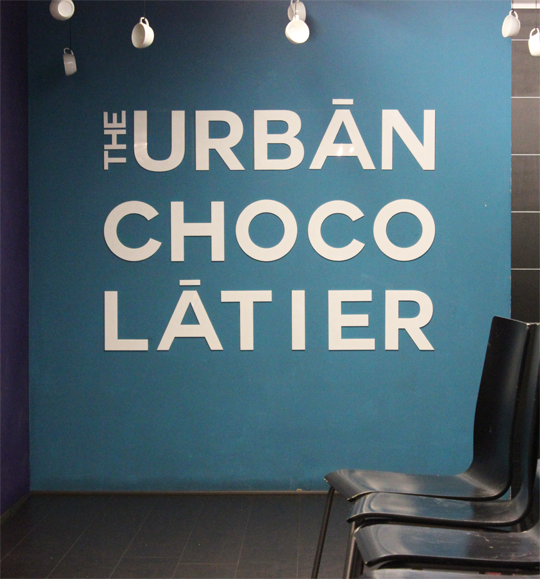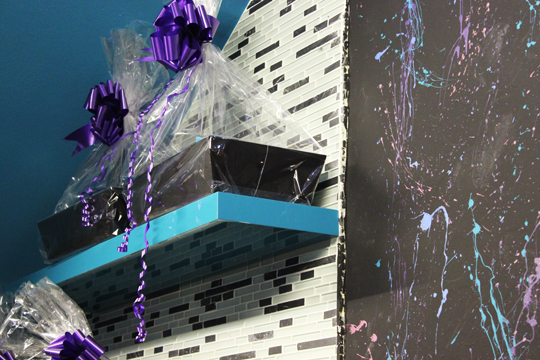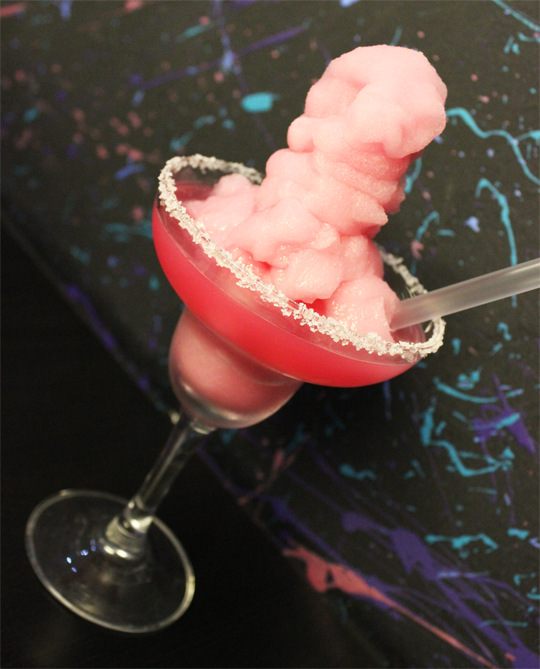 The Urban Chocolatier (or simply UC, as it has become affectionately known among my friends and I) is a funny little place. Squishy purple booths, Pollock-esque paint-splattered walls, and, inexplicably, a TV which plays Parkour videos on a loop. Word on the street and on TripAdvisor is that UC is always packed, but both times I've been – which were on Friday and Saturday nights – it was really quiet. They are open till late (1am, I think) so I imagine they get the legless crowd in later on. The UC guys are always friendly, fun and smiley which definitely adds to the experience.
Still, atmosphere aside, we're here to talk about chocolate! On our first visit – which is when these photos were taken – Sheenie and I shared the Chocolate Melting Pot (£14.95), which is exactly what it sounds like. Just a big ol' ceramic pot of melted South American milk chocolate, and a platter of goodies to dip in it; strawberries, bananas, marshmallows and waffle pieces. It's really good chocolate, too – smooth, rich and silky, no chalky nastiness here. Yes, it's all as incredibly delicious as it sounds, and almost exactly the right amount for two sweet-toothed people to share. We did run out of dipping accoutrements towards the very end and may or may not have requested spoons so as not to let the last few mouthfuls of molten chocolate to go to waste…
On our second visit, we took Priya and Victoria along and ordered the Chocolate Cauldron (£29.95), which is essentially just an even bigger version of the Melting Pot. This thing was honestly the size of Priya's head! Along with the strawberries, bananas, marshmallows and waffles to dip, there's the addition of pineapple chunks and crunchy pretzels, too. The proportions were a little off with this one – we struggled and left some chocolate, which would easily be enough for six or even eight people, but we quickly polished off all the dippy bits so that wouldn't be enough for more than four. Still, amazingly tasty and just a fun way to eat with friends, and there's the added bonus that you can choose from white, milk or dark chocolate according to what you fancy.
Although we've only had the fondue pots so far, we have many return visits planned as the menu is huge, serving all manner of desserts and drinks. Speaking of drinks, there are of course a whole ton of hot chocolates and milkshakes on the menu but they also serve a variety of fruity mocktails, which I highly recommend going for to cut though the inevitable mountain of chocolate you'll be eating. The Strawberry Daiquiri (£3.30) is particularly good – although do ask the guys for an off-menu Bubblegum Daiquiri, you won't regret it!
The one thing that has really bothered me both times I've visited The Urban Chocolatier is their huge display counter which could look so good, but when I've been it's been almost empty save for a handful of lonely-looking truffles. Hopefully that means it's because they've all sold out, but it would look much more inviting and professional for that to be kept well-stocked.
Overall though, it's definitely worth a visit (or five). You can find The Urban Chocolatier at 9 Davenant Street, London, E1 5NB, but prepare yourself to need to be rolled out of there with a full belly and a chocolate hangover when you're finished – especially if you've killed two birds with one stone and popped in for dessert after dining at StickyWings round the corner, which I may or may not have done.
…I have. Twice.