It's been a good long while since I featured an unsung hero – that is, a product from a brand that is often overlooked in favour of their more famous pieces. You've almost certainly heard of – maybe even tried and swear by – New Zealand skincare brand Trilogy's Rosehip Oil, but how about Trilogy Everything Balm? If you're looking for a serious multitasking workhorse to add to your arsenal, look no further.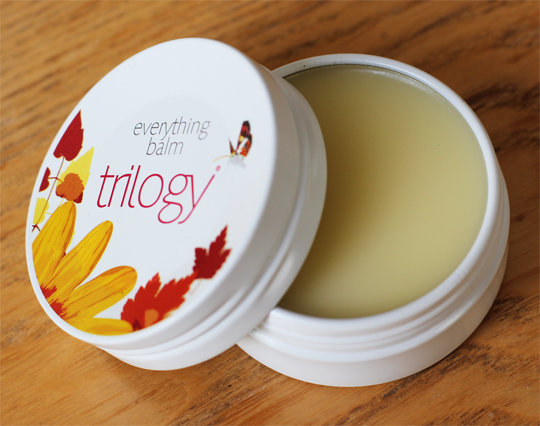 Funnily enough, as the name would suggest, Trilogy Everything Balm* is ideal for, well, everything. Almost any skin-related application you can think of, Everything Balm does it. The ultimate beauty fix, with a gloriously citrussy and herbal-floral scent. It contains a healthy dose of Vitamin E and the brand's signature organic rosehip oil, along with healing manuka honey, protecting echinacea and antioxidant pawpaw fruit extract. It melts easily on contact with the skin thanks to an exhaustive list of nourishing oils – you ready for this? Deep breath… rosehip (of course), soya, sweet almond, marula, evening primrose, wheatgerm, coconut, jojoba and olive. Phew.
Softening dry skin? Everything Balm.
Soothing chapped lips? Everything Balm.
Nourishing ragged cuticles? Everything Balm.
Taming split ends or flyaways? Everything Balm.
Hardcore moisturiser for hands and feet at bedtime? Everything Balm.
DIY massage oil? Everything Balm.
Even suitable for babies? Everything Balm.
You get the picture. You can grab yourself a 45ml pot (that you will take absolutely everywhere with you, seriously) for a ridiculously good £12.50, and it's also available in a heftier 95ml size for £20.50. As for availability, you'll find it pretty much anywhere – Boots, Holland & Barrett, all the major department stores, or online from Trilogy directly.
To summarise: Trilogy Everything Balm. It's bloody awesome. Buy it. Now. You're welcome.