Cor, Illamasqua are churning out their new releases at a rate of knots, aren't they? Facets is the brand's Christmas offering for this year, the main attraction of which is two multi-use – or rather, multi facet – palettes containing eyeshadows, cream pigments, powder blushes and gleam creams. This one is the Illamasqua Semblance Multi Facet Palette*.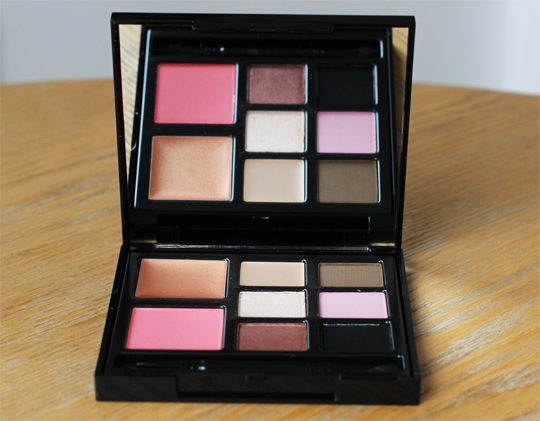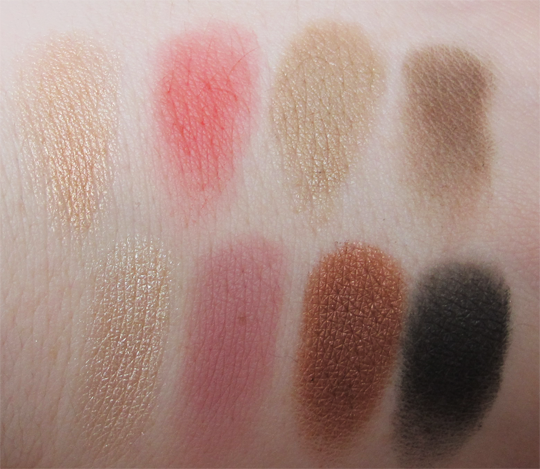 Mirage, Hussy, Hollow, Thunder
Slink, Dizzy, Tango, Obsidian
First of all, almost nothing in the Semblance palette (or Aura, its paler counterpart) is new – it's a selection of existing bestsellers all packed into one compact to create a collection with a surprising amount of versatility for so few shades. It's a great choice for travelling, too – just add foundation, mascara, and eyeliner/lipstick if you wear them. Certainly cuts down on taking a variety of single eyeshadows or blushes away with you, at least.
The shades included in Semblance are Mirage Gleam Cream (the only new shade in here, and probably better suited to more tanned or naturally darker skin than mine for use as a highlighter), Hussy Powder Blusher (the second Illamasqua blusher I ever bought – sigh, memories!), Hollow Cream Pigment (an excellent contour on pale skin and a good eye base for everyone), Thunder Eyebrow Cake (a little bit on the dark side for my liking, but can be used wet or dry depending on what kind of finish you're after), and Powder Eyeshadows in Slink, Dizzy, Tango and Obsidian. Add in a generously sized mirror and a mini double-ended brush, and you've got yourself a fairly reasonable palette.
That's my problem with the Multi Facet palettes, sadly – they're just reasonable. It's all stuff we've seen before, it's another safe, neutral collection, and most depressingly of all, they've done away with the iconic concave packaging. There's nothing inherently wrong with this packaging, it's just… not Illamasqua. You could be forgiven for mistaking this palette for something by any of your other standard beauty hall brands (or even Avon, for that matter). I'd started to get over the onslaught of commercial, profit-turning neutrals, but at least Illamasqua's unusual packaging always stood out among the crowd and made their products instantly recognisable. I really do hope this is just a temporary deviation and they bring back the concave (can we make that a Twitter hashtag, please? #FreeTheConcave!).
Despite my own personal disappointment at the lack of new shades and the unceremonious discarding of one of the brand's trademarks, I absolutely can't deny the quality of the products within – they're up to scratch as ever (I'd be considerably more cross if they weren't!). If you're an avid Illamasqua collector, like me, it's likely that you'll have most of the shades within both the Semblance and Aura palettes already so I'd suggest giving it a miss. However if you're fairly new to the brand, this is a great way to try lots of the cult favourites in a more affordable manner, so definitely go for it.
The Illamasqua Semblance Multi Facet Palette costs £45 and is out now on counter, in standalone stores and online. You can shop the rest of the Facets collection here – I'm tempted by the makeup bag, myself!
What do you reckon? Are you excited by the Multi Facet palettes, or disappointed at the safe new direction Illamasqua have been taking this year?