I uhmm-ed and ahh-ed about whether to bother doing this post or not, since I know it will have fairly limited appeal, but frankly I think it's too cool not to talk about, so here we go: allow me to introduce you to ZampleBox. Like the title says, it's like GlossyBox for vapers!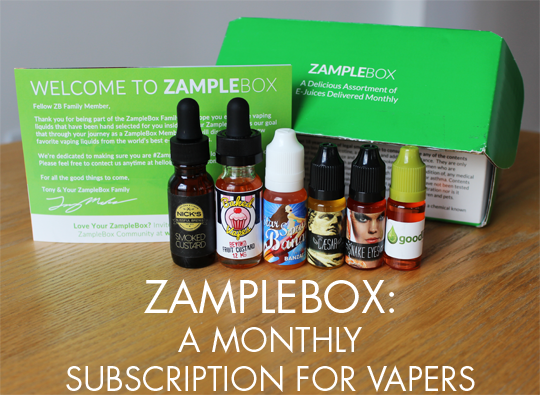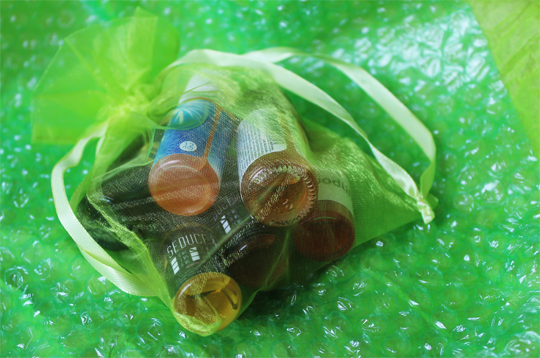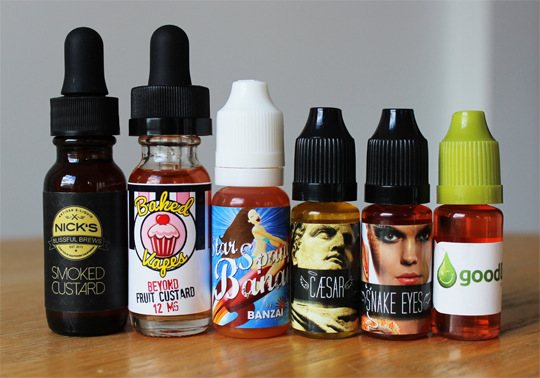 If you're unfamiliar with the terms vape, vaping, vapers, then you probably have no interest in this post and, if you are familiar, I don't need to explain it – but just in case, vaping is a colloquialism for 'smoking' an electronic cigarette. It's been about 18 months since I first started vaping, and in that time I've tried a lot of different e-liquids (or vapes!) from a lot of different vendors, with mixed results. Only recently did I discover ZampleBox, and holy moly I'm excited about it.
Based in the US, ZampleBox is a monthly subscription service for e-liquids. I got bored of beauty subscription boxes almost as soon as they started a few years ago – but this, I can definitely get behind. There are two levels of subscription, Standard or Gold, the former of which gives you 6 bottles of premium, artisan e-liquid for $24.99 a month (total volume 60-100ml), and the latter 11 bottles for $44.99 (120-180ml). Both levels also contain coupons or discount codes for at least one of the vendors included in your box, so you can keep stocked up if you end up finding one you really love.
I signed up for a standard subscription last month, within 5 minutes of coming across the website. When you sign up, they ask you a few questions to make sure you get liquids you'll like – for example, I'm not a fan of tobacco or menthol flavoured liquids so I chose to exclude those from my boxes. You can also specify how many milligrams of nicotine you prefer (I go for the happy middle at 12mg) and what VG/PG ratio you favour (that's vegetable glycerin, which provides the vapour clouds, and propylene glycol, which gives the throat hit). This is a great touch that I really appreciate, as I'd be pretty damn quick to cancel my subscription if I kept getting crap liquids I knew I wouldn't like. ZampleBox shipped my first box on the same day that I subscribed, and it arrived 6 days later – not bad at all for US to UK shipping. That shipping isn't cheap though, coming in at $19.99.
So, here's what I got in my first box…
Smoked Custard by Nick's Blissful Brews: I didn't try this one, simply because it was a tobacco based flavour (thought I asked not to get those?), but I gave it to my buddy James who says it wasn't too strong on the tobacco front and instead nice and creamy from the custard flavour.
Beyond Fruit Custard by Baked Vapes: That's more like it! Custard vapes are among my favourites, and this one was prevented from being too sickly by the fresh fruity flavour. Produces gorgeous plumes of vapour, too!
Star Spangled Bananer by Banzai Vapors: Love the name of this one. The company's website describes it as 'Murican flavour, 'Murican made which made me laugh – and the flavour made me swoon. A fruity mix of banana (duh), strawberries and blueberries.
Caesar by Seduce Juice: This is the only one I haven't tried yet, but I look forward to doing so – it's a concoction of honeydew melon, lime and strawberry. I'm sure I'll love it, if the other one is anything to go by…
Snake Eyes by Seduce Juice: I got through this one in about 48 hours, I couldn't put it down – it was amazing. A really great cinnamon flavour, I thought it tasted a lot like Cinnamon Grahams (or whatever they're called now, yknow what I mean, the cereal?), and there's a noticeable hint of banana, too. Soo tasty.
Melon Boba by Good Life Vapor: Really refreshing; an authentic sweet melon taste with a hint of mint. It was ok, but I wasn't super in love with it so I got halfway through the bottle and gave the rest to James. Also, totally superficial but the packaging is super boring – I like my vapes pretty, innit.
So all in all, apart from the one slip up with a tobacco flavour, I was really, really impressed with my first ZampleBox. My second box is on it's way now, and I can't wait to receive it. 6 bottles is just the right amount for me to get through in a month, too, so it's pretty much perfect all round. Obviously shipping to the UK makes it more expensive than it would be in the US, but the total of $45 (about £27-28) is around the same amount I'd usually spend a month on liquids anyway so it works out really well for me, not to mention the fact that I get to try a bunch of different vendors that aren't that easily available in the UK.
If you vape, I highly recommend subscribing to ZampleBox. If you smoke, I highly recommend you start vaping. If you don't smoke, I apologise profusely for the entirely irrelevant post and normal shallow makeup service shall resume shortly!