It's been a long time since I tried anything new from Urban Decay. But when a brand releases a collection inspired by your all-time favourite movie, it'd be rude not to get all over that, right? Inspired by the inimitable Uma Thurman as Mia Wallace in celebration of the film's 20th anniversary, here is the frigging awesome Urban Decay Pulp Fiction collection*. Hang on, I can't write this post without the soundtrack on.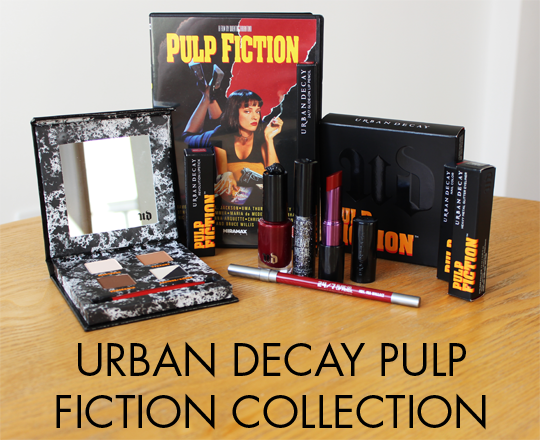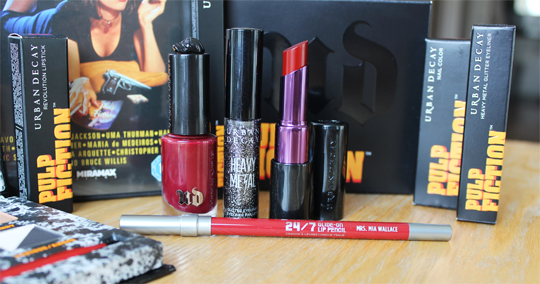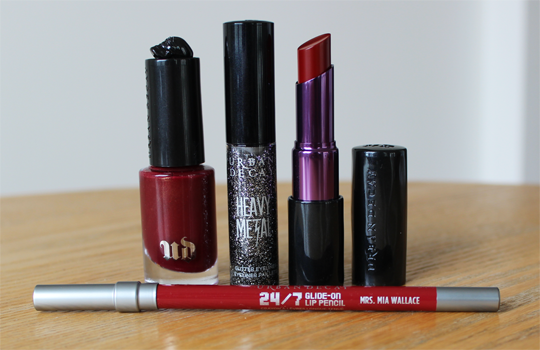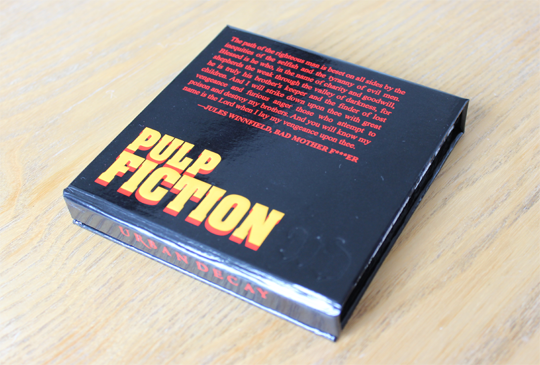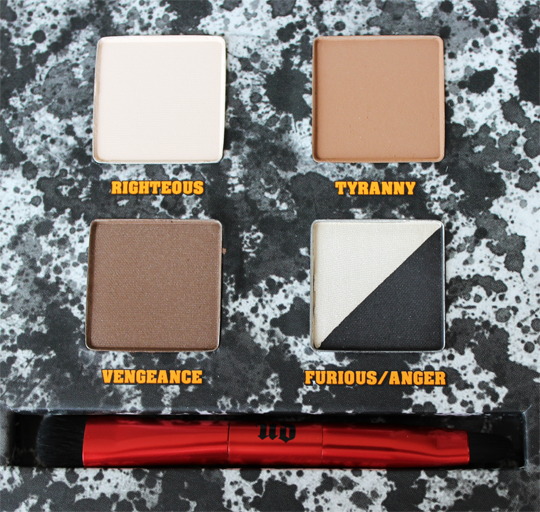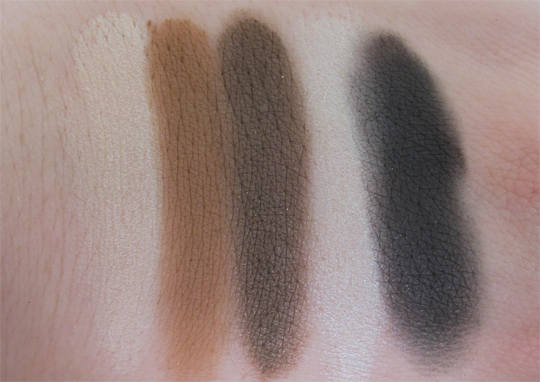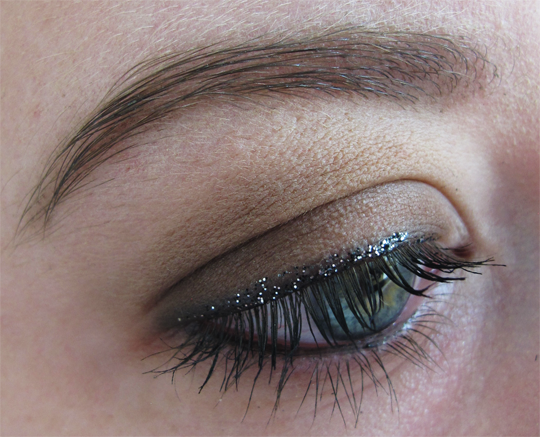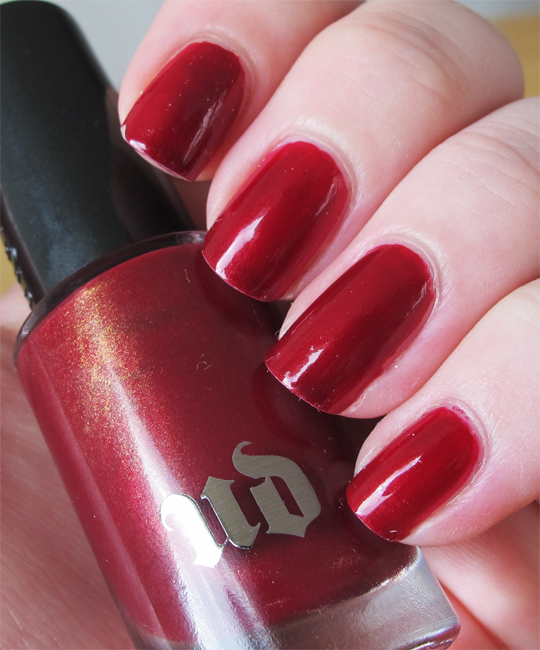 Right, that's better; with the sounds of Misirlou in my ears, let me now tell you about this collection which has got me truly excited.
Let's start with lips – a complementary duo of Revolution Lipstick (£15) and 24/7 Glide On Lip Pencil (£13) both in the shade Mrs Mia Wallace which make it easy to replicate the blood-red pout of Tarantino's glamorous OD-ing bitch (vomit optional and not especially recommended). Jokes aside, this pairing will give you a seriously long-lasting lip with rich, creamy colour that doesn't bleed, smudge, transfer or anything else. I've easily eked a whole day's wear out of it, only requiring a little touch up after dinner. The shade applies lighter and brighter on the lips than it looks in the bullet, on me anyway, so don't be frightened if you think it looks a little dark for you. This is my first taste of the Revolution lipstick formula and I'm definitely impressed enough to go and check out the other shades.
For the nails, there's a Nail Colour (£10) also named Mrs Mia Wallace. A gorgeous deep garnet shade with an understated shimmer, the formula is good – not to thin, not too thick, perfectly opaque in two coats – but the brush is a little on the skinny side for my tastes so it takes a while to paint on. No big deal though; if you like the colour, which is completely on-point for the impending Autumn/Winter season, I'd have no qualms recommending the formula.
Now my personal piece de resistance, the Pulp Fiction Eyeshadow Palette (£17.50). This badass compact comes emblazoned with Jules Winfield's infamous favourite Bible verse, Ezekiel 25:17 (which I know by heart, by the way), and contains 5 neutral shades with names taken directly from quote. There's the matte cream Righteous, matte light brown Tyranny, almost-satin deep brown Vengeance, and a diagonal duo of white shimmer and black matte for Furious and Anger. This combination is perfect for a bit of heroin-chic on the eyes and it's easy to create a Mia-inspired dark, hooded look that just goes so well with the red lip. I'd honestly forgotten how good Urban Decay's eyeshadows are, and I think anyone would have a hard job finding a bad word to say about this palette, especially at the price which I think is more than reasonable for the quality.
To finish off, the only thing that I feel is slightly out of place, a Heavy Metal Glitter Eyeliner (£14) in the shade Gunmetal. The official description of this sparkly black-and-silver number says "Yes, the people at UD know Mia wasn't wearing glitter liner in the film, but they figure if there was a glitter liner in the '90s, Mia would have worn it", and yeah, that's a pretty fair point! Why not, hey? It does add a little extra dimension to the whole look but I don't think the collection would be lacking without it. Unless you're a die-hard fan of Pulp Fiction or Urban Decay (or both!), you could probably skip this one and not miss it.
The Urban Decay Pulp Fiction Collection is out now and available from Debenhams, House of Fraser, Beauty Bay and online directly from Urban Decay. I'm super impressed with this little group of products and it's reminded me just how good Urban Decay can be at putting out frigging excellent makeup.
To conclude, can I just share some movie trivia with you? Ezekiel 25:17, which Jules thought was just some cold blooded shit to say to a motherfucker 'fore he popped a cap in his ass, is actually a fabricated verse. It is loosely based on a few verses of Ezekiel 25, but made much more hardcore-sounding for theatrical effect. Anyway, it wasn't actually written for Pulp Fiction. It was originally from a early draft of the script for From Dusk Till Dawn (which was written, but not directed, by Quentin Tarantino and wasn't released until 2 years after Pulp). It was meant to be recited by Harvey Keitel's character as he walks backwards through the hallway facing the vampires. And of course, Harvey Keitel also stars in Pulp Fiction, as Mr Wolf. Who knew?
The path of the righteous man is beset on all sides by the inequities of the selfish and the tyranny of evil men. Blessed is he, who in the name of charity and goodwill, shepherds the weak through the valley of darkness, for he is truly his brother's keeper and the finder of lost children. And I will strike down upon thee with great vengeance and furious anger, those who attempt to poison and destroy my brothers. And you will know, my name is the Lord, when I lay my vengeance upon thee.