I'm going to open this post with a short story that's possibly TMI, but I promise it's relevant and will bring me nicely on to the La Roche Posay Effaclar Anti Blemish System.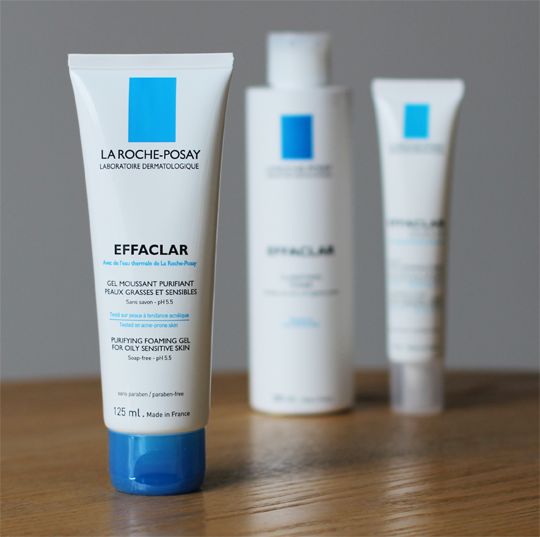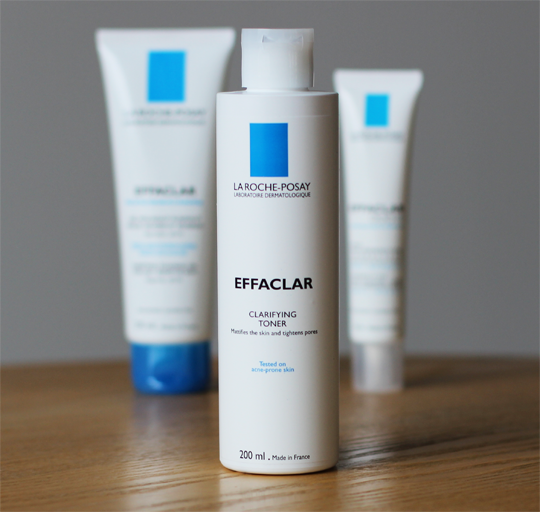 Some months ago, I was going through a particularly stressful period of time, down to work and finances and all that other brilliant first world stuff. During this same period, I was due to renew my prescription for my contraceptive pill, so I popped along to the doctor. The stress I was under caused my blood pressure to be sky high despite normally being slightly on the low side, so my doctor wouldn't prescribe my pill. She asked me to come back in a few days after I'd had the weekend to 'unwind' (yeah, good one), so I did exactly that but my blood pressure was still high. Ignoring my protests that it was purely down to a temporary stressful time, she insisted that I have a variety of blood tests and an ECG in case I had heart problems. OH GOOD. Obviously, this didn't exactly help with the stress situation. When all my bloods etc came back clear – and, crucially, life had started to get a bit easier again – she took my blood pressure once more and lo and behold, it was all fine. Even after all this fuckery, she still wouldn't prescribe my usual 21 day pill just in case it caused my blood pressure to spike again. Seriously? I'd been on the damn thing for about 8 years and always been fine. Instead, she put me on a 28 day pill which is less likely to cause hypertension as a side effect.
That 28 day pill was HORRIBLE. Within a week of starting it, I was absolutely covered in cystic spots and they only got worse. During the time I persevered with that pill, my periods were all over the place, I suffered headaches, I gained a lot of weight, my sex drive was through the floor, I was grumpy, tearful and just a general cow to be around. The spots were the worst thing though – throbbing, painful, and just hideously soul-destroying for someone as admittedly vain as I am. Fortunately, my doctor saw the state I was in and has since put me on a much better pill. Most of the issues caused by the last one went away pretty quickly, but the spots were taking their sweet ass time clearing up.
As luck would have it, around the time I was changing to the better pill, the La Roche Posay Effaclar Anti Blemish System* arrived in the post. It's claimed to be a ground-breaking advancement in the treatment of oily, blemish prone skin, and La Roche Posay is a brand I've always got on well with so I couldn't wait to put it to the test. A simple but effective 3 step regime, the Anti Blemish System is designed to be used twice a day to target blemishes, visible pores, uneven skin texture, excess oil and marks. It consists of Effaclar Purifying Gel Cleanser, the new Effaclar Clarifying Toner and cult favourite Effaclar Duo+ Moisturiser and, as much as it pained me to do so, I stuck strictly to these products, twice a day, for four weeks to give the La Roche Posay Effaclar Anti Blemish System its best shot at success.
I'm really, really pleased to report that it's done a sterling job. The appearance and texture of my skin had improved amazingly in just a week, and now six weeks later it's pretty much back to normal aside from the odd one or two spots around shark week (which I'd expect anyway). Here's a photo of my skin the day before I started using the system, and here it is one week later. A dramatic improvement already, wouldn't you say?
I'm honestly so thrilled with how well these three products helped my skin and would wholeheartedly recommend it to anyone with similar skin woes. The La Roche Posay Effaclar Anti Blemish System costs a very fair £32.50 and is available from Boots – where you can currently earn double Advantage Card points when you order it online. Go go go!