BOOM! It's time for a new collection from The Body Shop! Despite my usual preference for their more sweet and edible ranges (Brazil Nut, Chocomania, Honeymania, Blueberry.. you get the picture), I've fallen hard for The Body Shop Wild Argan range.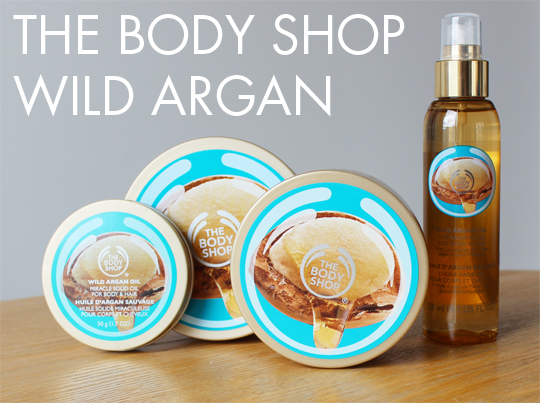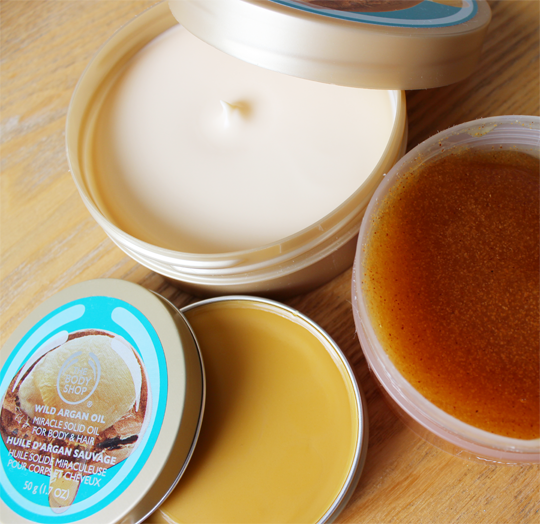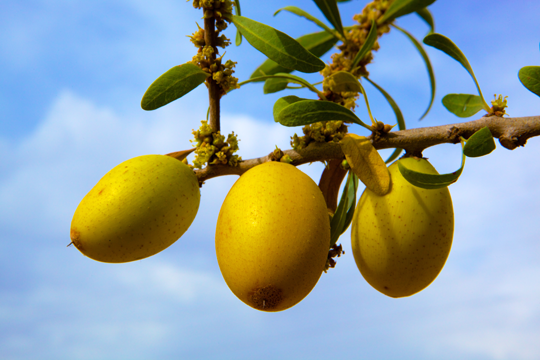 Quick show of hands – who actually knew what the argan fruit looked like before now? Not me. Total ignoramus, I know.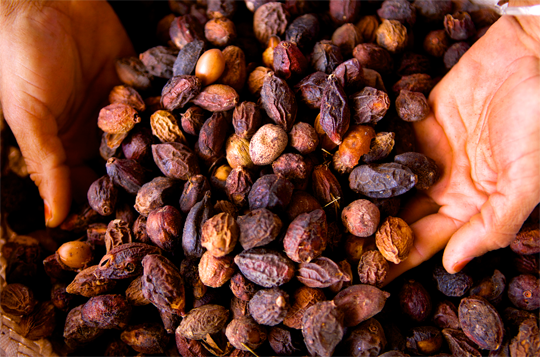 Dried argan fruits ready to be de-fleshed and the nuts inside cracked to release the oil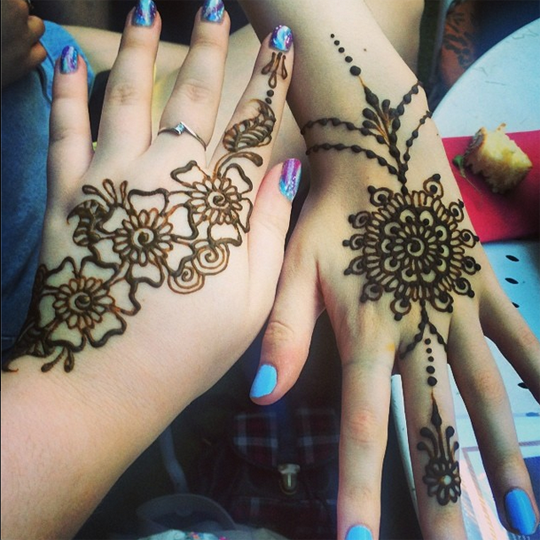 Zoe London and I showing off our beautiful henna designs at the Moroccan-themed launch
Argan oil is pretty ubiquitous in the beauty world now, with even the likes of Primark selling tiny little bottles of it among the other crap they shill to you to distract from the long queues (although I'm sure the purity of theirs is questionable at best). Despite it being contained in all sorts of moisturising products for the skin, body and hair I think I'm probably safe in assuming that I'm not the only one who didn't really know anything about the ingredient, where it comes from or how it's obtained until I was introduced to The Body Shop Wild Argan range. If you've spent the last few years harbouring a similar ignorance, allow me to fill you in…
There is only one place in the world where wild argan fruit trees thrive naturally – the foothills of the Atlas mountains. In this locale, you'll find a small cooperative called Targanine, founded and run by women. Targanine are The Body Shop's newest Commuinity Fair Trade partner (their twenty-sixth, believe it or not) and are another shining embodiment of The Body Shop's Trade Not Aid philosophy, providing the Targanine crew with a stable income to provide for their families and to reinvest in their local community – think schools, creches, doctor's visits – all the things we absolutely take for granted.
So, as mentioned in the caption on one of the photos above, I had absolutely no idea what an argan fruit looked like until now. Now I do, and I know that the process to obtain the precious argan oil from this fruit is a long one which Targanine undertake with lots of TLC and some very exacting standards to ensure only the best quality is achieved. The fruits are hand picked, air dried, de-fleshed, then the nuts within are hand cracked. Sure, machines can do all of this stuff – but the by-hand method produces a much higher quality of oil, super rich in fatty acids including Omega 6 which makes it one of nature's finest moisturisers. Argan oil is already popular in the beauty world, particularly as a hair oil (think Moroccanoil and its many successors across all price brackets), but thanks to their partnership with Targanine, The Body Shop have expanded on this with a full bath and body care range.
All the old favourites are present – Shower Gel (£4), Body Lotion (£8), body scrub – this time called Rough Scrub* (£13) and packed with ground argan and walnut shells for serious buffing action, Bubble Bath (£8), and of course, what kind of The Body Shop collection would this be without a Body Butter* (£13)? Everything smells glorious, like the argan oil products we're already familiar with but souped up with a hint of honey and, to my nose, something a bit like marzipan too (so you'd assume almonds, but I can't see that on the ingredients!).
There are a few stars of the show which really allow the Targanine argan oil to shine. The Radiant Oil* (£14) is – praise the baby Jesus – a spray oil. There simply aren't enough spray oils on the market! So much easier to distribute evenly over your body or through your hair this way, and it absorbs quickly so you aren't left hanging around in your birthday suit. Definitely my top pick – followed closely by the Miracle Solid Oil* (£8) which, as the name would suggest, is a little tin of solid argan oil that may well be the single most effective body moisturiser I've ever used. It's perfect used in conjunction with the Body Butter to top up any extra-dry bits like elbows and knees. Or, if you can bear sleeping in socks (weirdo), slather it on your feet before bed and wake up with super smooth ones. Last but not least is the Solid Oil for Lips, essentially a smaller tin of Miracle Solid Oil with a few tweaks to the ingredients so it's a bit more on the edible side for obvious reasons.
All in all, another sterling range from The Body Shop and one I wouldn't hesitate to recommend. Definitely try out the Radiant Oil and Miracle Solid Oil to experience argan oil in all its glory! The Body Shop Wild Argan range is out now in store and online, so what are you waiting for?