My skin has been completely ravaged in the last couple of months. Work-related stress has been in abundant supply, and that combined with a new contraceptive pill has got my jawline riddled with angry, hormonal breakouts. Luckily, Re:SPA Canary Wharf were on hand a couple of weeks ago to help me out with a Murad Resurgence Renewal Facial.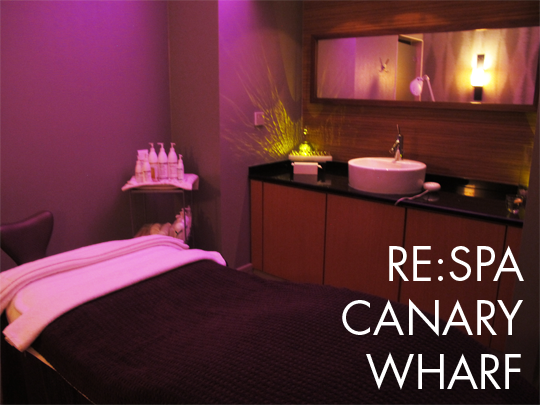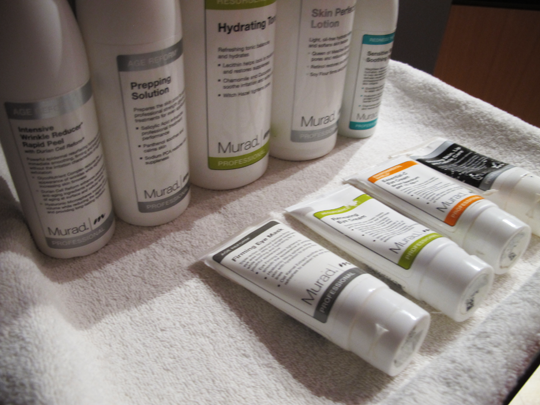 The Re:SPA is a tranquil oasis amid the fast-paced hustle and bustle of Canary Wharf, in the centre of Canada Square. If you're heading for a spa visit, you may feel some guilt as you head up to the spa with a crowd of virtuous gym bunnies as Re:SPA is situated inside the prestigious Reebok Sports Club, but those feelings will quickly melt away as you enter the calming environment of the Re:SPA itself.
After signing in, my lovely therapist, Frankie (who did of course have enviably good skin herself), led me to a peacefully dark treatment room – which accounts for the less than sharp photos, sorry about that – and left me to get ready. The Murad Resurgence Renewal facial, aimed at targeting hormonal problematic skins, includes treatment of the decolletage, so you'll need to lose the top half of your clothes. For those who aren't keen on getting it all out, you can keep your bra on and just push the straps down. With perfect timing, Frankie arrived back just as I'd slipped between the warm towels and got comfortable. And very comfortable is how I would stay for the next 50 minutes while she worked her magic.
The treatment started with a through cleanse of the face and decolletage using the Murad Renewing Cleansing Cream. A sweep of toner prepped the skin between each step after this, and the next step was a thorough, scrubby exfoliation. I was warned that I might feel some strong tingling for the glycolic acid peel, which came next. I didn't experience any at all though, but my skin is pretty hardcore. The best and most satisfying part (for both me and Frankie!) was up next: extraction. Honestly, sometimes I think I'm in the wrong job when I could be getting paid to squeeze spots.
Extraction was followed with a very relaxing mask, and the whole treatment was wrapped up with serum and a very stimulating massage with moisturising lotion. When it was all over, I may or may not have mumbled 'five more minutes' genuinely in a state of comatose relaxation.. but once I was up, dressed and in front of a well lit mirror I couldn't believe how fresh and smooth my face looked and felt. Under strict instructions from Frankie to stop being so lazy with intermittent use of my Clarisonic (yes, yes, I know I need to get back in the habit) I popped off home and drank my body weight in water to prevent dehydration before having one of the best night's sleep I've had in ages.
Following the treatment, I did get one or two monster spots erupt but a post-facial purging is more or less to be expected. All in all, my skin has maintained that smoothness which I previously thought was unachievable on my blackhead-prone crater face and the problem areas on my jaw have calmed down significantly. The Murad Resurgence Renewal Facial isn't cheap at £89 (or £84 for Reebok Sports Club members), but it's a great starting point if you want to quite literally shed problematic skin and start with a fresh canvas – but you'll have to work to maintain the results yourself if you can't afford to go back for several treatments.
Re:SPA is honestly wonderful. If you live or work anywhere near Canary Wharf I'd highly recommend a visit as they have a huge range of treatments available – check them out here – focusing on brands including Murad, Aromatherapy Associates, Guinot and more. If their massages are anywhere near as good as their facials, I'll definitely be going back for more.