My favourite black eyeliner has always been Pixi Lash Line Ink. Unfortuantely mine has finally run out, and since I didn't have a reason to go anywhere near Carnaby Street (where their store is based) anytime soon – and also because I really begrudge paying for postage when ordering online – I went hunting in my local Boots for something to tide me over. Enter L'Oreal Perfect Slim Super Liner!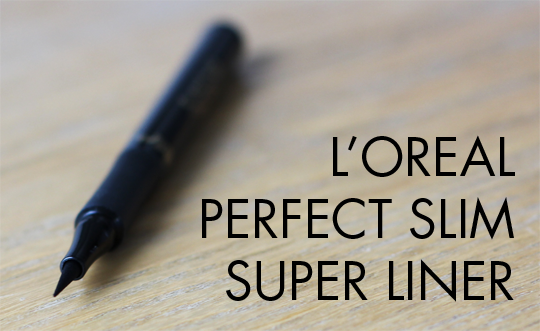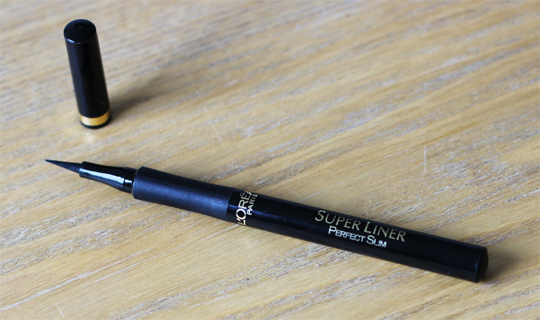 This skinny little pen is a pretty nifty find for the bargain price of £6.99. If you like felt-tip style eyeliners, you'll love this one. With a teeny tiny 0.4mm tip, it's as easy to create a very thin line as it is to apply it at an angle for a thicker, more dramatic look. The barrel has a sort of rubberised grip for a more secure hold that does a good job at preventing any slips of the hand. The tip is neither too stiff nor too flimsy, therefore very easy to control. It's easy to apply your eyeliner in one fluid movement without any of that join-the-dots nonsense required with eyeliners that skip and drag across the lid. The colour is super black, too, no wishy-washy grey here.
My only criticism of the L'Oreal Perfect Slim Super Liner is its lasting power on oily lids – or lack thereof. If I wear it over eyeshadow, or at least an eyeshadow primer (like Urban Decay Primer Potion or Too Faced Shadow Insurance), it lasts just fine but, on days when I'm in a rush, I want to just apply some black eyeliner straight onto bare lids. I imagine it might fare better on those without oily or hooded lids like mine, but on me if I skip priming the lid then I experience some transferring on the outer corner and colour fade throughout the day. Not the end of the world when I can prevent this just by remembering to add a smidge of primer first, but definitely something to bear in mind.
L'Oreal Perfect Slim Super Liner is available online and instore from Boots and Superdrug. Annoyingly, Boots only have the blue and green versions online and Superdrug only have the black one, but both shops have all three in store.
I know this is a pretty popular choice for low-cost eyeliner; if you already own it, what do you think? If you don't, are you interested in trying it?