A few months back, I confessed that I am not a shoe person. Even if I've almost doubled my paltry collection of footwear since then, I can safely say that I am still not a shoe person, right? RIGHT?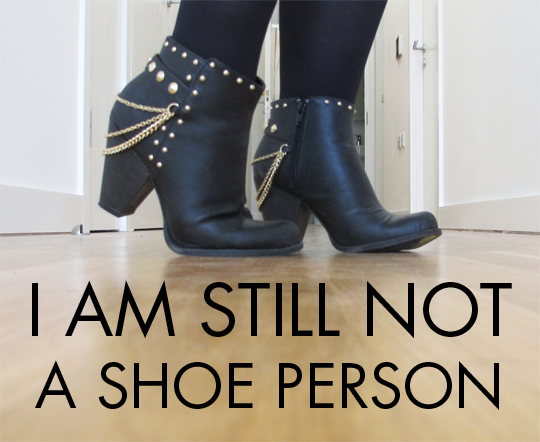 Black Chain Studded Ankle Boots – New Look, £34.99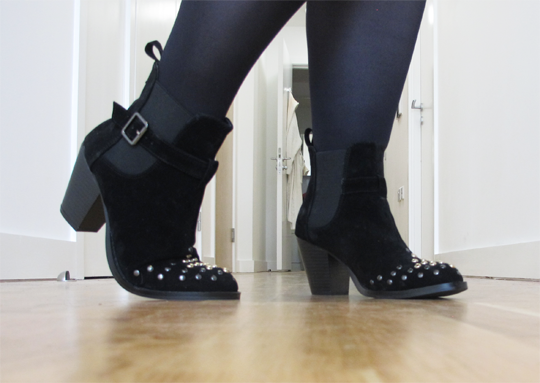 Black Studded Toe Ankle Boots – Cloggs, £39.99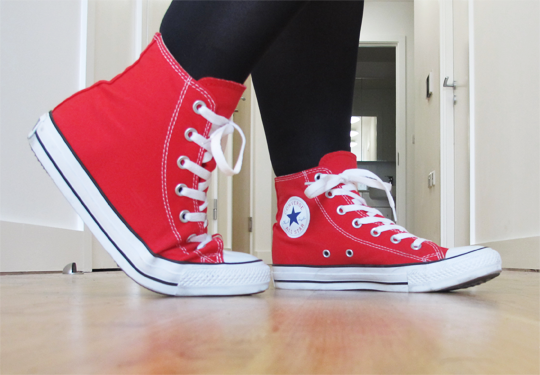 Converse Chuck Taylor All Star Red Hi Tops – JD Sports, £48.99
I've actually had the New Look boots for about 9 months, but I completely forgot about them. I bought them online, had them delivered to work and popped them under my desk when they arrived. It wasn't until we had a shift around in the office a while back and I moved to a different desk that I found them again – it was like the feeling of finding a forgotten fiver in your purse, but amplified by fifty. I reserve these for days that I won't be doing much walking; while the heel isn't any higher than I normally wear, something about the angle of them makes them more uncomfortable than I'd like. The gold chains around the heel are pretty, but hearing them clink around as you walk is super annoying. This particular pair are still showing up on the New Look website, but currently out of stock. I have a feeling they won't be coming back, which sucks.
The Cloggs boots* were a bit of a revelation – I didn't even know that Cloggs had their own brand! I love Chelsea boots, and these have studs on, which is an automatic win. I've not had boots with studs on the toes before, all my other pairs having had them on the back of the ankle. These feel sturdy and well made, and are just as comfortable to walk all day in as my beloved Primark ones (you know, the ones of which I've now purchased a grand total of 7 pairs via eBay? Yeah. Those). There's no zip either, they just slip on which I love as when I sit cross-legged at my desk with zipped boots, I nearly always snag my tights on the zip.. But yes, these are great and I'll definitely be looking at some more of Cloggs' own shoes now. This pair are currently only £15 on the website, so get in there!
You've probably noticed that all my shoes are black (LIKE MY SOUL). Not any more – when JD Sports asked if they could send me a pair of Converse, this pillarbox red pair* screamed at me and I have quickly fallen in love with them. I honestly forgot how much better the quality of proper All Stars is by comparison to the million knock offs out there. Everyone needs a pair (or five) of All Stars and JD Sports have great selection to choose from (I'm definitely eyeing up this skull print pair right now). I love wearing this red pair with a black and white polkadot dress.
Even if my collection is growing, I will maintain the belief that I am not a shoe person until the day I buy a pair of stilettos. WHICH WILL NEVER HAPPEN.