Right now, I'm aaaall about the colourful makeup. Neutrals can do one, this summer I'm fully into wearing my makeup LOUD. One of my favourite acquisitions this year is definitely these Lime Crime Liquid Eyeliners.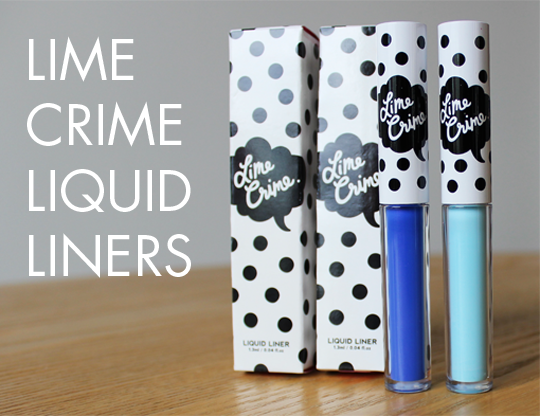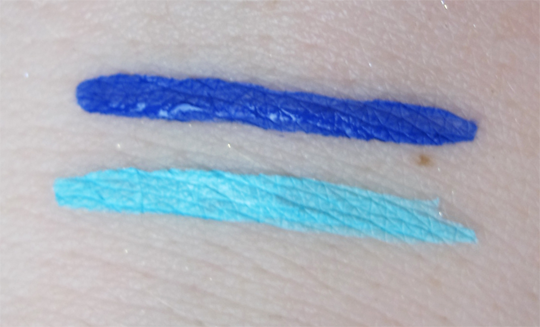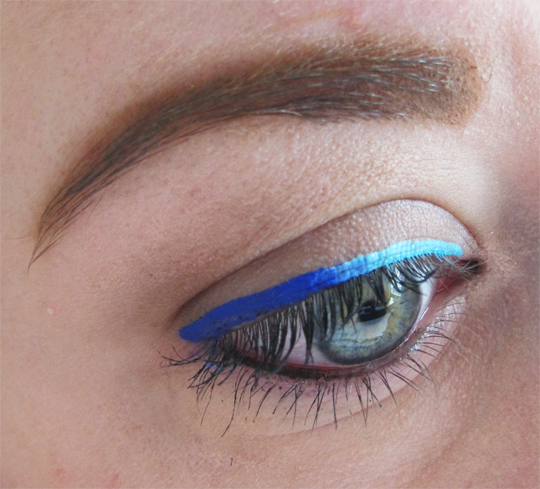 I'm more than aware that Lime Crime have had some bad press in the past for repackaging trade pigments and for the owner generally being a big ol' bag of dicks, but I'm not gonna lie, I can't argue with these colours. Their names are Lazuli and Blue Milk, and I've been loving pairing them together for some awesome statement eyeliner. I've moaned before about the fact that the outer corner of my eyes are hooded so I really struggle with finding the correct angle for winged eyeliner, so my best shot at achieving a statement eyeliner look is with colour. These two are just perfect for the job.
The brush is neither particularly long or short, neither overly flexible or stiff - it's just right, Goldilocks stylee. It's very quick and easy to apply even lines to both eyes, and the formula is seriously hardcore. It stays absolutely stock still once it's dried, and even the 30-plus degree heat we've had recently hasn't come close to disturbing this eyeliner even after it's successfully melted off the rest of my makeup.
It was something of a happy accident when I discovered that these eyeliners blend together pretty well. I was thinking of applying Blue Milk along the lashline then a line of Lazuli above it, and tried it out on my hand to see how it would look. Because both colours were still wet, they started to bleed into one another which put my double-liner idea right out of the window. Instead, I applied Blue Milk to the inner half of the lashline and Lazuli to the outer half, overlapping just slightly in the middle. While both colours were still wet, I applied just a touch more of each colour over each other where they met to help the gradient along and BAM, accidental blue statement liner complete.
I've been wearing this look pretty frequently, with just a touch of matte brown eyeshadow through the crease. No bright eyeshadow needed, the eyeliner speaks for itself and has attracted quite a lot of compliments, too, including the woman who served me lunch in Leon a couple of weeks ago and a stranger on the tube. People don't talk to other people on the tube. They just don't. Which means this must have been pretty damn compelling!
Lime Crime liquid eyeliner comes in 9 different colours – black, white, gold, silver, orange, violet, chartreuse and of course the two blues. They are all BRIGHT. Having fallen so hard for these, I'm dying to complete the set. They cost a really reasonable £9 and you can find them in the UK at Love Makeup, Cocktail Cosmetics and CutECOsmetics. Annoyingly, each of those three stores seem to stock different shades so you may end up having to buy from various places but trust me, it'll be worth it. These are AWESOME.