On my recent mission to hunt down the full collection of Maybelline Acid Wash nail polishes, I also picked up two colours from the Maybelline Bleached Neons collection. Slapped 'em together in a quick gradient manicure, and bam, instant summer nail art.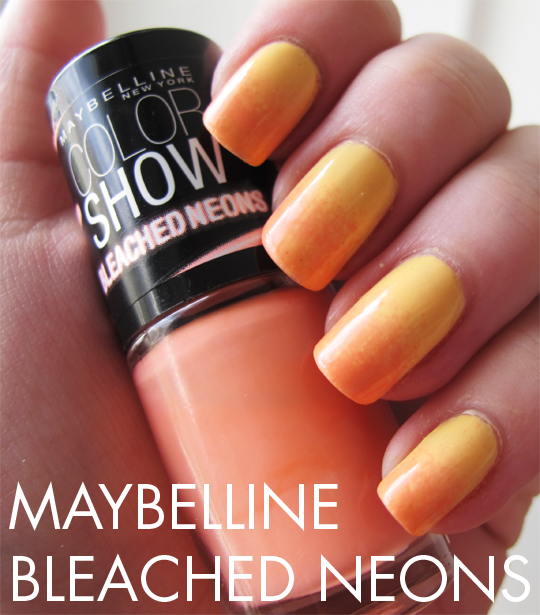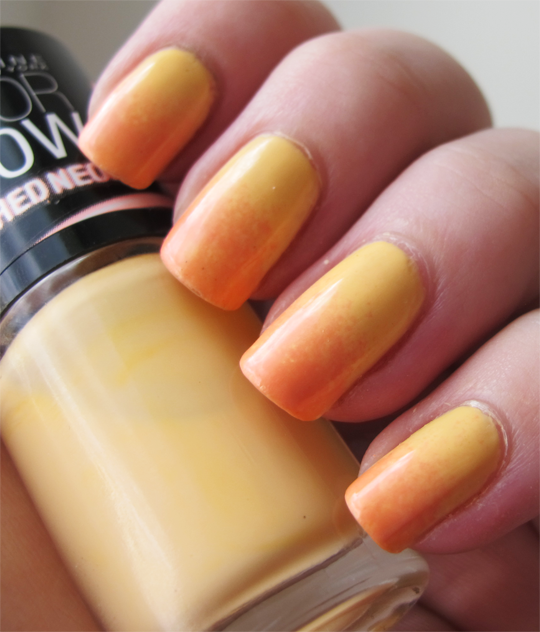 The two I picked up were Coral Heat (the coral.. duh) and Sun Flare (the lighter one). I did like the look of the two other colours – Tropink and Chic Chartreuse – but I'm pretty convinced they're dupe-able with colours I already have from the permanent Maybelline Colour Show line. Having since seen plenty of swatches, I think I do actually need Chic Chartreuse now.. but that will potentially be another post on another day. I hope.
There are a few things that are really cool about the Maybelline Bleached Neons. 'Traditional' neons are typically quite the pain in the arse, with streaky formulas that never become fully opaque. Those in the nail community quickly worked out that applying a white base coat underneath neons would improve the colour and negate the need for fifty million coats and, with certain shades, this would add a cool washed-out look. The Bleached Neons achieve this look without the need for a white base, but don't tip the scales too far towards the chalky side of things. I prefer this whitewashed finish to the full on glare of highlighter-style neons, and the fact that they apply completely opaque within two coats is just a bonus.
I applied two coats of Sun Flare, and sponged two coats of Coral Heat onto the tips for a quick and easy spot of summer nail art. As is often the case with the simplest nail art, this caught attention and garnered quite a few compliments while I wore it but sadly, it didn't last particularly long, starting to chip off in unforgivably big chunks by day 3. If you want to pick up any of the Bleached Neons – which you should, because they are really cool, be prepared for your manicure to be short lived.
Maybelline Bleached Neons are available in Boots for £3.99 each; and Maybelline is currently 3 for 2 at the moment so go crazy!