Much like the Maybelline Street Artist collection, which I quickly fell in love with, the release of the new Mayelline Acid Wash collection managed to pass me by unnoticed. I'm sure that if I wandered round Boots or Superdrug more frequently, I would have noticed about them sooner. But I don't – I rely on blogs for news and it seems that, like Street Artist, there's not been a lot of publicity on that front. Why not?! These are pretty freaking cool!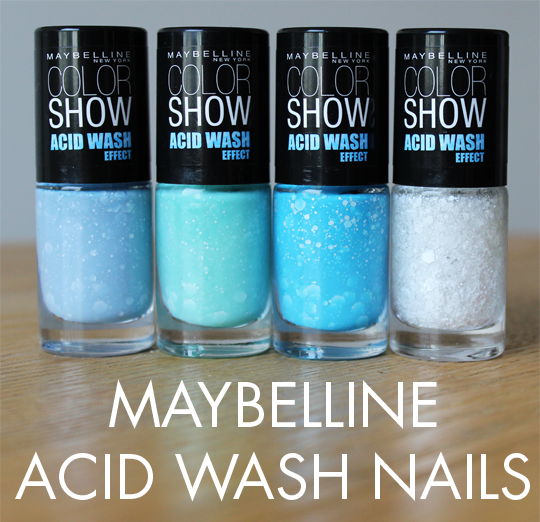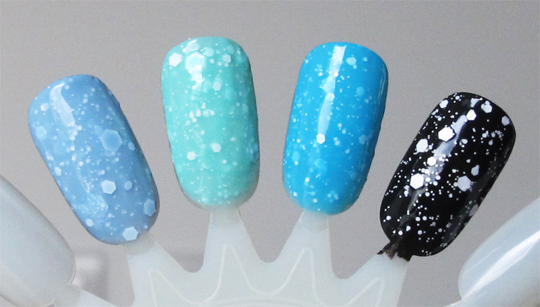 L-R: Lilac Rebel, Mint Acid-Ittude, Ripped Tide, Top Splatter (over black)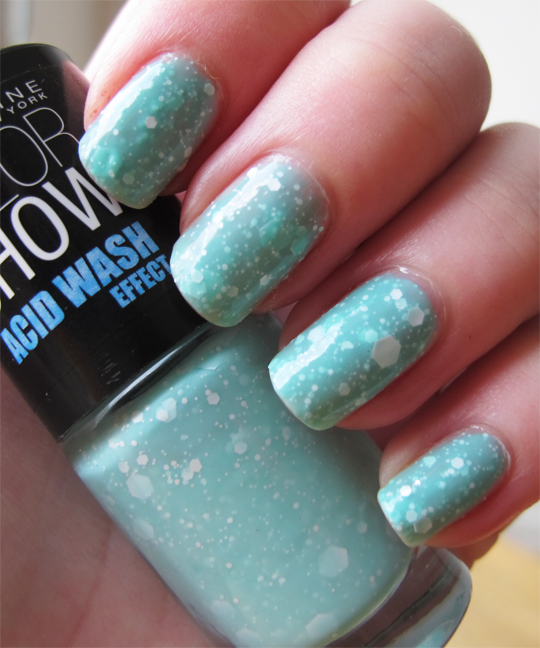 Mint Acid-Ittude
First of all, let me say that the bottle shot at the top is a bit iffy on the colour front. They all look super similar, but in actual fact the swatches are more accurate. Lilac Rebel isn't really a lilac at all, it's definitely on the blue side. I've applied Top Splatter over black for the best view of the glitters – unlike the other shades which are all suspended in a coloured base, Top Splatter is just clear. I think it'd look great over most colours of polish, but it'd also work really well as the filling of a jelly sandwich (that is, applying a layer of a sheer colour polish, a layer of glitter in between and another layer of the colour. One for your manicure glossary!). It's sort of similar to Illamasqua Blizzard, but far cheaper.
The only one I've worn for a full manicure so far is Mint-Acid-Ittude. First of all, can we just talk about how crap that name is? It doesn't even make sense. I might understand 'Mint Acid-Tude' but 'Acid-Ittude' makes zero sense! Still, stupid name aside, this is pretty sweet. Varying sizes of white hex glitter are suspended in a fairly sheer minty green base. Ordinarily, I would apply any glittery polish like this over a block colour base to save time, hassle and the likelihood of thick, chunky layers. I decided against that this time, as the translucence of the base colour makes for an interesting texture where it overlays the first coat of white glitter.
I'm not going to lie, it's a real pain in the butt to apply. I did two coats for this manicure and there are some areas which are slightly too transparent, but I actually quite like the jelly kinda look with these. That, and I was afraid of applying a third coat as it was already getting pretty thick on the nail. The Street Artist polishes were really easy to apply, with glitters distributing evenly, but these Acid Wash polishes are thicker in texture with larger glitters so you'll need to crack out the ol' fish and dab technique to get them spread somewhat evenly over the nail. A straight painting motion will just drag all the bigger glitters towards the tip, and we don't want that.
So yeah, they're not super easy to apply but they're certainly unique. A cute look, and something a bit different to the almost ubiquitous speckled/polkadot looks we've seen over the last 18 months (don't get me wrong, I still love that!).
I imagine these are limited edition, and I know from experience that they can be hard to find so start scouring your local Boots and Superdrug stores now where you'll find them for £3.99 each. I just wish there was a peachy one, too!