Having now got over the worst of my lurgy, I am full of reverse buyer's remorse over IMATS London 2014 – that is, I wanted to buy more! Still, I am definitely very happy with what I did buy and hopefully you might like to see what I spent my month's commission on, too.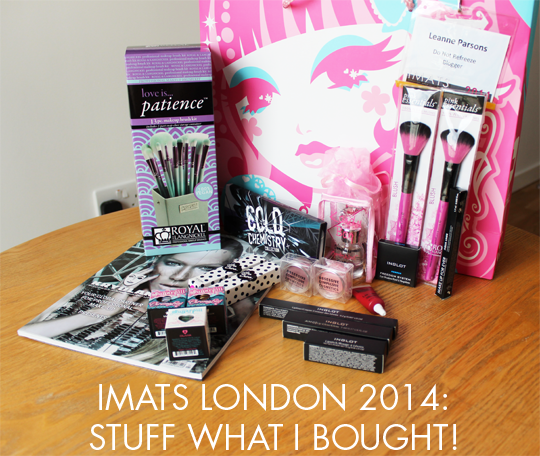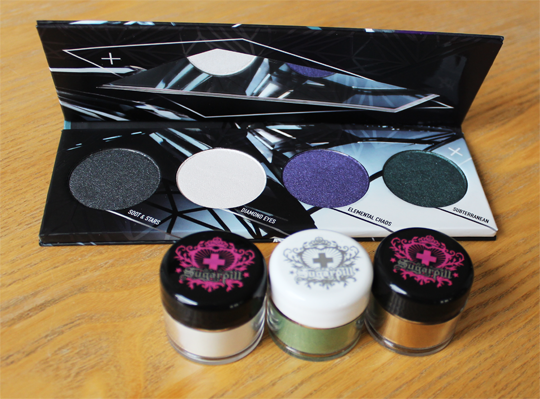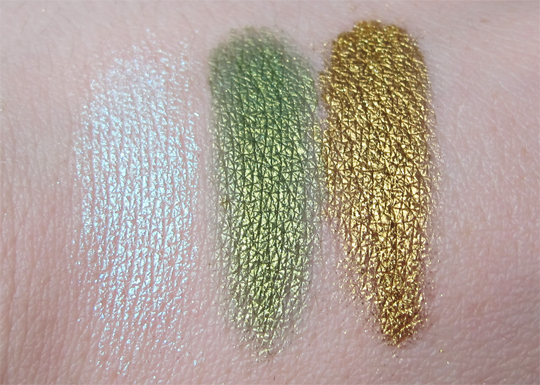 Let's start with the brand I was definitely most excited about – Sugarpill! Sugarpill products have been stocked by Love Makeup at the show before, but I was far more excited for the brand to be there themselves and to meet the ridiculously cute Amy Doan. The one palette I've always wanted from them is Burning Heart, but I just know it'd never suit me. I ended up getting the Cold Chemistry Palette, and Loose Eyeshadows in Lumi, Olivia and Goldilux. Lumi was hard to capture in swatches, with it's strong turquoise-y duochrome but I hope the photo gives you an inkling of how gorgeous it is. I mainly got Olivia because it's a limited edition and IMATS London 2014 was its big reveal, the first place it was available. And well, Goldilux hardly needs an explanation, does it? Phwooaarrr.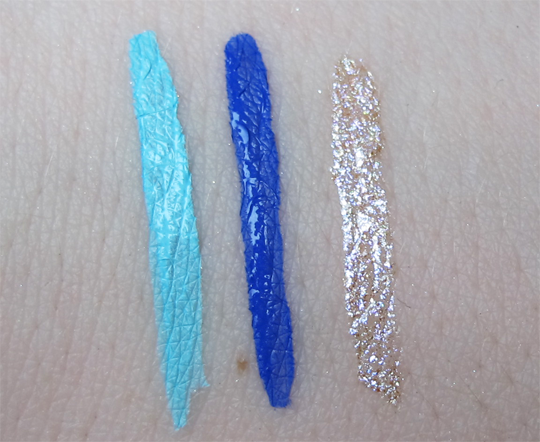 Next up, eyeliner. Now, I know that Lime Crime have had a pretty questionable rep in past years among the online beauty community and, to be honest, I'd never given them a second glance before. But Sheenie dragged me to the Love Makeup stand where it was stocked as she wanted another of their Velvetine lip colours and I ended up swatching these Eyeliners in Blue Milk and Lazuli. I couldn't walk away without them! Then, the only thing I bought from one of my favourite brands Make Up For Ever this time round was their Aqua Liner no19. I have a few of these already and love them, so I knew I couldn't go wrong with this sparkly pearly number.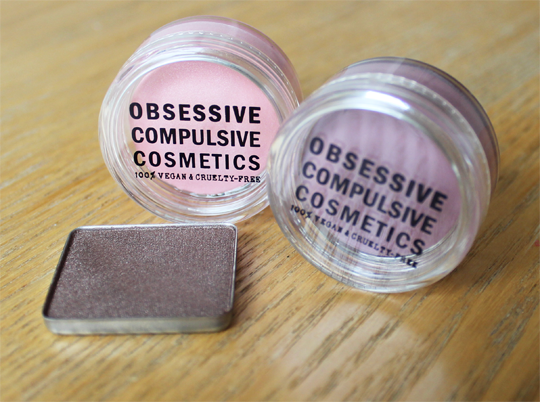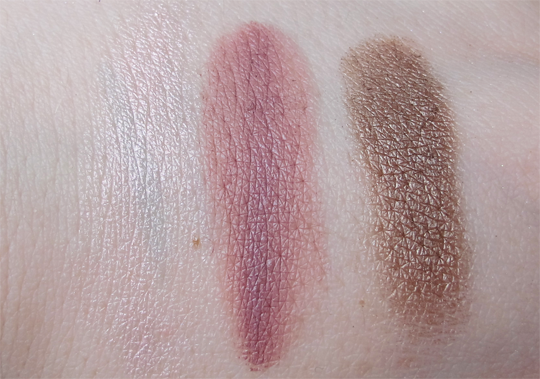 Something I was really keen to check out from OCC was their new-ish Creme Colour Concentrates and I ended up choosing two shades, Pleasure Model and Miriam. The multi-use creamy formula of these lends itself well to almost any cosmetic application you can think of, but I'm planning to mostly use Pleasure Model as a highlighter and the sexy, bruisey Miriam for a bit of the ol' heroin chic look on the eyes. I showed great restraint when it came to my favourite Inglot Eyeshadows, picking up just one in shade 402. This finally completes my pair of palettes which I don't doubt I'll be sharing with you soon!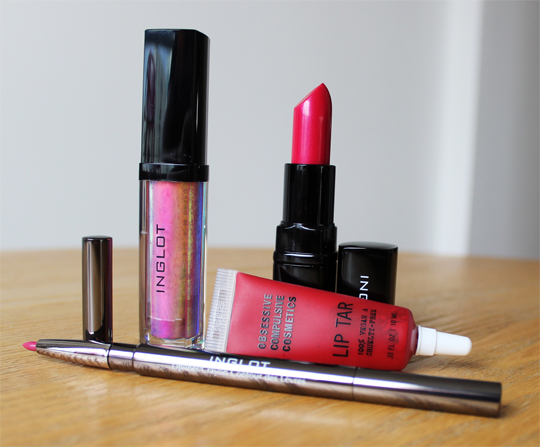 What? Don't look at me like that! Since I only bought one Inglot eyeshadow, I had to make it up elsewhere so picked up a few of their lip products as well. Lipliner in 860 fills a big void in my lipliner collection, and the bold colour of Lipstick in 140 caught my eye immediately. The AMC Lipgloss in 543 has proved impossible to photograph accurately in swatches, but its almost holographic shininess is something I've been lusting after for over a year so I'm happy to finally have it in my hands and on my lips. While we're on the subject of lips, it'd be rude to visit IMATS without buying at least one OCC Lip Tar so I grabbed Stalker, a beautiful blue-based red which I can't wait to crack out.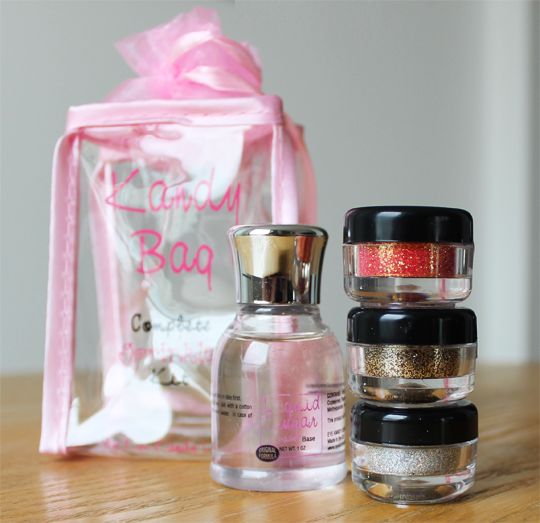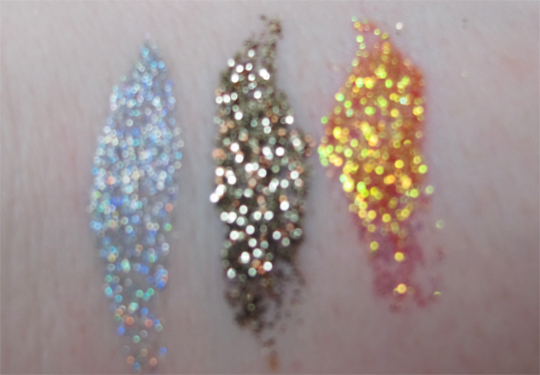 Now, these Eye Kandy Glitters were definitely my most frivolous purchase and almost certainly will lie untouched in a drawer for months on end but they are SO PRETTY. When I saw Bicky with myriad glittery swatches all over her hand, I immediately demanded to know where they were from and promptly marched to the stand to get some for myself. Confetti is the cursory holographic silver, more finely milled than the other colours. Then there's Sugar Cane, a golden brown and Peach Fizz, a coral-y orange colour shot through with gold. The bundle I bought contained the three glitters of my choice, a purpose-built brush (which I forgot to picture) and a bottle of Liquid Sugar, which is Eye Kandy's glitter adhesive. And there they all are, complete with gratuitous out-of-focus swatch to show off the sparkle!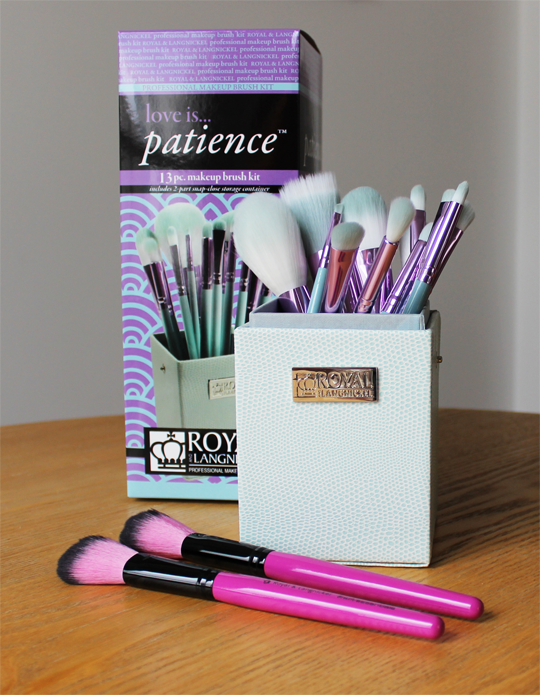 Last, but certainly not least – and infinitely more sensible – are some new brushes from Royal & Langnickel. I've come to favour Royal brushes over Crown in the last couple of years. This time, I bought a couple of these pink bristled Blush Brushes (because I like to have a different brush for various shades of blush.. yes, I am lazy) and, my star purchase, the Love is… Patience 13pc Brush Set which cost a bargainous £25. I will definitely be posting about this set in the near future as I am totally in love with it. And finally, an honourable mention for Makeup International Magazine which I haven't pictured separately but that I buy new copies of every time I visit the show.
So, there's this year's hoard of pretty things. Did you go to IMATS? If so, what did you buy?