Some mornings, it appears that the only thing I am physically capable of doing is whacking the snooze button on my alarm over and over again until I realise I'm going to be late and spring out of bed so quickly it makes my head spin. Those are the mornings that I require some lightning speed Five Minute Makeup!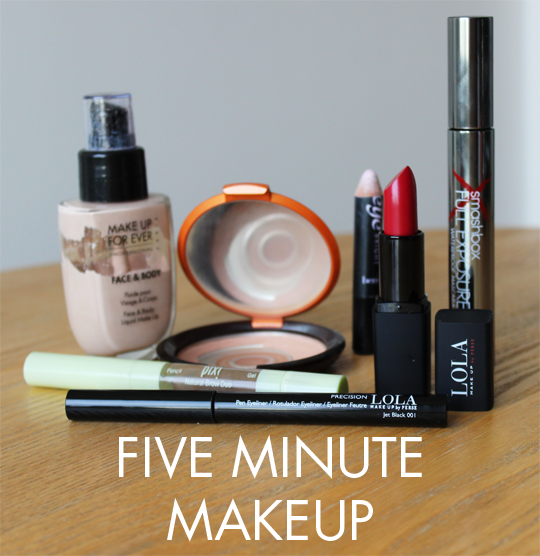 Ok, I'm bending the truth slightly here. I have never, ever managed to get an acceptably full face of makeup on in five minutes flat. I've got it down to seven minutes, which I don't think is horrendous but somehow seven minute makeup just doesn't have as much of a ring to it.. Anyway, this little handful are my failsafes, products that I can almost literally throw on my face and pass for a member of the human race.
To start off, a speedy buff of Make Up For Ever Face & Body Foundation (review here). This just takes the hints of redness and uneven tone out of my skin with a light coverage. Whether I slap this on with my hands or go in with a brush, it's so easy to work with that I can have it looking flawless within 30 seconds. Perfect. Base; DONE.
Onto the eyes, next. Benefit Eye Bright is something I have used every single day for as long as I can remember, and my pencil is still going strong. Even if I don't feel it, a quick smudge of this around the inner tear duct area gives the appearance of being in the land of the living. The Lola Eyeliner Pen* makes light work of lashline definition, providing no-nonsense, bold, inky black colour in a flexible felt tip applicator. The outer corner of my eyelids are very hooded so I struggle with finding the correct angle for winged eyeliner, which means on five minute days I don't even bother trying and simply line the upper lashline without a flick.
Along with hooded lids, I have poker straight lashes to add to my list of eye complaints. In order to keep them curled for more than an hour, I have to spend a good two minutes with an eyelash curler and another minute carefully applying my favourite mascara (Covergirl All-in-One Waterproof, which – sod's law – isn't available in the UK). That song and dance is simply out of the question on five minute days. My lashes are just going to fall flat anyway, so I'll just throw on any old mascara without curling. Smashbox Full Exposure Mascara* is a good choice for its jet black colour and pretty quick drying time. Lastly, a blink-and-you'll-miss-it groom of the brows with Pixi Natural Brow Duo (review here) finishes the eyes.
As for the cheeks, I'll usually forgo blush if I'm short on time, simply grabbing a big fluffy brush to whip some of The Body Shop Honey Bronzer (review here) under the cheekbones and across the temples and jawline.
Finally, to wrap it all up, nothing makes it looks like you've made more effort than you actually have than a statement lip. I'm loving the deep, pinky red shade of Lola Matte Lipstick in Dominatrix* – not to mention its kinky name! Despite its bold colour, the formula makes it easy to swipe on directly from the bullet without mistakes and the long lasting matte finish easily sees me through till lunchtime.
BOOM! Five Seven minute makeup, done.
What are your go-to products for mornings when you're running late?