With IMATS London 2014 just a few short weeks away, I've been giving some thought to what I'm lacking in my makeup arsenal so I don't overspend, with just a few frivolous pretty things thrown in because why not?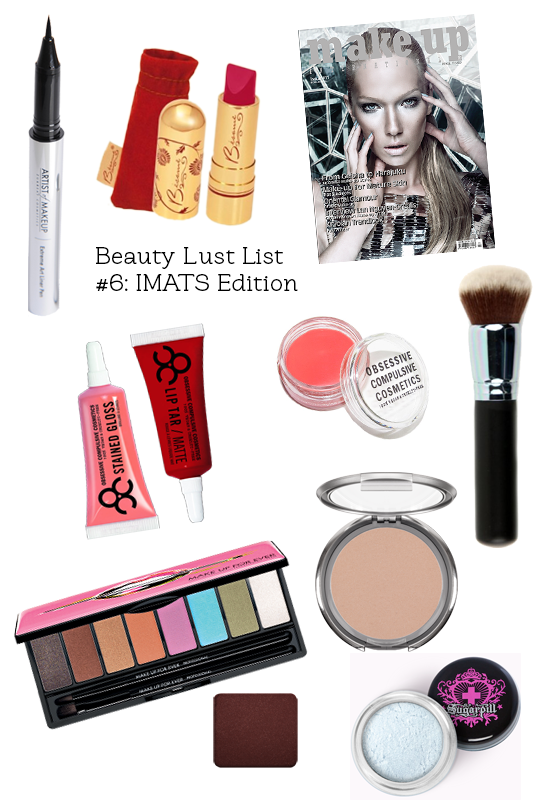 :: Zukreat Cosmetics Artist of Makeup Extreme Art Liner Pen – Zukreat Cosmetics isn't a brand I've heard of before but stumbled across when browsing the IMATS exhibitor list. My favourite eyeliner pen – Pixi Lash Line Ink, if you're wondering – is on its last legs and desperately needs a replacement, and the Zukreat Extreme Art Liner Pen was the first thing that jumped out at me on the site. A quick Google tells me this has had rave reviews across YouTube so I'll definitely be taking a look at the show.
:: Besame Cosmetics American Beauty Lipstick – Again, a brand I found purely through looking at the exhibitor list and boy, I'm glad I did. Besame Cosmetics have a great range of vintage inspired cosmetics with stunning packaging. If their formulas are half as gorgeous as their packaging, I'm definitely going to grab this beautiful statement pink lipstick.
:: Kryolan Glamour Glow in Pale Tan – I'm after a new highlighter, and Kryolan is a brand I really trust so their Glamour Glow in Pale Tan sounds promising. I'll pick this up from Charles Fox (assuming they have it, of course), but they don't even have a website anymore so I'm afraid I can't link you up. Here it is on Kryolan's own site.
:: Crown Brush C439 Deluxe Round Buffer – This is one of my favourite brushes from Crown, and since it's so affordable I'd like a backup. 'Nuff said.
:: Makeup International Magazine – Another one from Charles Fox, I buy all recent issues of this every time I go to IMATS. I think they release two a year so I should have two issues to catch up on. This is hands down my favourite makeup magazine, packed full of colourful and inspiring images and step-by-steps.
:: Inglot AMC55 Eyeshadow – You probably know by now that Inglot's eyeshadows are my all time favourites. I almost have two large Z palettes full of them, but last year I pulled a stupid move and accidentally bought a shade I already had. I gave that one away, so there's one gap in one of my palettes that desperately needs filling. I've been meaning to do so since this time last year, but I've not managed to get to the store in Shepherd's Bush and I'd rather have a swatch in person than order online so… I'm still not 100% sure this will be the shade that fills the last gap but it's the one I've got my eye on at the moment!
:: OCC Lip Tars in Aurora and Stalker – I've got a good handful of OCC Lip Tars now and would love to add a couple more to the collection. Aurora is one of the Stained Gloss Lip Tars with a sheer, jelly-like finish. The two of those I already own are pretty much neon bright, so a more neutral-ish colour would be good. Stalker is one of the original matte lip tars, a true blue-based red shade that I imagine will suit me much more than their classic primary red NSFW shade.
:: OCC Creme Color Concentrate in Grandma – These relatively new Creme Color Concentrates are really piquing my interest; super pigmented multi-use creams for the cheeks, lips and eyes. Grandma looks like an ideal shade to double up as a cream blush and lip colour, so if I like the texture in person that's the one I'll go for.
:: Make Up For Ever Arty Blossom Palette – I love me a bit of Make Up For Ever, and this limited edition palette looks right up my street with the perfect mix of wearable shades and a couple of brights thrown in. The fact that it's limited edition makes me assume they won't actually have this with them at the show but if they do, it will be MINE!
:: Sugarpill Loose Eyeshadow in Lumi – I've been dying for Sugarpill to make an appearance at IMATS London for years, and now they finally are I'm struggling to decide what to buy from them. I want pretty much everything that they do, but realistically I know I'll never use the majority of it and I'm trying to be reasonably sensible this year! I think the loose eyeshadow in Lumi is the product that I'll get the most use out of – if it steals my heart when I swatch it then it's coming home with me.
Are you going to IMATS? What are you planning to buy?