Dr Lewinn's Renunail Nail Strengthener is the very definition of a hero product. It's the only product that most people really know of the brand for – but their skincare range and Skin Perfect Foundation are not to be ignored! – in fact it's gained a bit of a cult following and a reputation for being far more effective than the likes of OPI Nail Envy. Fans of Renunail will rejoice at the latest release from the brand this month – Dr Lewinn's Renunail Nail Colour*.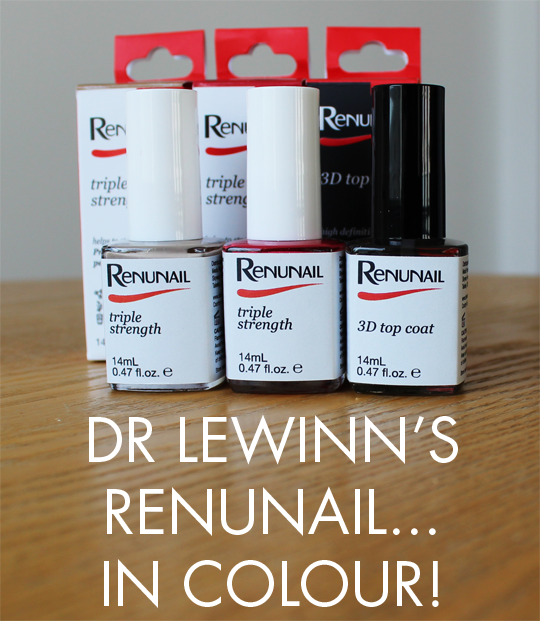 Dr Lewinn's Renunail Nail Colour is enriched with the same holy trinity of strengthening ingredients as the original Renunail – keratin, bamboo and calcium – so for the first time you can treat your nails with colour. The 3-free formula protects nails and promotes growth, promising to keep your nails stronger for longer. I can't really vouch for that part, since my nails are naturally strong and grow very quickly as it is. Touch wood!
To start with, there will be five colours in the range including the two I have above. The shades are Cashmere* (grey-leaning beige), Pomegranate* (very red-toned cerise pink), Graphite (slate grey), Marshmallow (pale baby pink) and Black Plum (deep burgundy purple). While I have to say that I don't find the colour range particularly inspiring, it is a smart move of Dr Lewinn's to begin with a capsule selection of timeless staple shades to gauge the popularity of the product before hopefully branching out to more trend-led colours in the future. The polishes are all super opaque with a nice glossy finish, but they take a fair while to dry thoroughly.
In addition to the five starter colours, there's also a 3D Top Coat* that provides a super high shine gel-like finish to the nails, but unfortunately it's not of much use to me because, like the colours, it takes too long to thoroughly dry. Both the colours and the top coat are reasonably touch dry in about 5 minutes, which I realise isn't long in the grand scheme of things but I'm used to topcoats which set my manicure completely solid within two or three. It's a bit of a dealbreaker for me!
Dr Lewinn's Renunail Nail Colours (£14) and 3D Top Coat (£11) will be released in mid-June online at drlewinns.co.uk. Are there any staple shade voids in your nail wardrobe that you might consider filling with a Dr Lewinn's polish?