The humble beehive is a veritable smorgasbord of natural ingredients that feature in many skincare products all over the world. British skincare brand Good Things has combined all sorts of bee-autiful ingredients in the new Good Things Manuka Honey range*, and since my last brush with one of their products left me irritated and irritable in equal measure, I hoped that this new selection would help me kiss and make up with Good Things.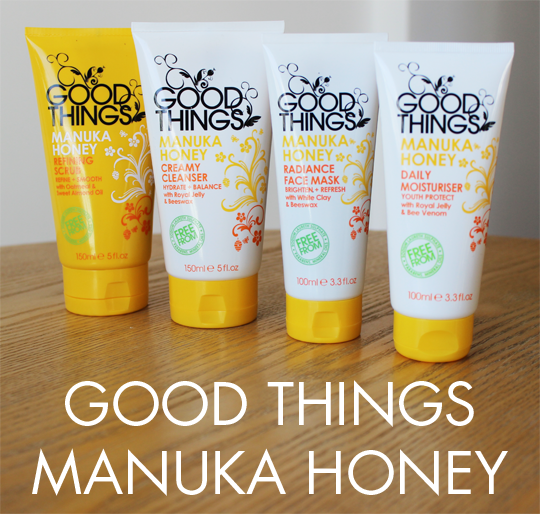 This is the first time, at least to my knowledge, that Good Things have deviated from their ubiquitous lilac packaging and are instead embracing a sunshine yellow colour – I like it! Let's take a closer look at these four tubes of honey-based deliciousness…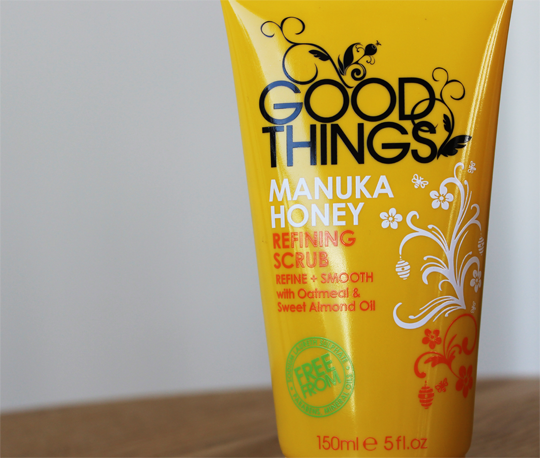 Refining Scrub
£5.99 for 150ml
Regardless of skin type, regular exfoliation is an essential part of any skincare routine. Whether you're mostly dry or mostly oily or one of the lucky chosen few with a good balance between the two, we all need to remove dead skin cells and impurities that cleansing alone can't shift. Many facial scrubs tend to be a bit too harsh, coarse and scratchy for the delicate skin on the face but this one hits the nail on the head. With a formula containing oatmeal and sweet almond oil, which is naturally rich in fatty acids to smooth the skin, and of course manuka honey to balance the skin's natural moisture levels.
Massage it into the skin about twice a week before rinsing off – paying particular attention to any problem areas – for a refined complexion.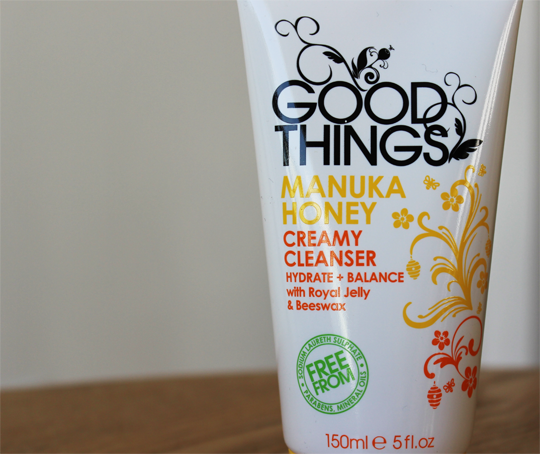 Creamy Cleanser
£4.99 for 150ml
The rich and creamy texture of this cleanser massively belies its bargain price. It feels far more expensive and luxurious than you'd even dare to believe, with ultra-hydrating royal jelly as its main star. Royal jelly is a great source of amino acids, which help to condition and replenish skin. In the meantime, the antibacterial manuka honey helps to throughly clean the skin while black raspberry extract and vitamin E provide radiance that's actually noticeable.
Massage into damp skin daily and remove with a warm flannel for well balanced and hydrated skin every day.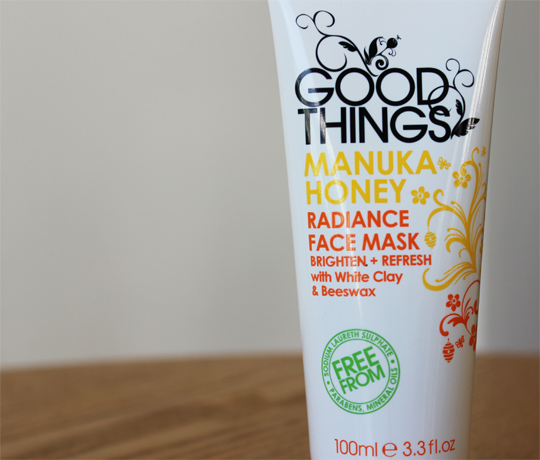 Radiance Face Mask
£5.99 for 100ml
Good Things is where it's at for purse friendly but effective face masks. This white clay and beeswax concoction quickly draws out impurities, while papaya extract helps to enhance the skin's natural glow. Then of course, throw in some manuka honey for a hydration boost and bam!
About once a week, smooth an even layer over the skin (avoid the eye area!) and allow to dry for 10 minutes. Use a warm, wet flannel to remove and dull, congested skin will be a thing of the past.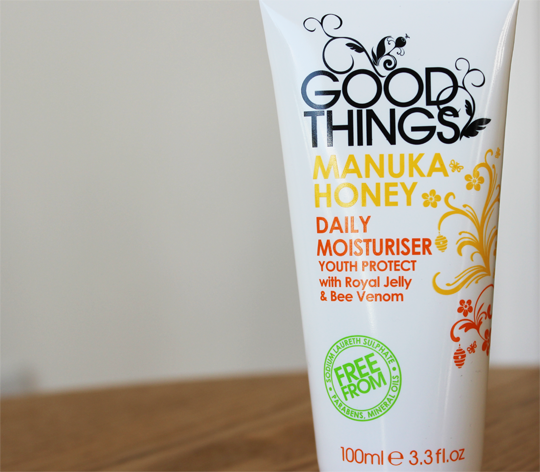 Daily Moisturiser
£7.99 for 100ml
I think this is the most expensive product I've ever seen from Good Things – but it's still only £7.99 which says a lot for what good value you get from the brand. Bee venom is the hero in here (which justifies the price) – scientifically proven to boost collagen levels in the face. While Good Things have always targeted young skins, bee venom is a well-known ingredient in many anti-aging formulas; but hey, prevention is better than cure, right? The intensely moisturising duo of royal jelly and beeswax come into play again, and antibacterial properties come from manuka honey (surprise!) and propolis. A tiny little bit of this goes a long way so the tube should last a really long time.
Smooth over face and neck after cleansing every day until completely absorbed, for firmer and softer skin.
Overall, I'm super happy with this range and have been relishing using it. The products smell a lot like Lush's bestselling Honey I Washed The Kids soap, which evokes happy memories of my first ever job and a carefree teenage life.. aaah. Good one, Good Things. You've done more than enough here to erase your nasty Blemish Control Gel Mask from memory with this winning range!
Good Things products are available from many stockists but I'd suggest hitting up Boots where there's currently 1/3 off the brand. Go, go, go!