More often than not, the nail art that's simplest to achieve has the most impact. Never has that been more true than with the dry brush manicure, or distressed nail art as coined by Sarah of Chalkboard Nails.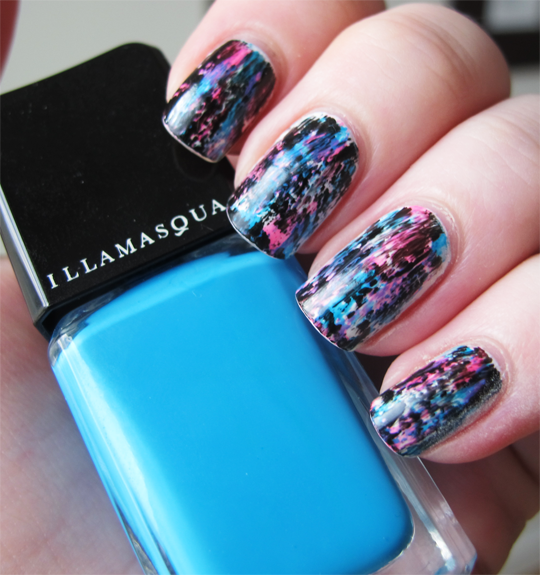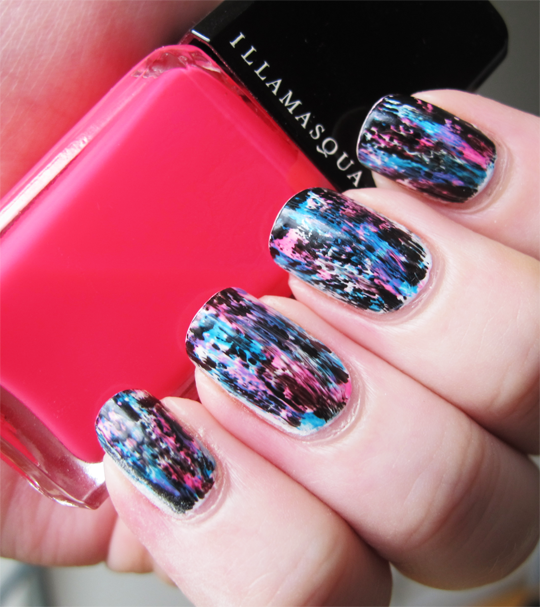 I can't remember how I came across this design, and consequently Sarah's awesome blog. I imagine it was probably Pinterest, but either way I'm glad I did and still can't get over how stupidly easy this nail art is to do. You can use any colour combination you like, but because I have zero imagination lately I stole Sarah's colour combination.
Basically, just start with a white base coat. It doesn't matter if this isn't entirely opaque and smooth since you'll be mostly covering it up. I used China Glaze White on White for this. Then pick two or three colours to work with – Sarah used a pink, a blue and a purple but I just went with pink (Illamasqua Collide) and blue (Illamasqua Nomad) since I knew from experience that these two colours overlaying on the nail would make a purple shade. You'll also need a black polish, and of course a topcoat.
Once you've applied your white base, take the first colour and wipe all the polish off the brush. Yep. Now your brush is pretty much dry, but there is still polish lodged between the bristles. Give a quick, light stroke over the surface of the nail and repeat a few times across all nails. Go over again with your second colour, and once more with your third if using one. Repeat a final time with black to create the distressed look, and that's it!
The key is making sure there's barely any polish on your brush whatsoever. Remember, you can add polish but you can't take it away so err on the side of caution.
All credit for this awesome design goes to Chalkboard Nails. Will you be giving her foolproof nail art a try?