Ok, not just Bourjois Nail Tattoos but those are definitely the star of the show! Launching this month, Bourjois have a bunch of new nail offerings* that I'm excited to share with you.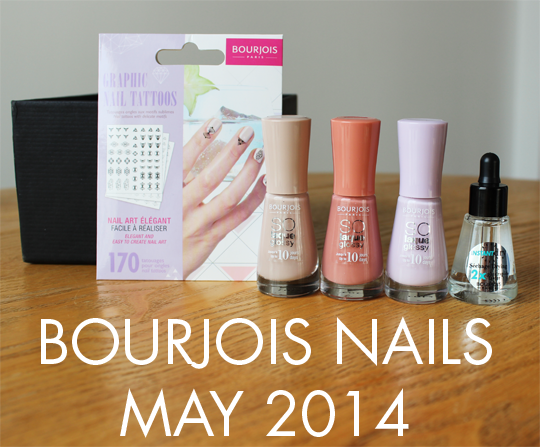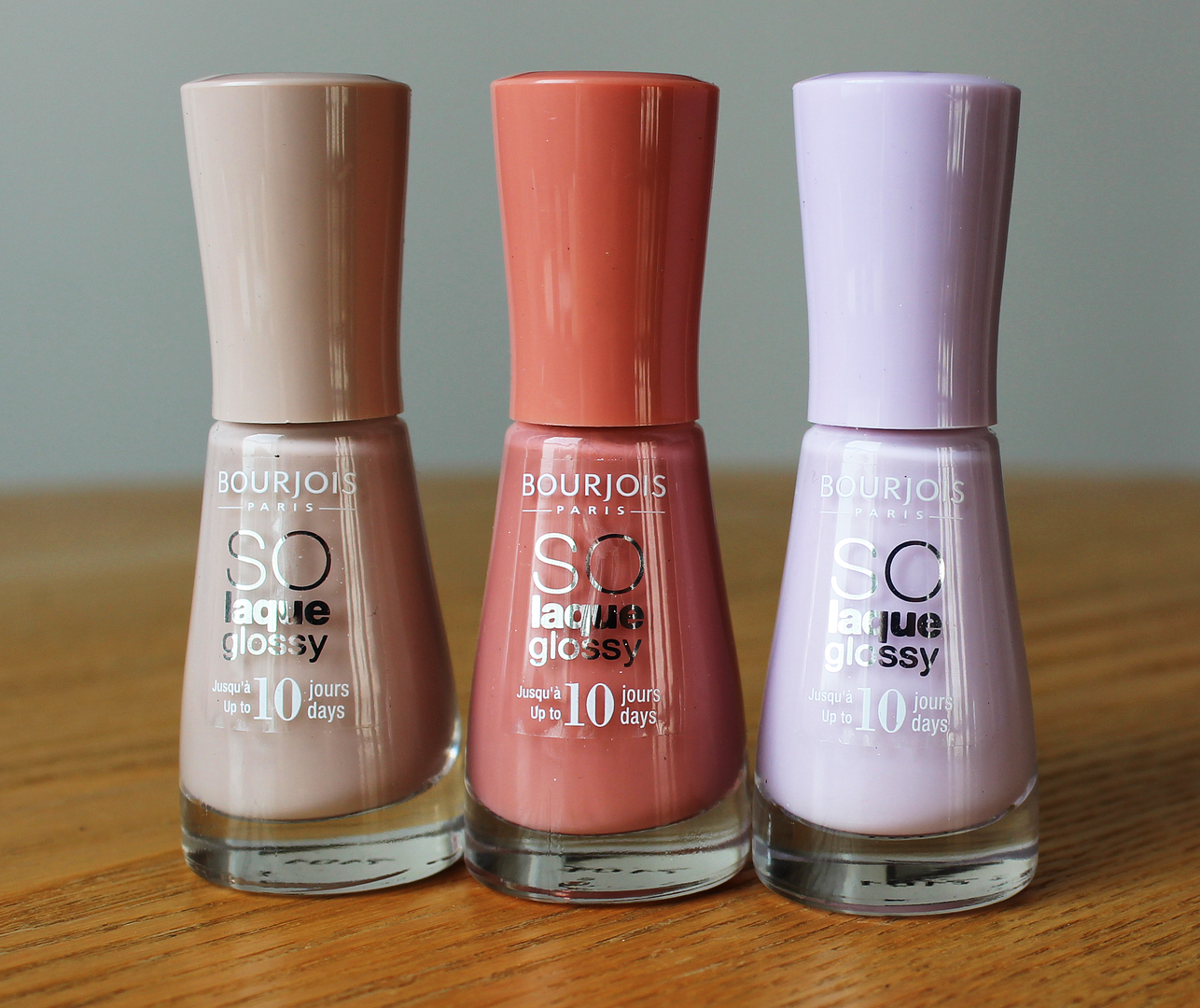 So Laque Glossy nail polishes in Indispen-sable, Tombèe a Pink, Peace and Mauve

Instant Dry Drops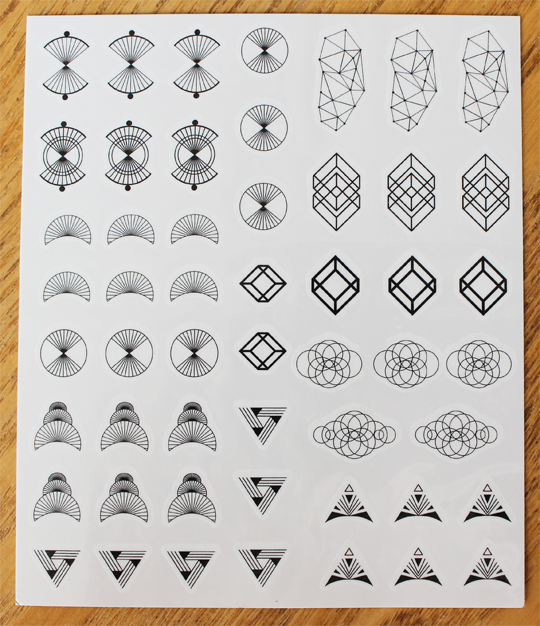 Graphic Nail Tattoos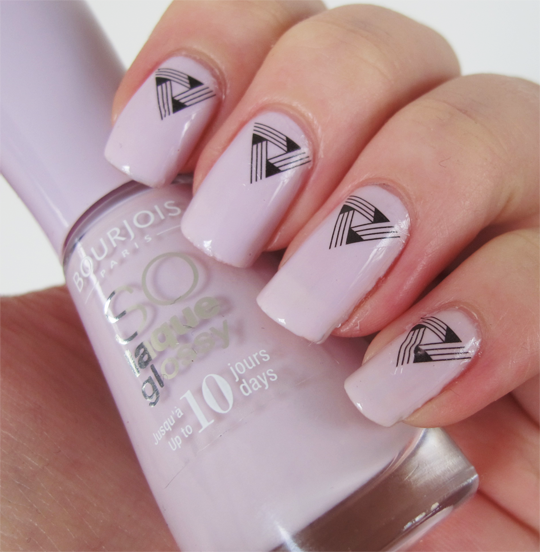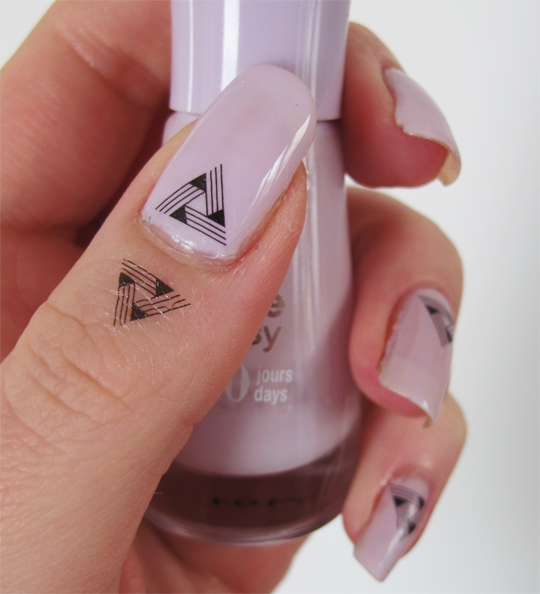 First up, there are five new additions to the So Laque Glossy polish line covering a rather minimalist nude spectrum. I love the brush on the So Laque polishes, nice and flat to get a quick and even manicure. Colours include Indispen-sable (chic muted beige), Pina Chocolada (warm light brown), Tombèe a Pink, (vintage rose), Pamplerousse (bleached coral) and, my personal favourite, Peace and Mauve (fresh lilac). The polishes can take a bit of building up to reach full opacity, sometimes requiring 3 coats but it's worth it for the glossy, modern finish. These girly, graceful shades also look particularly fab on short nails, I think!
Next, the Instant Dry Drops. These aren't a new idea by any means, think OPI's cult classic Drip Dry Drops and the like. As the name would suggest, you apply a drop of this vaporous silicone and solvent formula to wet nails to speed up drying time. Drops aren't my preferred way of drying nails speedily as I have a wealth of excellent quick drying topcoats but if you do like drops, these are worth a try. The formula is also enriched with cotton oil for a little cuticle boost, which can't hurt.
Now, the really exciting part, the Bourjois Nail Tattoos. Again, not a never-seen-before revelation by any stretch but they've just been done so well. With two variations available, I've been playing with the Graphic Nail Tattoos with conceptual, angular, origami-inspired designs. The second set, Calligraphic Tattos are rather more whimsical with lots of plant and flower based designs. Each kit contains 3 sheets of tattoos, with 180 total in the Calligraphic kit and 170 in the Graphic kit so there's a lot to be played with!
They're so easy to apply – just snip out the design you want to use with scissors, peel off the plastic backing, apply the design face-down on the nail and cover with a wet cotton pad for a few seconds. Whip it, and the backing paper, away to reveal intricate nail art designs with as close to zero effort as you could wish for. I absolutely LOVE these. They work so well with the nude collection nail polishes too, in keeping with the same subtle and delicate, but well groomed and impactful feel, just adding an elegant little extra. I used a triangular design from the Graphic kit over Peace and Mauve polish, and even added one beneath the cuticle on my thumb. Why not?
Not to mention they evoke some serious childhood memories of adorning ourselves with temporary tattoos…
The Instant Dry Drops are available now for £5.99 in-store and online from Boots and Superdrug, with the So Laque Glossy Nude polishes (also £5.99) to follow in the next couple of weeks. The Nail Tattoos will be launched this month exclusively on Asos (£5.99), keep an eye out for these for sure!