New Kiko collection alert, new Kiko collection alert!

Kiko's new Life in Rio collection really is a brilliant embodiment of the Brazilian capital, chock full of colour with suitably loud packaging to match. As ever, it's the eye makeup that's really grabbing me so I'm excited to share with you the Creamy Touch Eyeshadow Duos* and Tropical Waterproof Eyeliners*.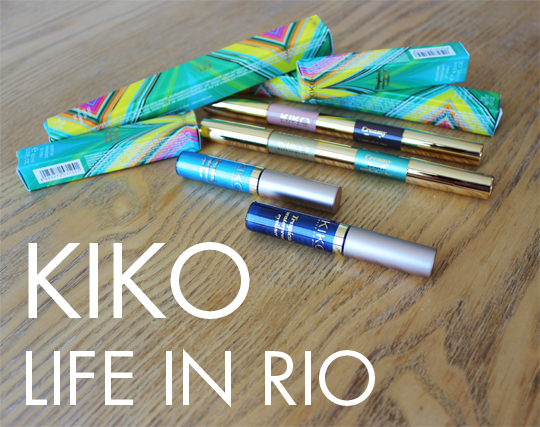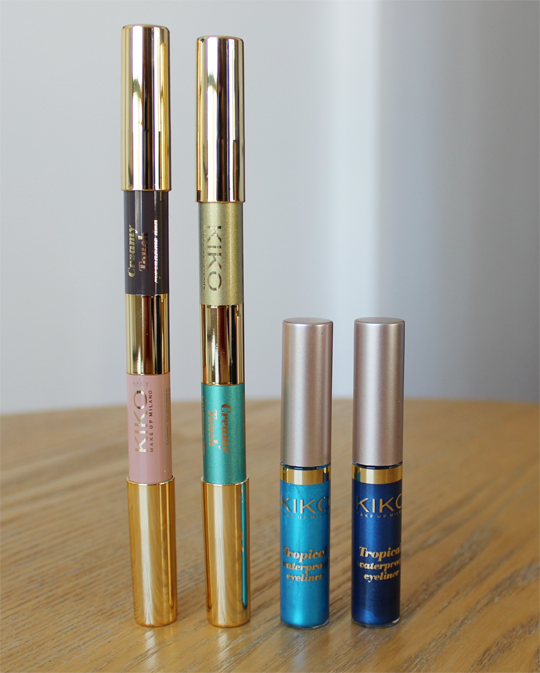 Creamy Touch Eyeshadow Duo – Brown and Shell

Creamy Touch Eyeshadow Duo – Spring Green and Gold

Tropical Waterproof Eyeliners – River Turquoise and Sugarloaf Blue
First up, the Creamy Touch Eyeshadow Duos. You know I have a thing for these sorts of products – see previous raves on Clinique Chubby Sticks for Eyes, Kiko Long Lasting Stick Eyeshadows, Charlotte Tilbury Colour Chameleon Pencils, etc. These long, chunky pencils are double-ended with complimentary shades at each end and are up there among the best shadow pencils I've tried.
They are, as the name suggests, very creamy which makes them a dream to blend on the lid but they set sufficiently that creasing is very minimal even after a full day's wear. In fact, it can be reduced to non-existent if applied over an eyeshadow primer. While they offer enough colour payoff to be worn alone, I do like to use them as a base under powder eyeshadows. Available in six shades for £9.90 each – some, like Brown and Shell are matte and others, like Spring Green and Gold are shimmery.
Next, we have the Tropical Waterproof Eyeliners. These are gorgeous! With their special anhydrous formula (that means they don't contain water. SCIENCE, BITCH!), this means the intensity of the pigment is enhanced and not watered down. This does mean they are on the thick side as liquid liners go, and this formula can take a bit of getting used to, but once you've got the hang of it you're laughing. They adhere to the skin so well with not a smidgen of smudging, fading or flaking in sight.
They set so stubbornly that even Bioderma has trouble removing them, so I'd definitely suggest cracking out an oily eye makeup remover to get rid of every last trace of these. Also available in six shades and cheap enough to potetially collect them all at £7.90 each. Love them.
The Kiko Life in Rio collection is available now in stores and online. What's catching your eye?