Liquid lipsticks are big news in the beauty world lately, with many brands releasing bold, matte finish colours in surprisingly creamy formulas. One such offering is the Bourjois Rouge Edition Velvet collection, with eight shades of high impact lip colour four of which* I have here to show you.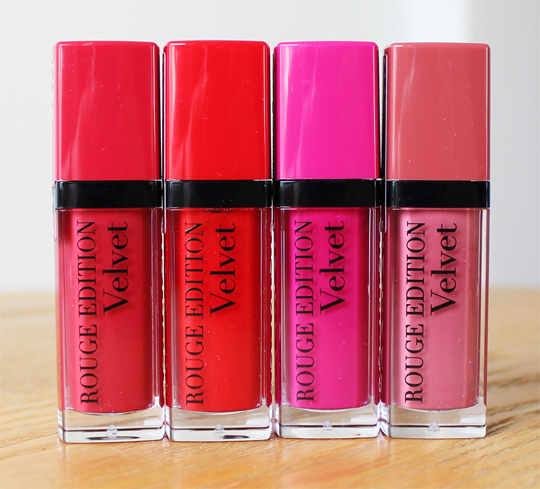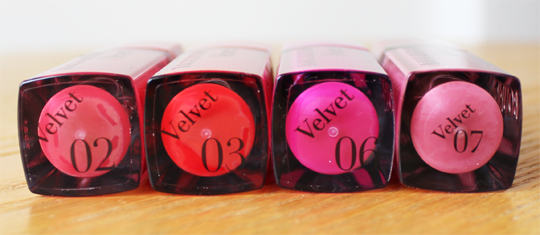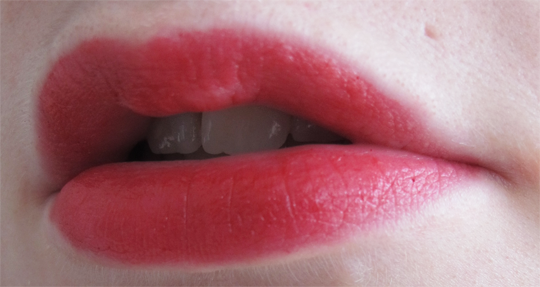 02 Frambourjoise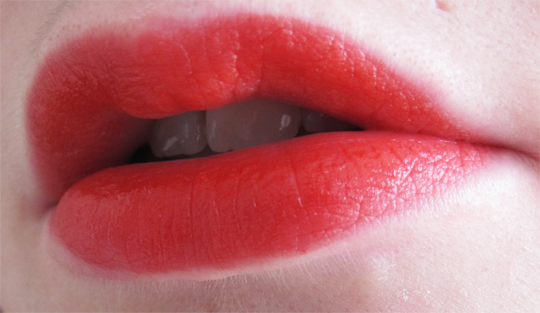 03 Hot Pepper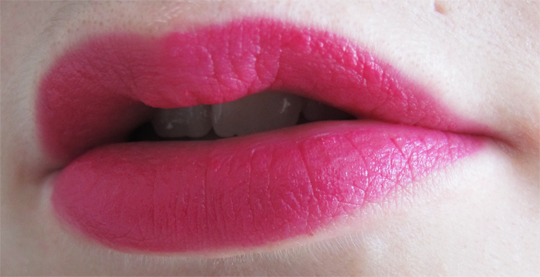 06 Pink Pong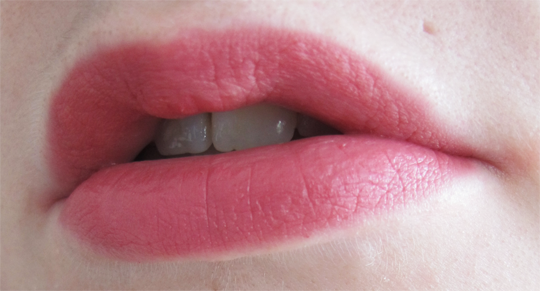 07 Nude-ist
While the doefoot wand packaging is pretty similar to the L'Oreal L'Extraordinaire lip colours I reviewed recently, you can tell just from the swatches that the formula is a polar opposite. The lightweight, airy texture of Bourjois Rouge Edition Velvet is a delight, in fact your lips almost feel bare while wearing them. Despite being so rich in colour, they do not transfer or bleed in the slightest and actually last really well while eating or drinking. I'd say that the staying power of these is in the same ballpark as OCC Lip Tars, although the formula is much nicer and less drying. These are touted as having 24 hour hold; I can't say I think they'd last quite that long but frankly, why would you never need your makeup to last that long anyway?!
Of the four shades I have, I think the modern suits-all fuschia of Pink Pong is my favourite. Nude-ist is bound to be a popular colour in the range, with it's natural rosewood hue and I imagine Frambourjoise (how the bloody hell do you pronounce that one, then?) will have many fans too as a bit of a red-pink hybrid. Despite having come around to the idea of wearing red lips again lately, I'm not quite so in love with Hot Pepper as this is a very warm-toned red that I'm not convinced does me any favours paired with my skintone.
Bourjois Rouge Edition Velvet lip colours cost £8.99 and are out now in Boots and Superdrug – although both only seem to have 6 shades online. The online photos can be a bit hit and miss so I'd definitely suggest having a little swatch in store to find your favourite shade.