Last summer, as part of the Fierce Spirit collection, one of my favourite brands Kiko released something rather incredible in the form of Colour Shock Long Lasting Eyeshadows. This Spring's Boulevard Rock collection brings with it a massive ten new shades of Colour Shock, and I have three of them* here to show you.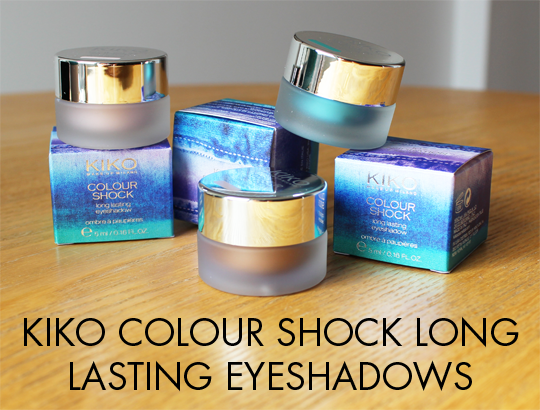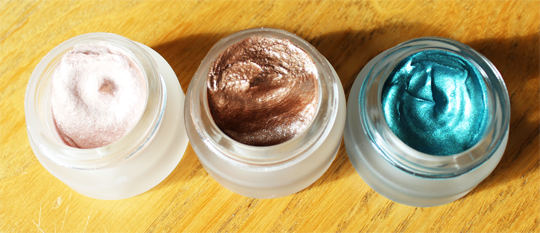 Innocent Rose, Snappy Brass, Inspiration Emerald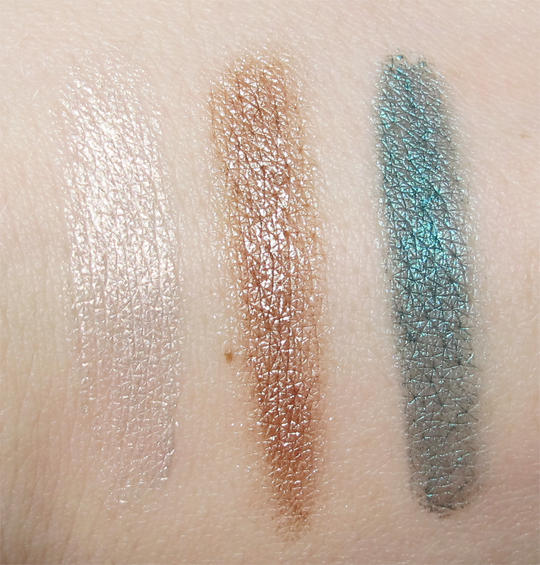 Swatched: Innocent Rose, Snappy Brass, Inspiration Emerald
There aren't very many, if any at all, cream eyeshadows on the market that perform to this level – and there almost certainly aren't any at this price point (except perhaps Maybelline's Colour Tattoos, but they're a very different texture and formula). Kiko Colour Shock Long Lasting Eyeshadows are supremely pigmented, almost everlasting and genuinely crease free. The formula is lightweight and almost like a whipped mousse in texture rather than a firm cream; they feel wonderful to apply.
One thing that bugs me a lot with cream shadows is that, in order to be as crease-free as the brands claim, you must apply the thinnest, stingiest layer. This means compromising on colour payoff, rendering those products pretty damn pointless if you ask me. Thankfully, that is absolutely not the case with the Colour Shocks. While you are still best off applying a thin layer for maximum longevity, the colour payoff is still something to write home about even with the tiniest little speck of product. The fact that you need so little means that the jars will last absolutely forever. I can't forsee them ever drying out either like many cream shadows can, since the texture is so wet.
The texture may initially be wet, but it dries down on the lids almost instantly and sets absolutely fast. Your eyes will need a good 30 seconds soaking with a cotton pad and Bioderma or a similar eye makeup remover to get these off. And that, if you ask me, can only be considered a good thing because it means they're not going anywhere once they're on. It means they also work fabulously as eyeliners too, which is my preferred use for Inspiration Emerald.
All in all, I still love these and can't recommend them highly enough. There are 10 shades available in the Boulevard Rock collection, so you're bound to find something to your tastes. You can find them in store or online here for a very reasonable £7.90 – an insane price for this quality of product.
Is there anything else from Boulevard Rock that's catching your eye? I'm lusting after these Rock Attraction blushes purely for the demin textured embossing!