A couple of weeks ago, I showed you my latest absolute polish love; Maybelline Street Artist top coat in Boom Box Black. I also mentioned that I picked up the rest of the Street Artist collection, so here's the next one – Alley Attitude.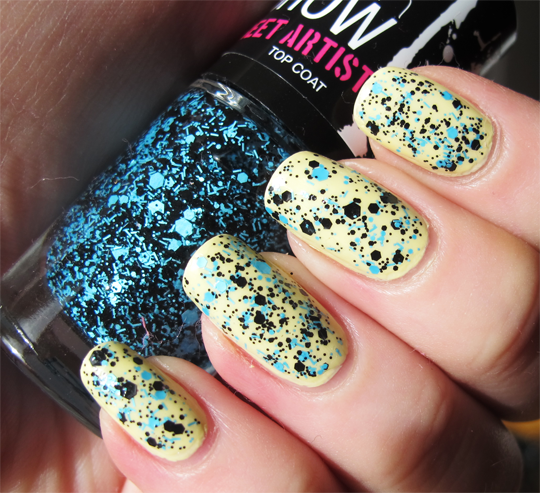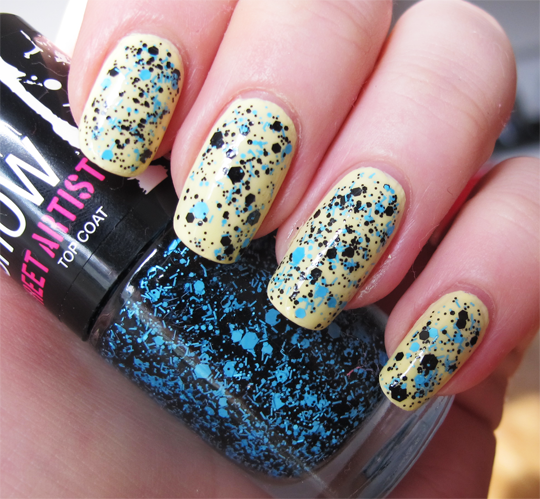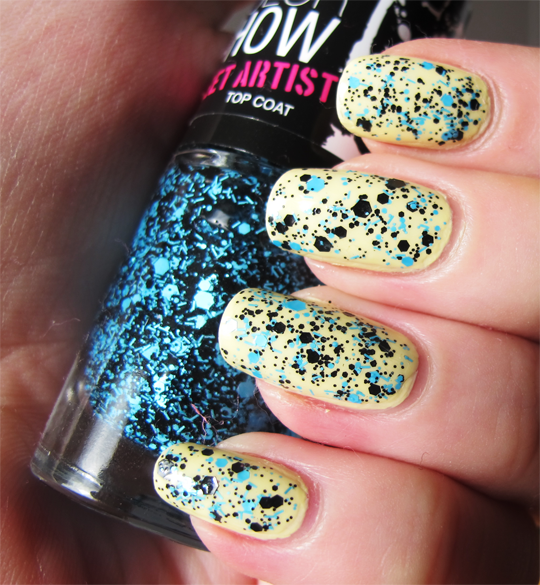 I had a really hard time choosing what polish to pair this one with. I initially wanted to go for Illamasqua Jo'Mina, a punchy electric lilac shade and one of my favourite polishes of all time. Imagine my dismay, then, when I unscrewed my bottle to discover that it has become gloopy and horrid *sob*. Frankly, I'm not surprised – it was one of the first things I bought from Illamasqua so I've had it for several years and have used well over half the bottle. Time to buy a new one!
In the end I narrowed down my back-up choices to two shades – Models Own Beach Party, a neon fluro orange and Models Own Lemon Meringue. I let Colin choose, and he went for Lemon Meringue which is what you see here. I think that I might have preferred it with Beach Party in hindsight, but never mind. I've had lots of compliments on this combination while I've been out and about, so it can't have been a bad choice.
Alley Attitude is pretty much exactly the same as Boom Box Black in terms of formula and features, except the coloured pieces in this one are a pretty sky blue colour rather than pink. I am really, really liking these Street Artist top coats and there's still two more for me to try out. The next one is similar to Alley Attitude and Boom Box Black, but the fourth is completely different! Watch this space.
Maybelline Street Artist Top Coats cost £3.99 each and are available now in Boots and Superdrug.