Depending on how long you've been reading or how well you know me, it might not be news to you that my first ever job was as a Sales Assistant in Lush (in the sadly now closed Southend-on-Sea branch). It was awesome, and I loved my journey home on the train where I'd always, without fail, hear someone else in the carriage say to another 'ooh, can you smell that Lush shop?!'. Unfortunately my second job was in a pizza place and my journeys home were instead met with displeased sniffing and utterings of 'eurgh, smells proper greasy on here'. I digress – what with it being my first ever employer, Lush holds a special place in my heart despite not having shopped there for years. Most of the products I loved and sold are long discontinued, and everything suddenly seemed a lot more expensive when I no longer had a 50% staff discount to abuse. Several years on, however, now seems like the right time to try and reintroduce a bit of Lush to my life.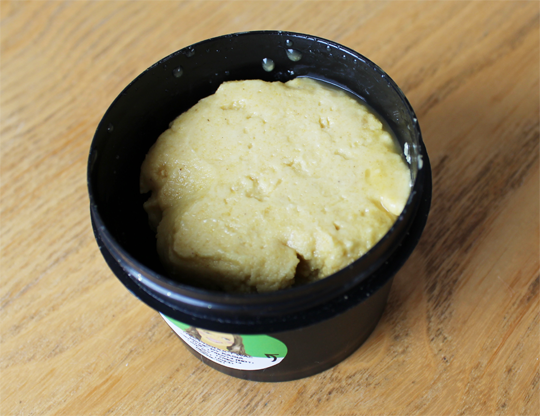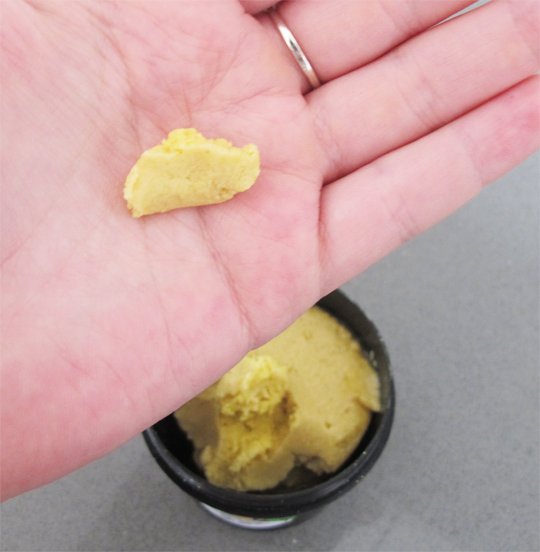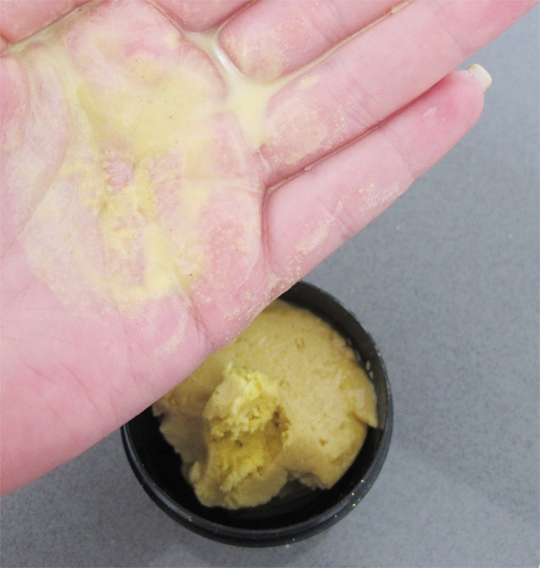 Even when I worked at Lush, I was never a devotee of their skincare. Let's face it, I was 16 years old and wasn't a devotee of any skincare! I occasionally used their Angels on Bare Skin or discontinued Babyface cleansers, but was never into skincare. Now though, the routine of cleansing and moisturising is one of my favourite parts of the day so I was very excited to try the Lush Let The Good Times Roll Cleanser*.
Let The Good Times Roll was originally a Christmas limited edition, made permanent by popular demand. Immediately after the first use, I could already see why. It doesn't look like much; an amorphous blob of yellow gunk. But as soon as you unscrew the lid, the scent of hot buttered caramel popcorn hits you square in the face and you want to EAT IT ALL NOW. Packed with maize flour, polenta, corn oil, cinnamon and yes, actual popcorn, this is an absolute delight.
To use, you pinch off a slightly bigger than pea-sized amount and add a few drops of water to make a paste. In the image above I added a bit too much water so it's a little thin. Spread that all over your face, give it a good massage in and rinse off with warm water and a flannel. The maize flour and polenta offer an amazing scrubby exfoliation without feeling harsh – I have oily skin and have been using this daily recently but I would suggest dry skins are a little more sparing with it to avoid leaving your skin looking over-processed from too much exfoliation. I find that my skin is left looking really quite luminous after use, which I imagine is down to the cinnamon as this stimulates the skin and boosts circulation within it.
I suppose that the only downside is, being freshly made and preservative free, Lush skincare doesn't have a great shelf life. Mine is due to expire in May – I circulate so many different skincare products that I'll never finish it in time and I doubt I would manage to get through it all even if I used it every day between now and then. I've been keeping it in the fridge though, as having no windows my bathroom gets a bit hot and steamy and I figure keeping it at a lower temperature should make it last a bit longer.
I have to say, as a re-introduction to Lush this was a really great product to try and it's left me keen to pop into my local store and explore all the many dozens of new products introduced over the last few years. Maybe even some bath stuff, since I actually have a bath that's big enough to sit in now! Honestly though, this cleanser has instantly reminded me why I loved Lush so much in the first place and was so passionate about the products I sold. Top marks.
Lush Let The Good Times Roll cleanser costs a reasonable £6.35 for 100g and is available in stores and online.